The National 9/11 Pentagon Memorial
Introduction
The National September 11th Pentagon Memorial is located on the southern side of the Pentagon and was constructed in remembrance of the 184 people who lost their lives in the terrorist attack on the Pentagon. The Pentagon Memorial was the first memorial of its kind to be completed and was dedicated on September 11, 2008. Since that time, many other memorials have been created throughout New York, the District of Columbia, and Pennsylvania.
Images
Flag pole w/ an inscription that reads, "We claim this ground in remembrance of the events of September 11, 2001. To honor the 184 people whose lives were lost, their families, and all who sacrifice that we may live in freedom. We will never forget."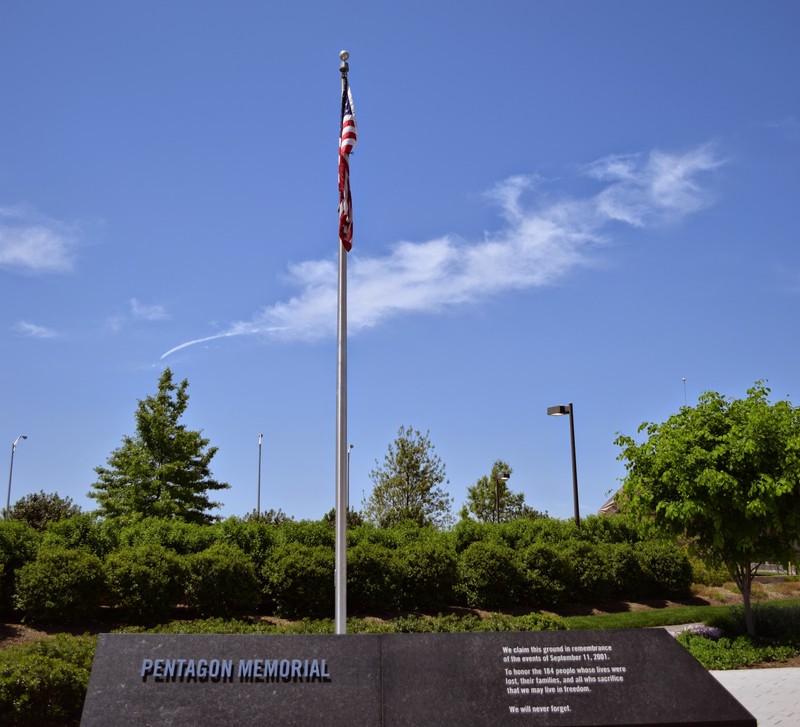 Inscription on the memorial grounds that indicate the date and time of the attack on the Pentagon. Photo courtesy of Terry Hall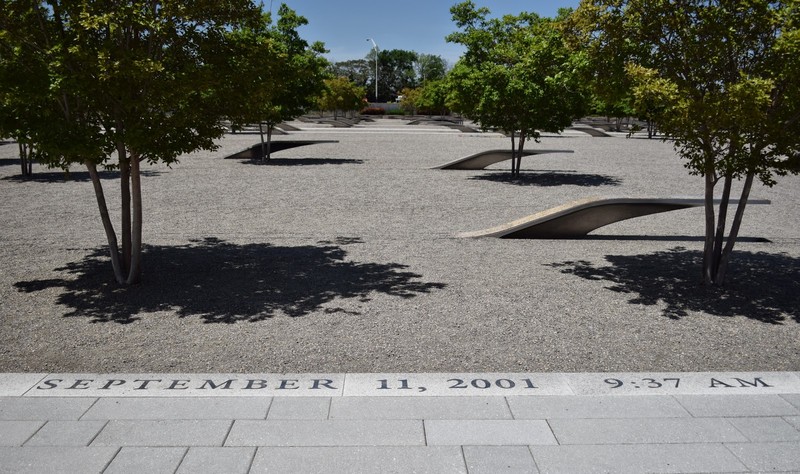 Picture at night displaying the illuminating pond that reflects light below each bench. Photo courtesy of Terry Hall
Backstory and Context
September 11, 2001 was one of the most tragic days in American history, as terrorist attacks led to the death of over two thousand civilians. The attack on the Pentagon began when five terrorists boarded American Airlines Flight 77 at Dulles International Airport. The flight was scheduled to travel to California, but the five terrorists gained control of the aircraft and crashed it into the Pentagon killing 184 men, women, and children. This memorial honors those victims.
The contract to build and design the memorial was awarded to Centex-Lee, LLC, initially, but then Balfour Beatty, PLC, gained ownership of Centex-Lee, LLC. The construction of the Pentagon Memorial began on June 5, 2006 and was completed by September 11, 2008. There lays 184 cantilevered bench, each with the individual's name engraved. Beneath the benches is a stream of water that flows throughout the day, and at night it illuminates. However, every day the flow of water stops at 9:37 a.m. to remember the time the attack occurred and to share a moment of silence with those who has lost their lives. There are also 85 Crape Myrtle trees to provide shade over the memorial.
The Pentagon Memorial is the historic place where visitors from all around the world come to pay tribute to the 184 victims who lost their lives during the September 11, 2001 terrorist attack on the Pentagon. Some of the victims were on board the plane and some were workers or visitors to the Pentagon. The age of the victims range from as young as 3-years-old to 70-years-old.
Sources
http://pentagonmemorial.org/learn/911-pentagon http://pentagonmemorial.org/explore/biographies http://www.washingtonpost.com/gog/museums/national-9-11-pentagon-memorial,1153535.html
Additional Information