Camp Sibert Marker
Introduction
Camp Sibert was the first large-scale chemical agent training area in the United States and operated from 1942 to 1945. Infantry units and individual Soldiers were disciplined in aspects of both basic military training and in the use of chemical weapons, decontamination procedures, and smoke operations. Mustard gas and other chemical warfare agents were used in the training. Camp Sibert provided the opportunity for live-agent, large-scale training that had been previously unavailable. In addition to chemical training, several types and calibers of conventional weapons were fired at the former Camp Sibert. The 4.2-inch mortar was the weapon most often used in training. In 1997, the U.S. Army Corps of Engineers selected Parsons to begin phased engineering evaluation/cost analysis (EE/CA) investigations for CWM and munitions and explosives of concern (MEC) at various sites within the former 37,000-acre training area. In 2009, One Stop Environmental, LLC joined the onsite Parsons' team, and provided HAZWOPER/OSHA certified equipment operators at the project site, who are performing the hazardous soil removal in Level B PPE.
Images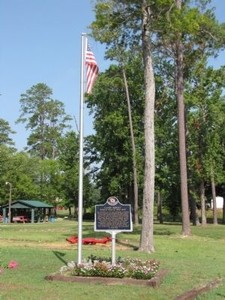 Camp Sibert as seen across Gilbert Ferry Road.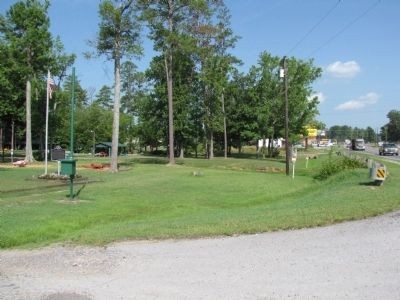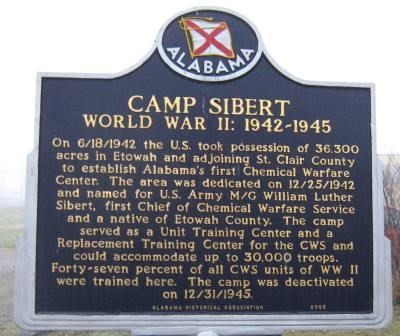 Backstory and Context
From 1941 to 1945, the United States was involved in World War II. The Etowah County area contributed to the war effort in many ways. Not only did hundreds of men and women serve in actual combat roles, but many worked in the factories and industries creating war goods to help defeat the Axis powers of Germany, Japan and Italy. Etowah County also provided hundreds of acres of land for a military installation that played a major role in America's war effort.
The camp served as a unit training center and a replacement training center for the Chemical Warfare Service. Camp Sibert at times housed as few as 5,000 troops, but could accommodate as many as 30,000.
At Camp Sibert, the CWS conducted various training exercises such as smoke-screen defense, chemical decontamination and chemical depot maintenance. Troops equipped the camp with chemical field-filling stations, a toxic gas yard and decontamination areas. The Army also constructed an airfield for the simulation of chemical air attacks against the troops.
Mustard gas and other live chemical agents were used during military training at Camp Sibert. The 4.2-inch mortar was the weapon most often used, and the ordinance most often found lurking under the surface during post-war clean-ups, some of them live. Since the war ended 67 years ago, the clean-up and disposal of these hazardous materials have been farmed out to various companies who specialize in such work under the auspices of various government agencies. From the online articles I've read, there does not appear to have been any accidents during these clean-up and disposal efforts. Needless to say, this vast area covering parts of two large counties is now real estate which include homes and businesses.
The camp contributed much to the Etowah County economy. Hundreds of civilian jobs were created, and the thousands of men stationed at the camp spent lots of money in Gadsden. During its brief existence, the chemical warfare training facility had some rather distinguished troops stationed here, including boxer Joe Louis and entertainers Mickey Rooney and Red Skelton.

Sources
Additional assistance with this article was provided by Charlene Simpson of Ashville Museum and Archives, Rosemary Hyatt of Northeast Alabama Genealogical Society, Pat Coffee of the Town of Steele, Jody Gilliland of Chandler Mountain Baptist Church and Jack Hayes of American Legion Post 109, Pell City.
Additional Information