Richwood Historic District
Introduction
The Richwood Historic District consists of fifty-one properties in downtown Richwood, a once-thriving town and commercial center which grew as the center of a booming timber industry in the twentieth century. The district was added to the National Register of Historic Places in 2001.
Images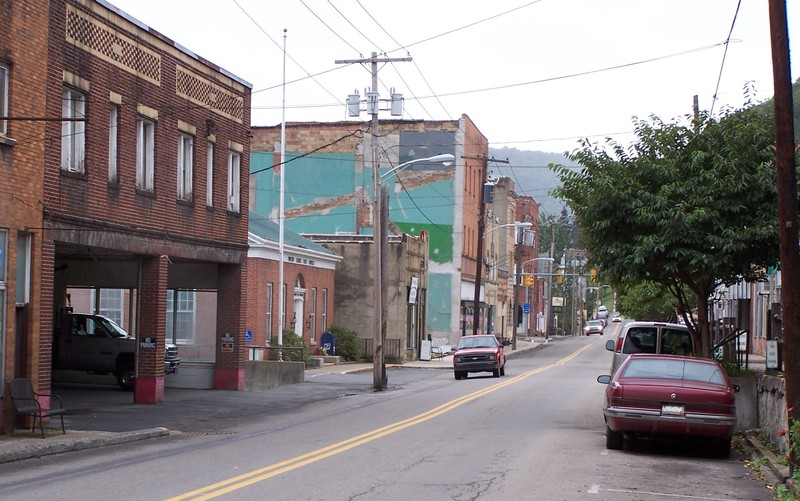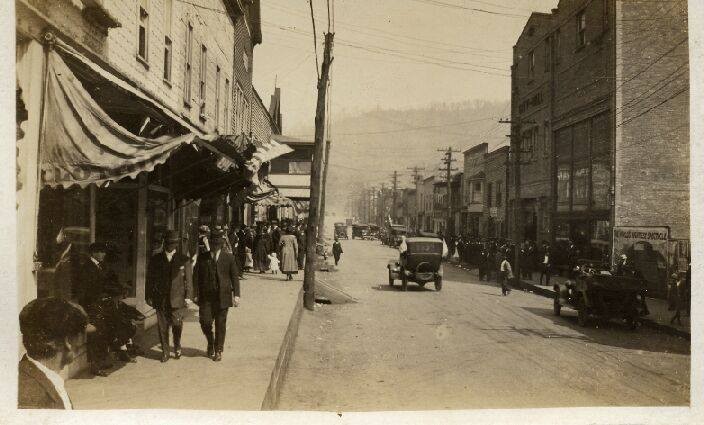 Cherry River Boom and Lumber Company Mill in 1924.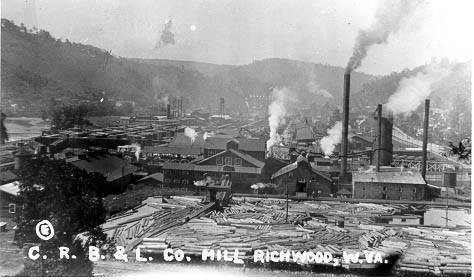 Backstory and Context
Richwood was established at the beginning of the twentieth century in Nicholas County at the confluence of the North and South Forks of the Cherry River. The town rapidly grew thanks to the rise of a booming lumber industry fueled by the Cherry River Boom and Lumber Company. It was incorporated as a town in 1901 and in 1921 it was chartered as a city. The growth of the lumber industry in Richwood also spurred related industries such as the Cherry River Paper Company and the Steele-Wallace Clothespin Factory (reported to have been the largest of its type in the world). The Cherry River Boom and Lumber Company had extensive land holdings in the county and the surrounding area, supplying lumber for the mill. In addition to this, Saxman coal mines and coke ovens provided the mill and its railroad locomotives with fuel. All of these natural resources contributed to Richwood's expansion and development as a regional center.
In addition to the timber and related industries, other forms of commerce developed to support the population. By 1927 there were three banks in town, two theaters, two hospitals, numerous hotels and boarding houses, and more than thirty other commercial establishments which included department stores, drug stores, hardware and furniture stores, and a Coca-Cola bottling plant.
Richwood was a booming town, especially in relation to the county seat of Summersville. This was directly attributable to the Cherry River Boom and Lumber Company. Summersville was supported primarily by farmers and the services surrounding a county seat with lawyers, doctors, and other professionals. Richwood was incorporated in 1901 after its formation in 1900; Summersville was formed in 1820 but not incorporated until 1860. Summersville was slowed in its development due to lack of transportation opportunities while Richwood's railroad allowed the timber industry with all of its offshoots to flourish while the resources lasted.
The Downtown Richwood Historic District was established and listed on the National Register of Historic Places in 2001. It is composed of ten acres encompassing Main Street, Commercial Street, and Oakford Avenue. It contains fifty-one historic structures, mostly commercial buildings constructed during the boom period between 1900 and 1929. Many were designed in the Italianate, Colonial Revival, Romanesque Revival, and Art Deco styles.
Sources
www.nicholascountywv.org/shared/content/pdfs/rwd%20tour%202006.pdf www.wvculture.org/shpo/nr/pdf/nicholas/01000778.pdf
Picture 1: https://commons.wikimedia.org/wiki/File:RichwoodDowntownWV.jpg
Picture 2: https://www.facebook.com/media/set/?set=o.553348398056027&type=1
Picture 3: https://www.facebook.com/media/set/?set=o.553348398056027&type=1
Additional Information