Randolph Air Force Base
Introduction
Randolph Air Force Base dates back to 1927 when the War Department approved the construction of this facility for the Army. After struggling to find a suitable site, the Army Air Corps found 2300 acres northeast of San Antonio on which to establish the new air field. In 1930, the base officially opened with more than 15,000 people in attendance and a 230-plane flyover from nearby bases. Unlike the other bases that are part of the Joint Base San Antonio, Randolph focussed on basic training rather than specific military career fields. Over 15,000 recruits trained at Randolph graduated over the course of the war. In later years, Randolph Air Force Base has been the training ground for pilots, flight instructors, navigators, and weapons systems operators. Today, Randolph includes training courses for new programs related to remotely-operated aircraft.
Images
Building 100 "Taj Mahal" Description in Historical Marker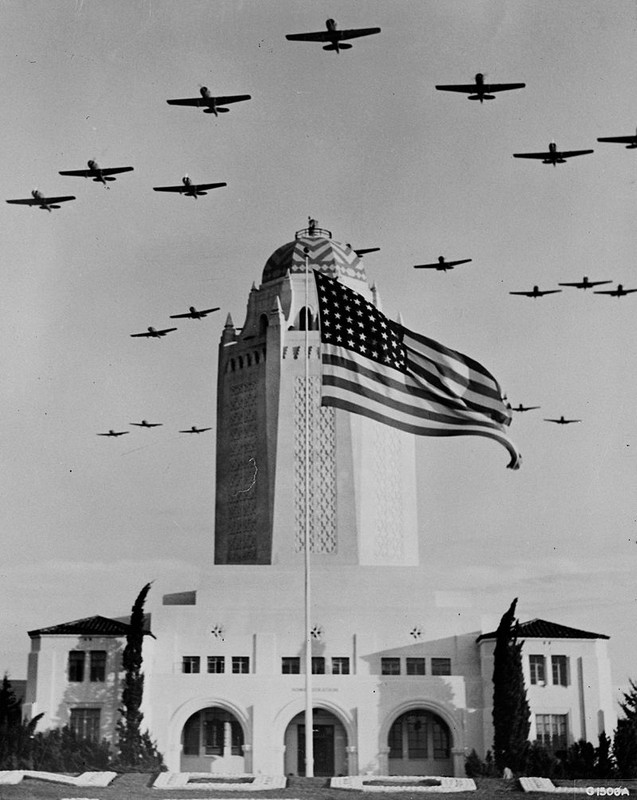 Building 100 Historical Marker https://www.hmdb.org/marker.asp?marker=31480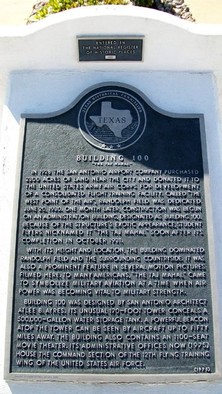 Cessna T-37 Tweet Historical Marker https://www.hmdb.org/marker.asp?marker=31482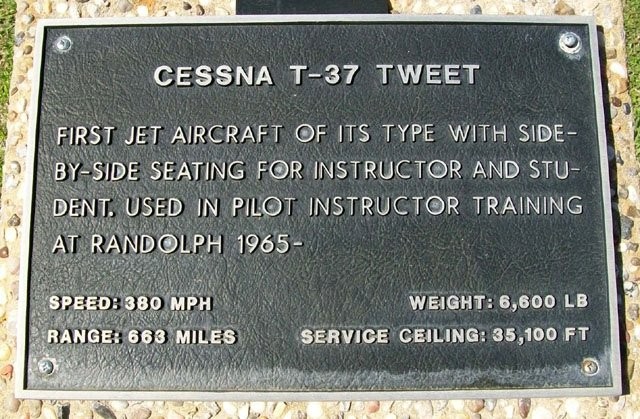 Gas and Electric Substation Historical Marker https://www.hmdb.org/Marker.asp?Marker=31776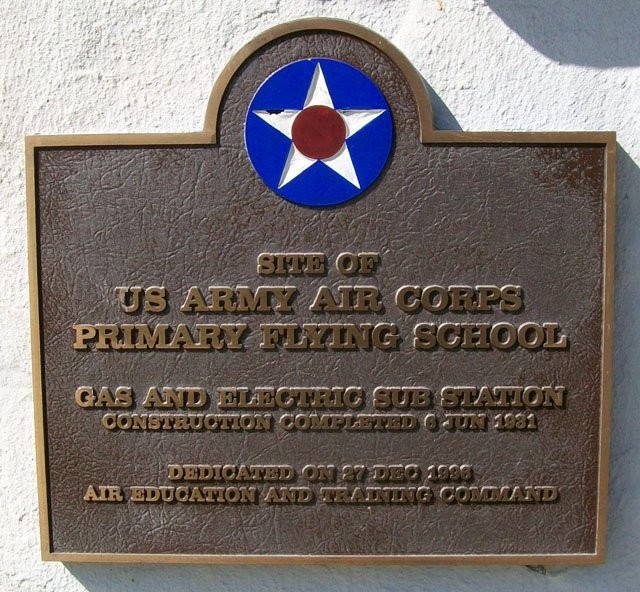 Missing Man Monument Historical Marker https://www.hmdb.org/Marker.asp?Marker=31134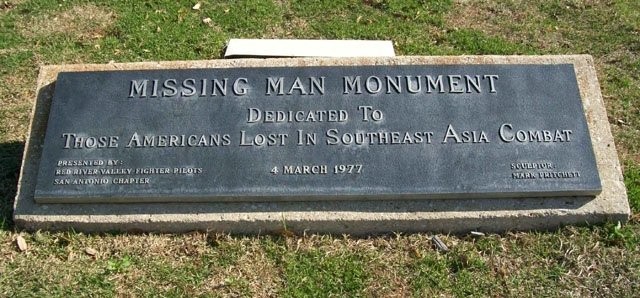 Post Chapel Historical Marker https://www.hmdb.org/marker.asp?marker=31786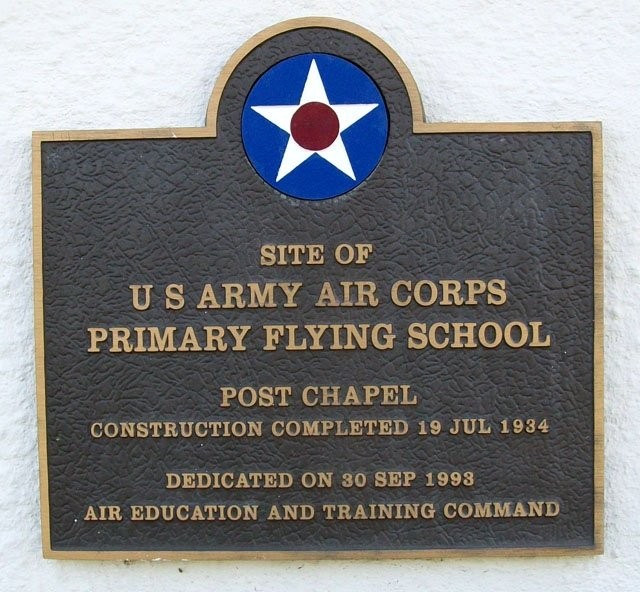 Post Exchange Historical Marker https://www.hmdb.org/Marker.asp?Marker=31774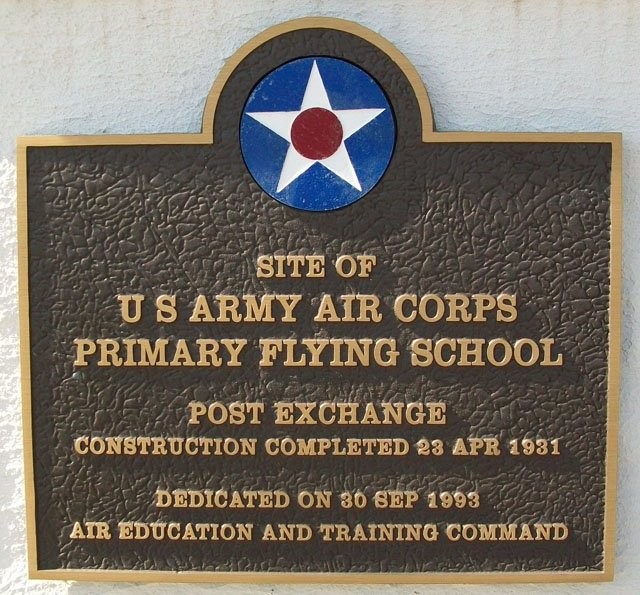 PX Filling Station Historical Marker https://www.hmdb.org/Marker.asp?Marker=31775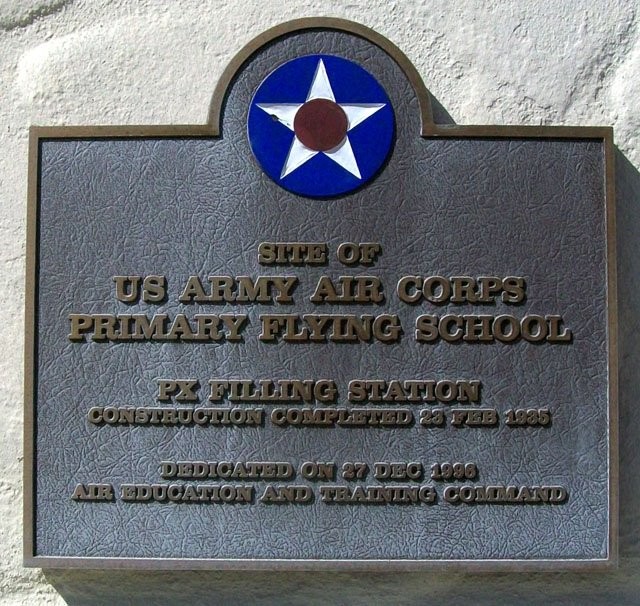 Backstory and Context
The Air Corps Act of 1926 brought big changes to the air branch of the Army. It changed the name from Army Air Service to Army Air Corps and provided an expansion program for the Corps. Under this new program, Brigadier General Frank P. Lahm was selected to oversee all flying training for the Air Corps, and he quickly realized that the training requirements were too much for Brooks and Kelly fields where they were being held. This prompted General Lahm to find a site on which to build a new air field to lighten the load on the existing facilities. After searching all over Bexar County near San Antonio, a 2,300-acre plot of farmland near Schertz was promised to the U.S. government after some creative financing from the city of San Antonio. A committee decided to name the site after Captain William Millican Randolph, who was a member of the name-finding committee killed on takeoff returning from Gorman Field in Texas.
The first designs for the new field were drawn up before a site had been decided on by 1st Lieutenant Harold Clark, a dispatch officer at the Kelly motor pool. Using his pre-military architecture training, he sketched out his designs on the backs of dispatch sheets. His unique "Air City" consisted of centrally located buildings in a circular design around concentric streets with aircraft ramps and runways on three sides, creating a square perimeter around the circular structure layout. This new design impressed General Lahm so much that he reassigned Lt. Clark to work full-time developing the design in his office.
After approval of the design, the Army Corps of Engineers undertook their biggest project since the Panama Canal, taking over five years to complete the 500 structures and 300 miles of roads. In the middle of this construction on June 20, 1930, Randolph Field was formally dedicated in a ceremony in front of a crowd of 15,000, concluded by a 233-plane flyby from Brooks Field, Kelly Field, Fort Crockett, and Fort Sill.
At the end of the 1931, the Air Corps Primary Flying School was established on the base and continued primary training until Randolph's mission changed to basic pilot training in 1939. In 1943, the mission changed again to training instructors for all three phases of the Air Corps training program with the Central Instructors School. Over its three-year mission, the school trained over 15,000 instructor pilots until it was replaced by the Air Force Pilot School in 1945, which focused on B-29 pilot, copilot, and engineer training. Basic and primary pilot training was conducted until March 1948, when the whole pilot training program was deleted. After the Air Force became a separate service in 1947, the term "Air Force Base" replaced "Field."
The second half of the 20th century saw Randolph Air Force Base grow. In 1957, Air Training Command moved to Randolph from Scott AFB in Illinois, and two years later the Seguin Auxiliary Field opened. Following activation, the Twelfth Flying Training Wing became the host wing of the base and continued training instructor pilots, including requalification training for ex-prisoners of war from Vietnam. After the end of Operation Homecoming in 1976, Randolph's sole mission was pilot instructor training. By the early 1990s, the base was home to over 3,000 civilian workers, with a total of over 8,000 military personnel and a $227 million annual payroll. A new navigator mission was adopted in 1993, and the base began testing planes such as the Texan II in 1999.
As the new century rolled in, more changes came to the base. Following the endorsement of President George W. Bush in 2005, the Base Realignment and Closure Commission called for Joint Basing, which brought Fort Sam Houston, Lackland AFB, and Randolph AFB under a single management entity. Randolph also changed navigator training to Combat Systems Operator Training as well as a new mission for Remotely Piloted Aircraft pilot training in 2009. The next year, the 502d Air Base Wing, headquartered at Fort Sam Houston, became the new host wing for the Joint Base San Antonio after the Twelfth Flying Training Wing became a tenant unit. During this time, Randolph AFB gained several new aircraft fleets to replace the old, outdated models as the Air Force continued upgrades.
Sources
Brown, Timothy M. "Randolph Air Force Base." The Handbook of Texas Online. June 15, 2010. Accessed April 26, 2019. https://tshaonline.org/handbook/online/articles/qbr01.
"Randolph Air Force Base in Universal City, TX." Military Bases. Accessed April 26, 2019. https://militarybases.com/texas/randolph/.
Additional Information