Traveler's Repose
Introduction
The original 1845 home was a stagecoach stop and inn. Owned and operated by Andrew Yeager before the Civil War, the inn stood between two warring armies in the Civil War when the 1861 Battle of Greenbrier Bridge River (or Battle of Bartow) took place nearby. The original home burnt down after the war, but was rebuilt.
Images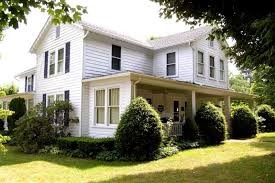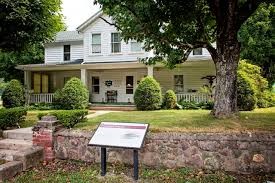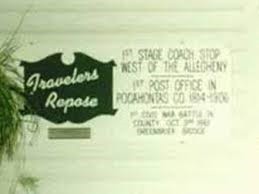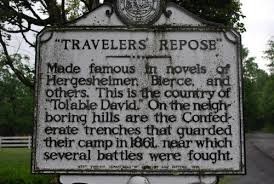 Historic Traveler's Repose. 1940. The front of the structure in the photograph was rebuilt by Andrew Yeager after the war. Picture courtesy of WVU Libraries collection.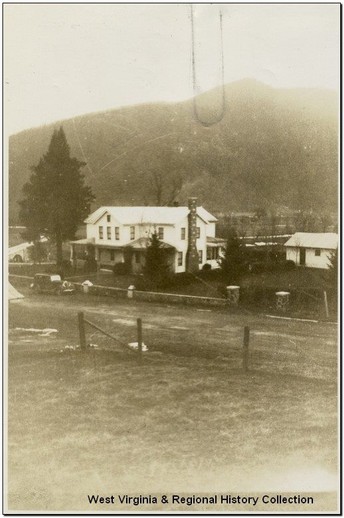 Backstory and Context
Traveler's Repose is a two-story, frame building that stands at the foot of Cheat Mountain at the intersection of Route 28 and the historic Staunton-Parkersburg Turnpike, Route 250. The historic inn, which is located in Pocahontas County, has reputedly been visited by many famous individuals throughout history, among the visitors were Abraham Lincoln, Stonewall Jackson, and Ambrose Bierce. The guest register has been misplaced, but the time frame and location of the home are appropriate to the suggested guests.
The home has been used for several purposes throughout history. It was initially built in 1845 as a stagecoach stop and inn, and when a mail route came through in 1847 Travelers' Repose became the post office. It remained a post office for several years. Things changed on October 3, 1861 when Travelers' Repose was caught in the middle of a Civil War battle. The surrounding property was used as an encampment for 1,200 rebel soldiers. The 1861 Battle of Greenbrier River (or Battle of Bartow) was fought on the property with numerous casualties. An unmarked grave is still on the property and contains the remains of more than 80 Confederate soldiers who died of wounds and disease in the winter of 1861-62.
The original home was destroyed by fire during the Civil War and was rebuilt on the original foundation in 1869 by Peter Dilly Yeager. This new Travelers' Repose contained 22 rooms and a barn that could accommodate 28 horses. Throughout the years, the home has been known as the Yeager Hotel, the Greenbrier Hotel, and the popular Travelers' Repose, and has been cared for by several members of the Yeager family. The last Yeager descendant to live and own Travelers' Repose was Jessie Beard Powell (1915-2013), who carried on the tradition of hospitality, graciously accepting passersby who made inquiry about the charming structure's history. A historic highway marker has been placed nearby. The farm sold at auction in 2014 and the fate of Travelers' Repose is unknown.
Sources
Feather, Carl E. "Sweet Repose in Bartow." West Virginia Division of Culture and History. 2015. Accessed April 27, 2015. http://www.wvculture.org/goldenseal/winter12/Repose.html/ "National Register of Historic PlaceNomination-Inventory Form." West Virginia Division of Culture and History. Accessed April 30, 2015. http://www.wvculture.org/shpo/nr/pdf/pocahontas/95001325redacted.pdf.
Additional Information