North Point Lighthouse and Station
Introduction
Located on a two-acre parcel of semi-wooded land in Milwaukee's Lake Park, the North Point Light Station is a 74-foot lighthouse tower has stood as one of the city's main historic landmarks, and it has served as an important monument showcasing the region's maritime history of over 120 years. The North Point Light Station was first built in 1855, and up until its decommission in 1994, the lighthouse beamed its light over Lake Michigan to guide ships and watercrafts. In fact, the lighthouse is one of Milwaukee's oldest structures still-standing in a predominately urban area. In 1984, the National Park Service (NPS) added the lighthouse to the National Register of Historic Places Nowadays, Lake Park draws thousands of visitors every year due to its beauty and historical significance. In addition to touring the lighthouse, guests can learn about the heritage and cultural roles that Milwaukee played in the Great Lake's maritime activities.
Images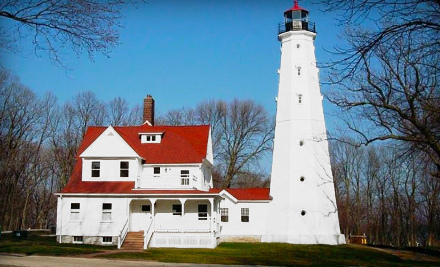 North Point Lighthouse another view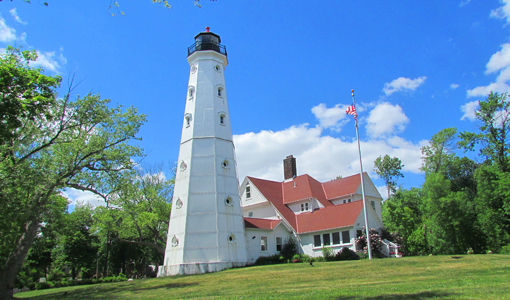 Historic photo of the lighthouse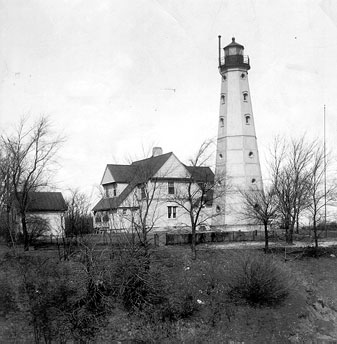 Backstory and Context
History of the North Point Lighthouse
The North Point Lighthouse wasn't, in fact, Milwaukee's first lighthouse. As the fur trade in the area was still prominent in Wisconsin in the early 19th century, along with increased ship traffic in the Great Lakes, lighthouses were essential to any growing city. Thus, in 1837, Milwaukee erected its first lighthouse atop the 56-foot bluff on the eastern end of Wisconsin Avenue at a cost of $5,000. Unfortunately, the lighthouse wasn't built in the Board of Navy Commissioner's recommended location. By 1852, the newly created Lighthouse Board raised $5,000 to fix the problem of the misplaced lighthouse, and the first 28-foot lighthouse structure on the current land was completed in 1855.
The first lighthouse didn't last long, however, as in the 1870s, shore erosion caused 16 feet of the lighthouse's front yard to drop into the beach. Motions soon began afterwards to move the lighthouse 100 feet inland, and in 1886, Congress approved $15,000 to build the present lighthouse as well as the keeper's quarters. Construction finished in December 1887 and the tower lighted January 1888.
It wasn't until 1893 when Milwaukee started developing Lake Park around North Point Lighthouse.
A lighthouse keeper ran the coal gas powered Fresnel lamps until they were automated in 1943, though Coast Guard personnel continued living at the station until 1994.1
Lighthouse Museum
Visitors to the lighthouse can discover hundreds of maritime artifacts and exhibits covering the entire history of the lighthouse as well as information regarding the maritime activity in the Great Lakes and Lake Michigan. Furthermore, as part of the Lighthouse Museum, guests can read through the lighthouse keeper's ledgers dating back to 1873, allowing readers a first-hand look into the lives and activities of the lighthouse keepers.
Other features of the Lighthouse Museum include photographs covering the lighthouse's 150 year history, the last Fresnel Lens before the decommission in 1994, a smaller Fresnel lens dating back to 1838, artifacts from the Car Ferry Milwaukee wreck in 1929, and many other artifacts and exhibits.2

Sources
1.) North Point, WI. Lighthousefriends.com, accessed October 11, 2015, http://www.lighthousefriends.com/light.asp?ID=245 2.) North Point Lighthouse, northpointlighthouse.org, accessed October 11, 2015, http://northpointlighthouse.org/visit/
Additional Information