John F. Kennedy's Eternal Flame
Introduction
President John F. Kennedy, the 35th United States President, is buried in the Arlington National Cemetery on the hillside below the Arlington House. After the military ceremony on November, 25th, 1963, the day of President Kennedy's funeral, his wife Jacqueline Kennedy lit the Eternal Flame. The flame and memorial was later surrounded by a white picket fence. The Eternal Flame was inspired by the Kennedy family's trip to Paris, where they saw a flame in memory of the Unknown Soldier at the Arc De Triomphe. Mrs. Kennedy had expressed she wanted a similar device to show the world that her husband had also given his life to his country.
Images
John F. Kennedy's Eternal Flame.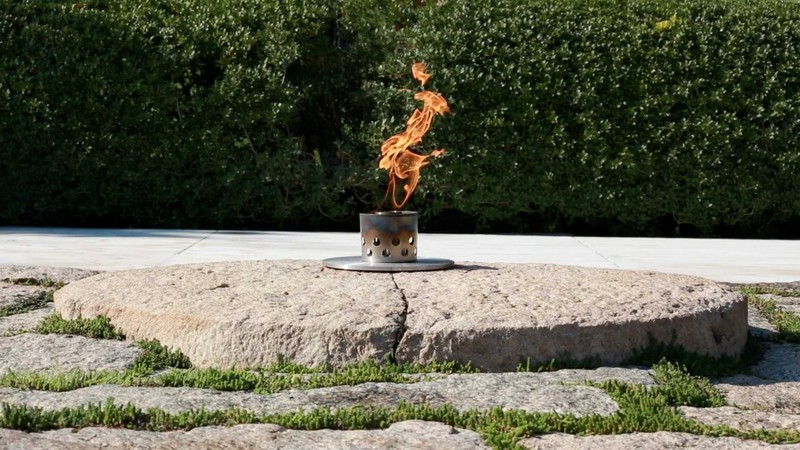 A view of the flame and plaques.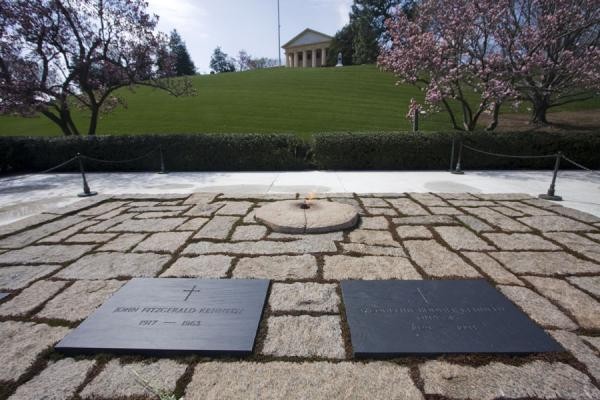 A shot of the flame at night.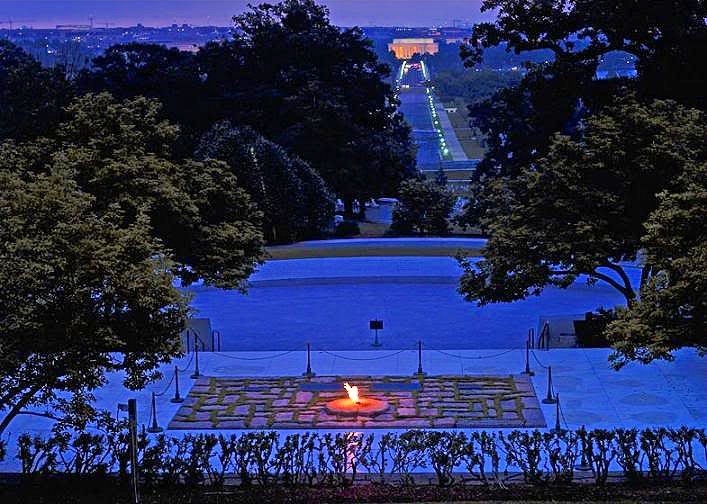 Mrs. Kennedy lighting the Eternal Flame.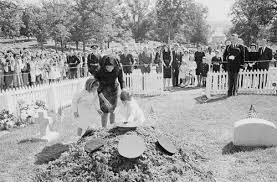 Backstory and Context
John F. Kennedy was born on May 29, 1917 in Brookline, Massachusetts. Kennedy joined the United States Navy during World War II after he had graduated from Harvard University. While commanding his PT-109 patrol boat in the Pacific, they were rammed by a Japanese boat which sent his crew overboard. He then swam four hours to shore while saving a crewman. Later he would received the Navy and Marine Corps Medal for his heroic efforts and a Purple Heart due to his back injury he had endured. Before becoming president in 1960, Kennedy served on both the U.S House of Representatives and U.S. Senate. In November of 1960, at forty-three year old, John F. Kennedy defeated Richard Nixon to become the youngest president ever. On November 21, 1963, while campaigning in Dallas, Texas, Kennedy was assassinated by ex-marine, Lee Harvey Oswald. John F. Kennedy passed away at the age of forty-six.
Jacqueline Kennedy was ultimately the conductor of all the things that would go into the funeral and Gravestone. The gravesite is paved with Cape Cod granite from an area near Kennedy's home in Massachusetts. The funeral was televised lived with about 93 percent of American homes watching and another 23 countries with over 600 million people watching. The site is 20 feet wide by 30 feet long and is fenced in by a white picket fence. JFK's grave was visited by over 50,000 people per day within the first year. In the first three years after Kennedy's death, over 16 million people had visited.
The Eternal Flame burns in the center of the five foot circular flat-granite stone at the head of the grave. The Institute of Gas Technology of Chicago created the design mechanism. There is a flashing electric spark near the top of the nozzle that relights the gas should it go out due to high winds or rain. It takes $200 a month for the maintenance to keep the eternal flame burning. On May 17, 2013 the eternal flame was upgraded with a new burner, new gas lines, new gas pressure regulators, new electrical cables and a more energy efficient automated flame. The 3.2 acre site cost about 2.2 million dollars.
There have been certain negative events that have happened at the Eternal Flame. An army veteran committed suicide near the monument in 1972 and in 1982, an immigrant man from El Salvador, who had broken into the monument at night, had a heart attack and then fell onto the flame.
Still despite these events, the flame has continued to live on as an icon of JFK's legacy.
Sources
Maguire, Jack. AN ETERNAL FLAME FOR A FALLEN PRESIDENT. Arlington Cemetery. n d. November 6, 2018. http://www.arlingtoncemetery.net/eternalflame.
JFK's body moved to permanent gravesite. History.com. November 16, 2009. November 6, 2018. https://www.history.com/this-day-in-history/jfks-body-moved-to-permanent-gravesite.
President John Fitzgerald Kennedy Gravesite. Arlington Cemetery. n d. November 6, 2018. https://www.arlingtoncemetery.mil/Explore/Monuments-and-Memorials/President-John-F-Kennedy-Gravesite.
President Kennedy's Grave in Arlington National Cemetery. JFK Library. n d. November 6, 2018. https://www.jfklibrary.org/Research/Research-Aids/Ready-Reference/JFK-Fast-Facts/Grave.aspx.
Additional Information