Mandeville House
Introduction
The Mandeville House is a historic home in Garrison, New York. It was originally built in 1735-1737 by Jacob Mandeville, who purchased 400 acres of land that was previously granted to Adolphe Philipse by William III of England. It is the oldest remaining house in Garrison. Today, it is owned by Richard Perry, a lawyer and former friend of the house's last owner, Margaret Allan Gething, who asked him to oversee trust she set up in her will. Perry opens the house up for tours on occasion. The house was placed on the National Register of Historic Places in 1982.
Images
Richard Perry in front of the house in 2006. Credit: New York Times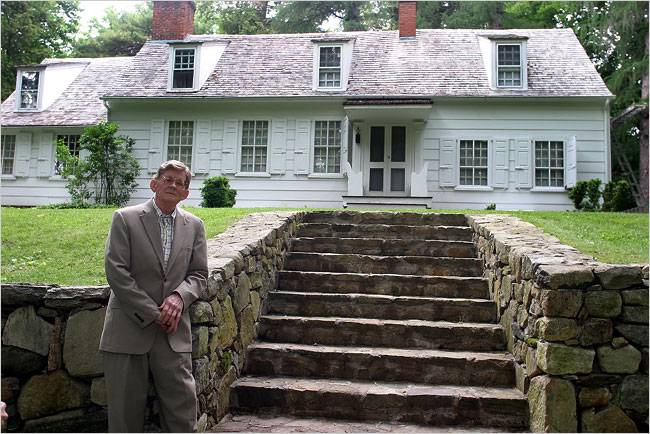 Backstory and Context
During the Revolutionary War, Major General Israel Putnam headquartered here in 1779. The house's former owner, Beverly Johnson, was a loyalist and the state of New York confiscated the property. On two occasions that year, George Washington slept overnight at the house. In the 1920's, the Gothic Revival elements that were added in the 1800's were removed, returning the house back to its more original state. More recently, local preservationists have accused Perry of using the house for himself instead of opening it up to the general public, which is what Margaret Allan Gething stipulated in her will.
Sources
Mandeville House. Wikipedia. January 15, 2018. Accessed November 14, 2018. https://en.wikipedia.org/wiki/Mandeville_House.

Strom, Stephanie. Long After Revolutionary War, House Is Still a Battle Scene. The New York Times. June 16, 2006. Accessed November 14, 2018. https://www.nytimes.com/2006/06/16/us/16house.html?_r=0.
Additional Information