Scottish Tartans Museum
Introduction
The Scottish Tartan Museum proudly displays the heritage of the Highland Scots that immigrated to the hidden valleys and high peaks of the Appalachian Mountains. The Scottish Tartans immigrated in the 17th and 18th centuries while bringing with them their own set of customs, songs, and own unique style of dress. This museum mainly focuses on the kilts that these people wore, along with their history, and the development of Scottish Highland Dress. A kilt was a symbol of what clan or family a person came from so they could be easily distinguished between another clan. A person can track their family through these clans based upon the type of pattern that was sewn onto the kilt. Today the museum houses around five hundred different mannequins that display different individual clothing, each representing a different clan. Since 1988 this museum has served as the center for research and a display of Scottish heritage.
Images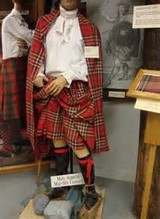 Backstory and Context
The Scottish Tartan Museum takes pride in their vast collection of kilts and designs that date back to over two-hundred years ago. These kilts and samples of cloth from the tartans symbolize a different family or clan. There are over five-hundred pieces of patterns or kilts with some of them dating back to c. 1725. Tartan is basically the interlocking of stripes that go vertically and horizontally. These stripes and patterns are seen as a representation of Scottish families and clans but history has proven otherwise.
The Tartan Museum was founded by the Scottish Tartans Society which was established in Scotland in 1963. The Scottish Tartan Society built the museum for the purpose of researching Highland Dress and to promote worldwide membership. The purpose of the museum was also to supply a place that a person could do research on Scottish Highland Dress in the United States, as well as a epicenter for Scottish-American heritage. The museum was originally built in Highlands, NC in 1988 but was moved to Franklin in 1994 and has remained there ever since. The Tartan Museum is very active in the community and has been a general Scottish Heritage Center for the region. The Scottish Tartan Museum also houses different exhibits that showcase the weapons and weavings of the Scots, along with detailed information on their migration to the frontier of North Carolina and their dealings with the Cherokee natives.
Sources
http://www.blueridgeheritage.com/attractions-destinations/scottish-tartans-museum http://www.scottishtartans.org/gallery.html http://www.scottishtartans.org/tartan.html
Additional Information