Doughoregan Manor
Introduction
This grand residence is the historic Doughoregan Manor, which was the colonial home of the last surviving signer of the Declaration of Independence, Charles Carroll of Carrollton (1737-1832). Originally built around 1727, it was located on a 10,000-acre plantation. Around 200 enslaved people lived and worked here. A slave quarters building still stands on the property. The Carroll family still owns the manor but the property now appears to be roughly 800 acres in size. A fine example of Greek Revival architecture, the manor is nearly 300-feet long and notable features include an octagonal cupola, a one-story portico at the main entrance, a chapel on the north end with its own cupola, and a balustraded walkway running along the roof. Carroll, who was the only Catholic to sign the Declaration of Independence, was also Maryland's first U.S. senator. He is buried in the chapel. The manor is listed on the National Register of Historic Places and is a National Historic Landmark. It is not open to the public.
Images
First built in 1727, Doughoregan Manor was the home of the last surviving signer of the Declaration of Independence, Charles Carroll of Carrollton. It has remained in the Carroll family and is not open to the public.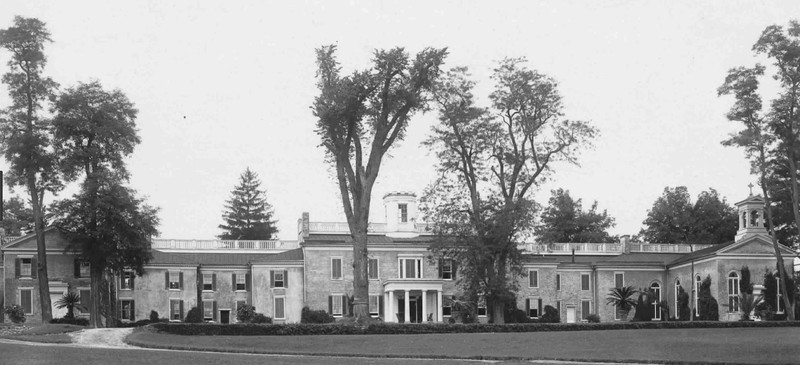 Around 200 enslaved laborers worked on the plantation. Some lived in this building, the slave quarters, which still stands today.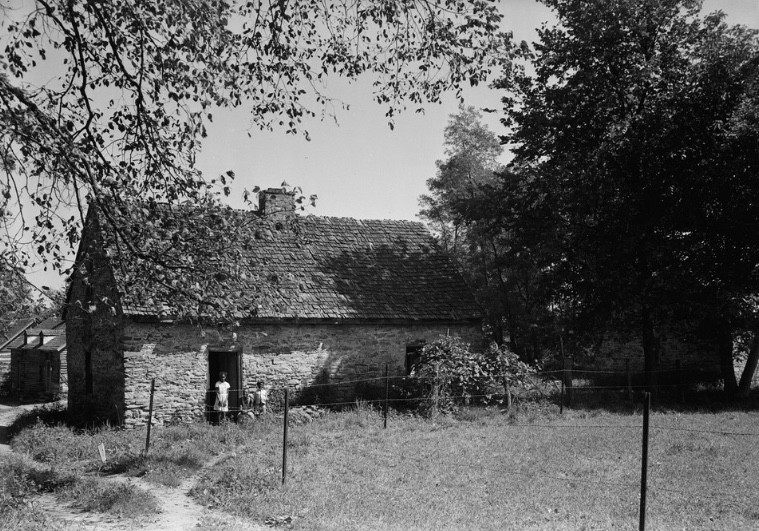 The property includes other structures including the carriage house.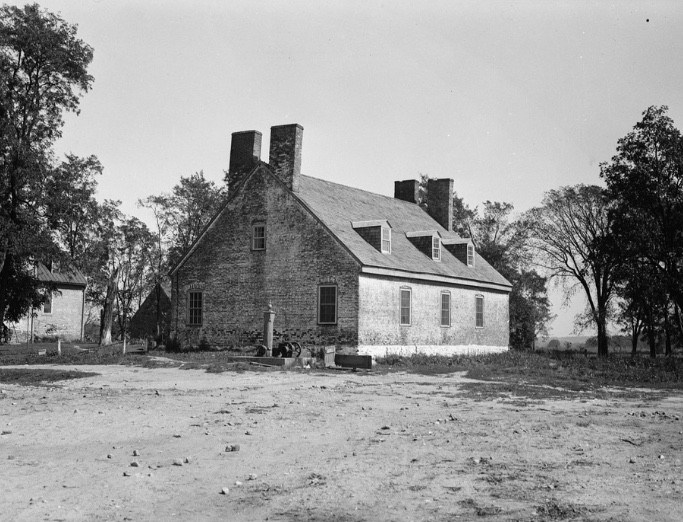 Backstory and Context
Charles Carroll was born into an aristocratic Catholic family. His grandfather, Charles Carroll the Settler (1661-1720), who was born in Ireland, served as attorney general of the Maryland colony from 1688 to 1717 and became one of the wealthiest landowners in the colony. In 1702, he was awarded around 7,000 acres in what is now Howard County and where the manor stands today. His son, Charles Carroll of Annapolis (1702-1782), was born in Annapolis and inherited his father's fortune and estates, including Carrollton Manor, in 1720. As a Catholic, he was barred from participating in politics but led the life of a wealthy planter. It was he who first built Doughoregan in 1727.
Carroll was born on September 19, 1737 in Annaopolis. He attended Jesuit schools, first in Maryland and then in France. He studied law in England as well before returning to Maryland in 1765 when he was 28 years old. It appears he inherited Carrollton Manor, which had increased in size to 10,000 acres, from his father at this time (in total, Carroll received 70,000 acres of land). HIs daily routine consisted of bathing each morning in a limestone pool, riding his horse (the Carrolls raised thoroughbred horses), and reading. He married his wife, Mary Darnall, in 1768 and they had seven children but only three lived to adulthood. In 1720, he planted a vineyard.
Given his Catholic faith, Carroll could neither practice law or enter into politics. However, in 1773, his political career began when he published letters under the pseudonym "first citizen" in Annapolis newspapers expressing his criticism of Britain's colonial taxation policies. His identity was eventually revealed and he became one of the leading voices of American independence. He served on a number of political committees in 1774 and 1775 and as delegate to the first Maryland convention, which became the provincial government of the colony from 1774 to 1776.
In 1776, Carroll was elected to the Second Continental Congress on July 4 and left for Philadelphia, where the convention met, and signed the Declaration of Independence on August 2. He served in the Congress until 1778 when he returned to Maryland to help establish the state government. Carroll was elected to the state senate in 1781 and served until 1800. He was elected as the first U.S. Senator in 1789 and served until 1792 (that year, the state passed a law prohibiting politicians from serving simultaneously in state and national legislatures).
Carroll ended his political career in 1801. He assisted in establishing the Baltimore & Ohio Railroad in 1827 and in 1828commissioned the Pheonix Shot Tower in Baltimore, which still stands. When he died in 1832, Carroll was one of the wealthiest men in the country with his assets totaling $1,650,000. His only son died in 1825 and as a result, his grandson Colonel Charles Carroll V inherited the property and enslaved workers. Colonel Charles rehabilitated and expanded the house in 1840, giving it its current appearance.
The property was still a sizable 2,500 acres in 1980. That year, the owners asked the county to close Manor Lane from the public to prevent people from getting close to the house. This request was granted. The property eventually shrunk to 892 acres by 2000 to make way for new developments. In the coming years the property was reduced by an additional 700 or so acres.
Sources
"Carroll, Charles (of Carrollton)." Biographical Directory of the United States Congress. Accessed August 25, 2022. https://bioguide.congress.gov/search/bio/C000185.
Carson, Larry. "Philip Carroll of Ellicott City family and Doughoregan Manor, dies." The Baltimore Sun. September 7, 2010. https://www.baltimoresun.com/maryland/howard/bs-xpm-2010-09-08-bs-ho-carroll-death-20100908-story.html.
"Doughoregan Manor, Ellicott City Maryland." Historic Structures. March 8, 2019. http://www.historic-structures.com/md/ellicott_city/doughoregan_manor.php.
Meredith, Mark. "Doughoregan Manor." House Histree. October 10, 2018. Last Updated February 24, 2021. https://househistree.com/houses/doughoregan-manor.
Snell, Charles W. "Doughoregan Manor." National Park Service - National Register of Historic Places Nomination Form. November 11, 1971. https://npgallery.nps.gov/GetAsset/2b508c04-6e77-45df-9c1b-b0df583593e2.
Image Sources
All images via House Histree

Additional Information