Sunken Road / Bloody Lane at Antietam
Introduction
The Sunken Road, also known as the Bloody Lane, is among the most important and recognizable topographical features of the American Civil War. Worn down from years of wagon traffic, the Sharpsburg, Maryland farm lane transformed into a graveyard after a day of conflict between the Union and Confederate armies during the Battle of Antietam.. Between 9:30am and 1pm on September 17, 1862, Union Major General William French led 5,500 soldiers in an attack on Confederate Major General D. H. Hill and his 2,600 soldiers, who held the Sunken Road for most of the morning. The struggle ended in exhaustion with 5,500 casualties and no advantage gained on either side. The Sunken Road, now called the Bloody Lane, was one struggle of the deadliest single day of the Civil War. The land is now part of Antietam National Battlefield and protected by the National Park Service.
Images
Battle map from the Civil War Trust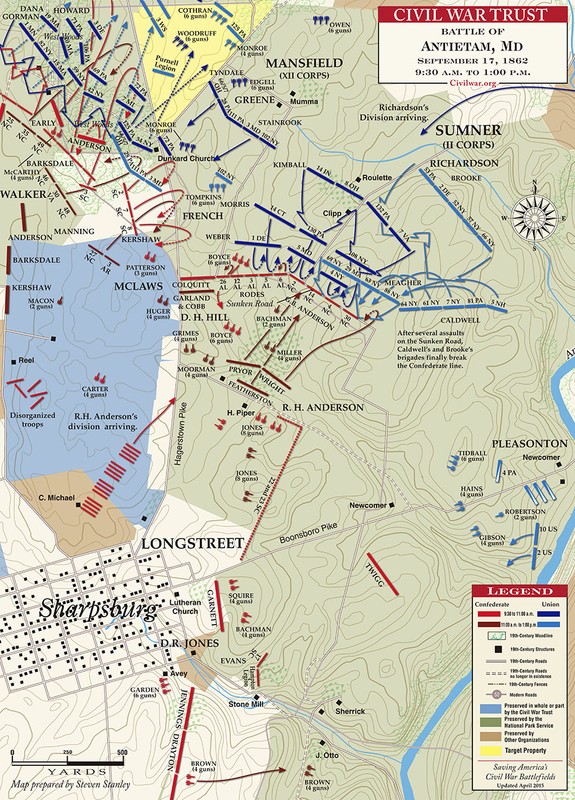 The Sunken Road was often traversed by farmers and passersby, causing the landscape to be worn down. Its topography contributed to its role in the Battle of Antietam.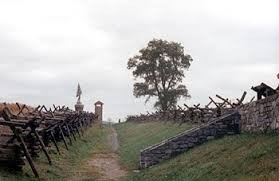 Marker identifying the location of the Bloody Lane.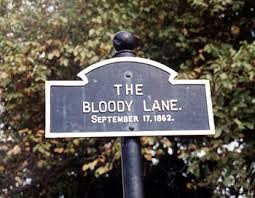 Backstory and Context
With the original name being Sunken Road, after the very blood battle during Antietam it was renamed Bloody Lane. Some of the fiercest fighting of the Civil War took place here and lasted for 4 long hours between the Union and Confederate Armies. At the end of this battle, it was said that blood flowed like a river down the beaten clay road.

Confederate Gen. Hill placed his division of approximately 2,600 men along the road and piles fence rails to strengthen their position. Gen, French and his 5,500 men veered south towards Hill along Sunken Road. As French's men approached, Confederate troops staggered with powerful volley from at less than 100 yards. The fighting continued for 4 hours from 9:30 a.m. to 1 p.m.

Later in the day, Gen. Burnside's troops pushed across a bullet strewn stone bridge over Antietam Creek. A.P. Hill's division arrived from Harper's Ferry and counter attacked driving back Burnside and saving the day for the army of Northern Virginia. Outnumbered 2-1, Lee committed his force at the battle, while McClellan sent in less than 3 quarters of his forces.
During the night, both armies tended to their wounded in spite of crippling casualties, Lee continued with McClellan on the 18th and the Union army claimed the victory.
Sources
Civil War Trust. "Battle of Antietam." Civil War Trust. Accessed November 2017. https://www.civilwar.org/learn/civil-war/battles/antietam

National Park Service. "Bloody Lane." Antietam National Battlefield. Accessed November 2017. https://www.nps.gov/resources/place.htm%3Fid%3D61
Additional Information