The 45th Infantry Division Museum
Introduction
Museum created to display collections, relative to the military history in the state of Oklahoma. This museum also provides the Oklahoma National Guard and its visitors with an educational tool that will help enhance the knowledge and appreciation of the State of Oklahoma's citizen soldiers and their participation in the history of the United States.
Images
Reaves Military Weapons Collections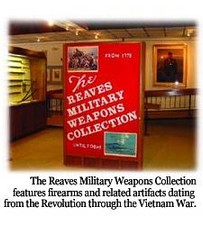 Hitler's Mirror part of the WWII exhibit.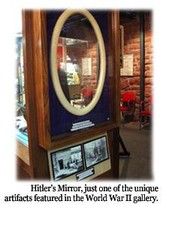 Maxim Machinegun, part of the Korean War Exhibit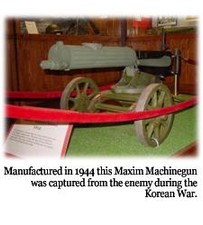 Backstory and Context
The 45th Infantry Division Museum was create in 1965 by an Act by the Oklahoma State Legislature. In 1974, the Lincoln Park Armory became available and became the permanent home of the museum. Throughout the years, the Armory housed several Oklahoma Army National Guard units, including the 45th Infantry Division Headquarters and Headquarter Company.
The Museum is home to several exhibits from Oklahoma's history. These exhibits are made up of the Reaves Military Weapons Collection, World War II exhibit, Korean War exhibit, Hall of Flags, Supporting Forces, and an Infantry and Artillery exhibit, as well as several others.
The Reaves Military Weapons exhibit is made up of a collection of military weapons that have been used by our forces over the past 30 years, as well as military weapons that have been used by captured enemy forces. Included in this exhibit is The Mosby Cannon, which is the most documented artillery piece in the War Between the States.
The World War II exhibit holds many artifacts from The Thunderbird's trek across Europe during the war. The most revered artifact that is displayed in the exhibit is Adolf Hitler's mirror taken from his Berlin Bunker.
These are just two of the outstanding exhibits that are located in the 45th Infantry Division Museum. The best thing about this museum is that it offers Free Admission!!
Additional Information