Montgomery Place
Introduction
Author-Uploaded Audio
Built in 1805, Montgomery Place is a historic estate located along the Hudson River in Red Hook, New York, about one hundred miles north of Manhattan. It includes the mansion, gardens, arboretum, woods, and orchards. The federal style mansion is the last remaining home of its kind in the Hudson Valley and the last one designed by architect Alexander Jackson Davis. It was built by Janet Livingtson Montgomery, whose husband General Richard Montgomery died at the Battle of Quebec on December 31, 1775, and she established a productive landscape. The historic home was acquired by Bard College in 2016 and is open for tours.
Images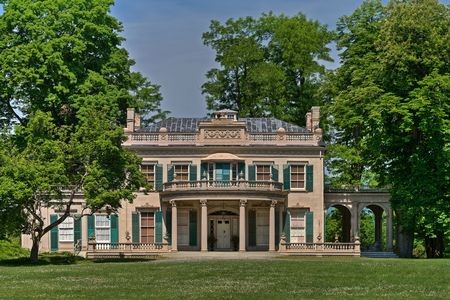 Drawing of Montgomery Place by Architect Alexander Jackson Davis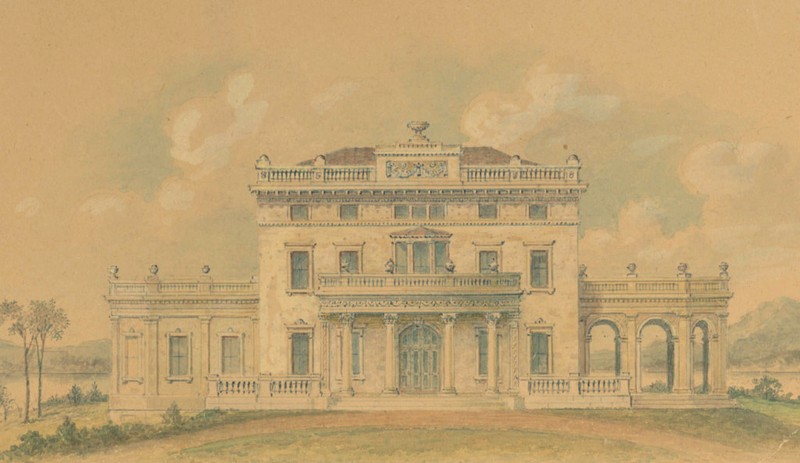 This 1861 Photo Shows Men Working Outside the Montgomery Place Conservatory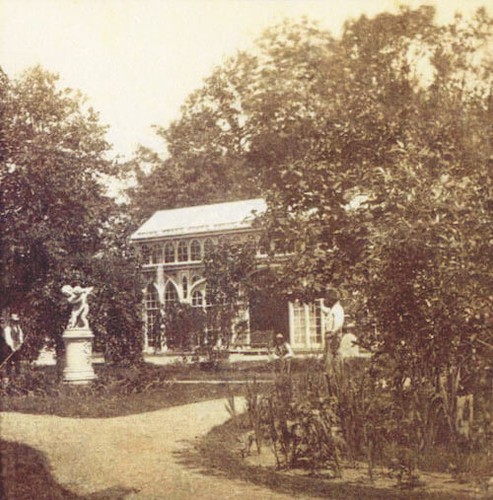 The Dining Room in Montgomery Place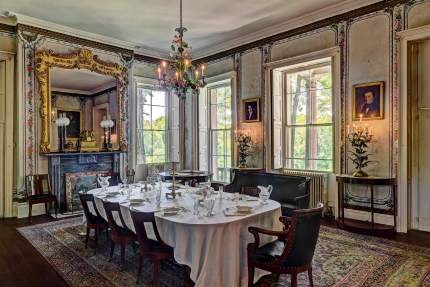 An Aerial Photo of Montgomery Place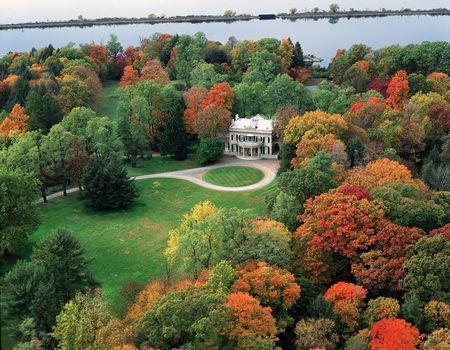 View of the Hudson River From Montgomery Place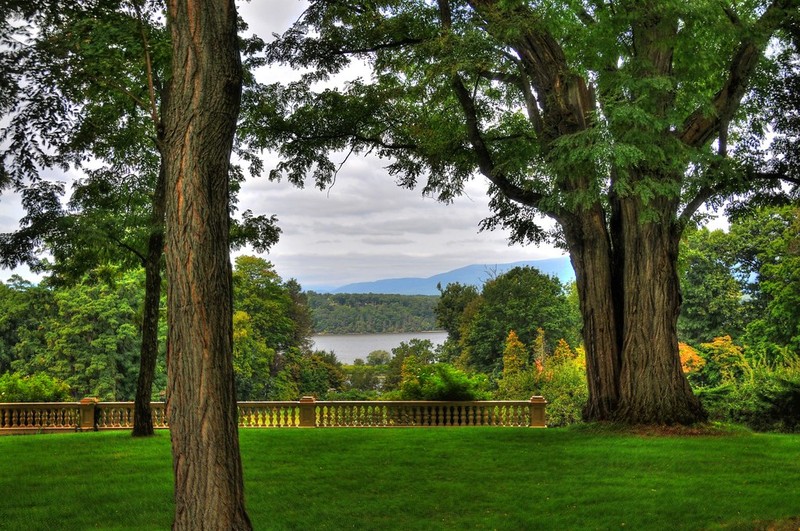 The Coach House Built By Alexander Jackson Davis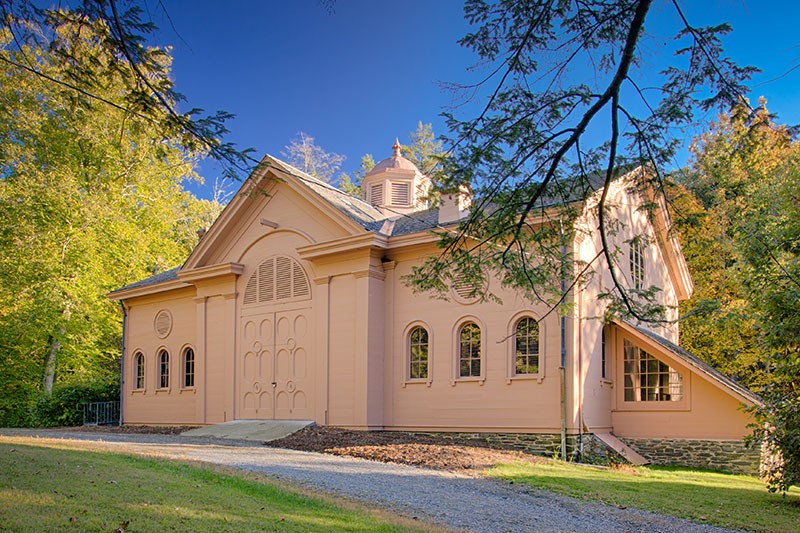 Backstory and Context
Author-Uploaded Audio
Before Montgomery Place was built as a home for the famous Livingston/Montgomery family, the land belonged to the Native Americans who used it to hunt and harvest. When the Europeans arrived and claimed the land, they used the nearby Saw Kill Creek to power gristmills and sawmills for farming. By 1802, the widowed Janet Livingston Montgomery (1743-1828) was looking for a site to build a country estate and she settled on the nearly 400 acres in Red Hook. Born into a prominent New York family, Janet married Richard Montgomery in 1773. Just two years later, General Richard Montgomery became a Revolutionary War hero when he was killed in the battle for Quebec.
Janet's family was surprised that the childless widow was taking on such a large venture when she was already living a comfortable life down the road in Rhinebeck. She conversed with her brother Robert, the Minister to France, and asked he send her architecture plans reflecting what was popular in France at the time. The home that was completed in 1805 was, instead, a federal-style mansion with some French furnishings; Janet called it "Chateau de Montgomery." She decided to open a commercial nursery, growing shrubs, berries, seeds, and fruit trees, pursuing her passion for botany. In addition to running a successful nursery, she collected ample rent from tenant farmers that lived at Montgomery Place as well as her other properties in Dutchess and Ulster Counties. The estate was made up of around 20 enslaved and free people who built, gardened, farmed, and worked in the home.
Janet Livingston Montgomery died in 1828 and her brother, Edward, inherited the land. Edward made little changes to the house but, instead of focusing on growing the farm, he decided to establish a more grand country estate. When Edward died, his wife Louise, daughter Cora, and son-in-law Thomas Barton, completely ended the working farm and established a showplace. Architect Alexander Jackson Davis was hired to renovate and redesign the house, adding classic revival style wings and porticos. The southern pavilion was completely enclosed, making room for a library and more living space. He also added decorative elements to Montgomery Place, such as: urns, pilasters, swags, and medallions. Louise also requested Davis design the Coach House, common for prominent families who owned estates, which was later turned into a garage.
Also in the 1840s, landscape architect Andrew Jackson Downing was consulted on expanding the gardens and establishing paths down to the peaceful waterfalls at Saw Kill. Downing was so proud of the landscape he included it in his 1841 book titled Treatise on the Theory and Practice of Landscape Gardening. The gardens grew in the 1920s when Violetta Delafield inherited the estate, along with her husband, John Ross Delafield. One of their heirs, John Dennis Delafield, transferred the estate to the Historic Hudson Valley in 1986, and it opened to the public two years later. In 1975, Montgomery Place was made a National Historic Landmark. Since the 1980s, the gardens and trails have been restored and are open to the public for hiking and picnicking. Thirty years later, Bard College acquired Montgomery Place, and they continue to conserve the historic home and the vast gardens and wildlife that surround it.
Sources
About Montgomery Place, Bard. Accessed July 21st 2020. https://www.bard.edu/montgomeryplace/about/.
Montgomery Place at Bard College, Maurice D. Hinchey Hudson River Valley National Heritage Area. Accessed July 22nd 2020. https://www.hudsonrivervalley.com/sites/Montgomery-Place4/details.
Montgomery Place An American Arcadia, American Arcadia. Accessed July 22nd 2020. http://apps.hudsonvalley.org/american-arcadia/index.html.
Smith, McKelden. The Great Estates Region of the Hudson River Valley. Historic Hudson Valley Press, 2007.
Hanson, Conrad. The Tales they Tell Part II - Montgomery Place: A Classical Confection, Schoolfield Country House. April 16th 2020. Accessed July 24th 2020. http://www.schoolfieldcountryhouse.com/the-house/2015/4/16/the-tales-they-tell-part-ii-montgomery-place-a-classical-con.html.
Montgomery Place, The Cultural Landscape Foundation. Accessed July 24th 2020. https://tclf.org/landscapes/montgomery-place.
Montgomery Place: The Architecture and Grounds, Bard College. Accessed July 24th 2020. https://www.bard.edu/montgomeryplace/architecture/.
Image Sources
Hudson River Valley National Heritage Area

New York Public Library

Brownstoner

Arts-NY

Hudson River Valley National Heritage Area

Flickr

Bard College

Additional Information