Hupps Hill Civil War Park and Museum
Introduction
Hupps Hill Civil War Park and Museum preserves and shares the history of this section of the Shenandoah Valley in the Civil War. The park includes eighteen acres that were part of the 1864 Valley Campaign. The museum holds a variety of artifacts and exhibits, while the park contains markers along interpretive walking paths that wind through earthworks that were created by federal troops in October, 1864. Artillery demonstrations and theatrical events are held throughout the year, along with other special programs. The complex also includes the Strasburg Gateway to Shenandoah Visitors Center, a place that offers a variety of information related to this and other historical sites throughout the area.
Images
Hupp's Hill Civil War Park is a partner site within Cedar Creek & Belle Grove National Historical Park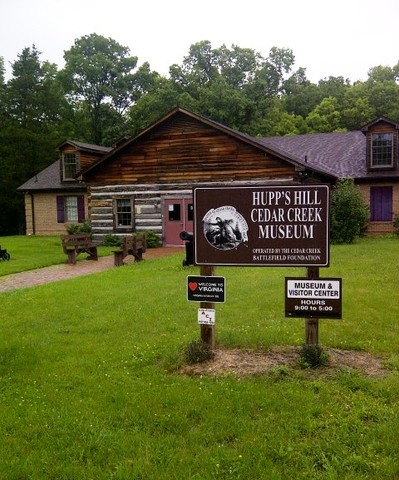 Backstory and Context
Hupps Hill played a significant role during the Battle of Cedar Creek. On October 13, 1864 Jubal Early sent his entire force here as part of an effort to draw out the Federal troops from their entrenched positions. An intense battle began after the Federal First Division VIII Corps attacked across Cedar Creek. As a result of this fight, Conner's Brigade of Kershaw's Confederate Division lost 180 me, while Conner was seriously injured. A withdrawal to Fischer's Hill occurred on the night of October 13,1864. Over the next few days, each day a brigade was sent to Hupps Hill to observe the activities of the Federal troops.

On October 17, 1864 Confederate General John B. Gordon arrived at Hupp's Hill and planed an attack. Gordon ruled out the possibility of a direct attack due to the strength of the Union position. Wharton's division moved to Hupp's Hill at approximately 4:30 am on the morning of October 19th, with orders to support the main attack to the east. Once Wharton received word that Kershaw's attack had opened, his division moved forward to Stickley Hill. During this, around the same time, Confederate Artillery Colonel Tom Carter arrived at Hupp's Hill and began firing on the Federals.

On top of Stickley Hill, George Custer was joined by Colonel Thomas C. Devin of the Merritts Calvary Division. Their efforts were direct their regiments movements against the retreating Confederates. In the middle of the Confederate retreat, a defensive position was attempting to be established on Hupp's Hill. Using blockades and spraying debris across Route 11 were a few of the defense tactics used. Although these tactics were used, the Federal Calvary pushed through.

As a result of, the First Division XIX Corps occupied Hupp's Hill on the evening of October 19. This is the division that dug that earthworks that are still visible today in the Hupps Hill Civil War Park.
Sources
http://ccbf.us/?page_id=464 http://ccbf.us/?page_id=458
Additional Information