Patrick Gass Historical Marker
Introduction
This marker serves to educate tourists on the legacy of Patrick Gass. Patrick Gass served as a sergeant in the Lewis and Clark Expedition. He was an important part of the expedition because of his work as a carpenter. From the perspective of modern Americans and historians, his decision to maintain a journal during the expedition was his most significant contribution. Gass's journal became the first published journal of the expedition. Gass died in 1870, making him the last-surviving European participant of the expedition.
Images
Historical Marker located at 22nd & Commerce Wellsburg, WV 26070.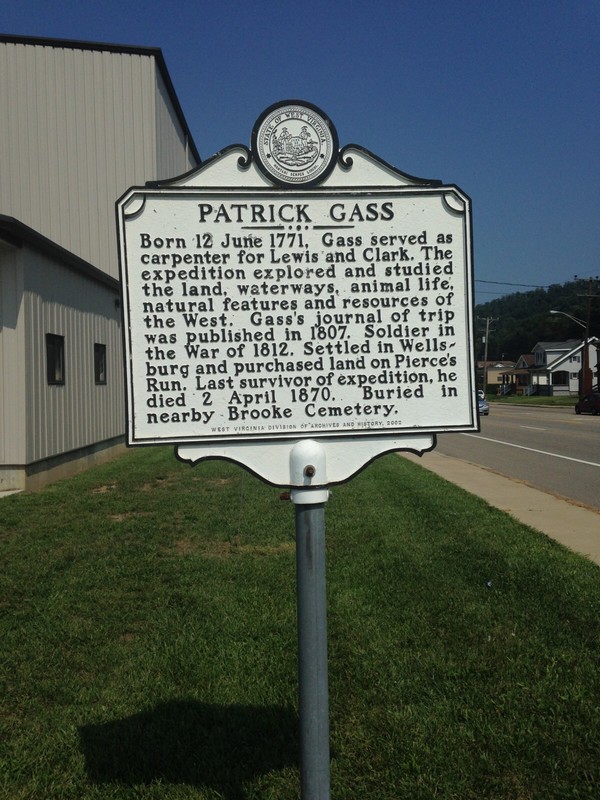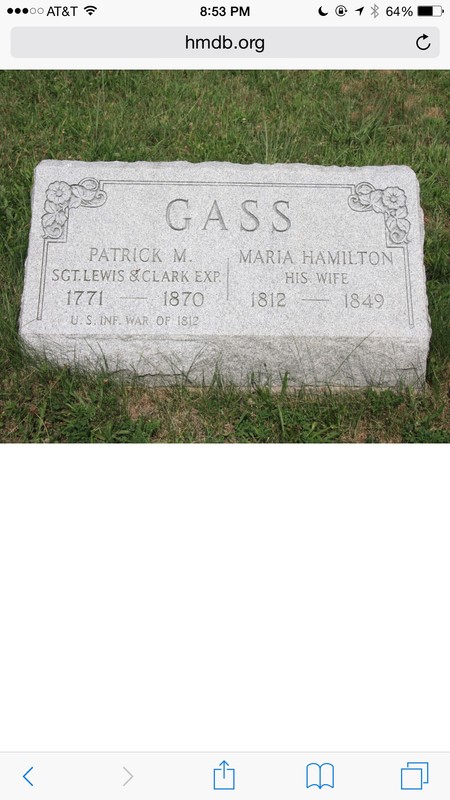 Sign at entrance of Brooke Cemetery.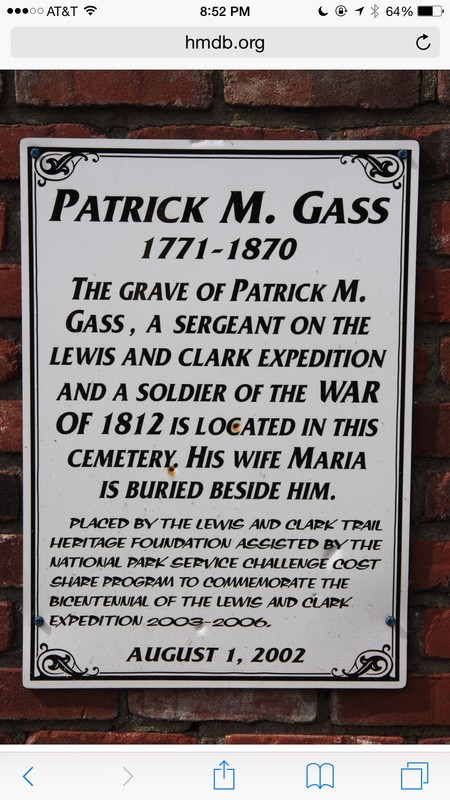 Backstory and Context
Patrick Gass was born on June 12, 1771 in Falling Springs, Pennsylvania. His parents moved the family around in the early years of his life before settling in western Maryland. At the age of six, Patrick went to live with his grandfather. In 1792, Patrick served as a substitute for his father and he had been drafted to serve in the local militia. During a conflict with Native tribes, Gass served at Fort Bennett's Fort in Wheeling. Following his discharge in 1793, Gass joined a group of flatboat men and traveled to New Orleans, then returning to Philadelphia thru Cuba.
In 1974, Patrick Gass became an apprentice to a master carpenter and worked on a house that was owned by James Buchanan, Sr. It was there that he became acquainted with Mr. Buchanan's son who would later become the fifteenth President of the United States.
Gass worked as a carpenter until 1799. During the Quasi-War with France, he enlisted under the command of General Alexander Hamilton. However, this conflict ended quickly and Gass was discharged in June, 1800. Gass again enlisted for military service in May, 1801 joining Captain Russell Bissell and his company at Kaskaskia, Illinois. In 1803, while still a member of Captain Bissell's company, Gass learned of Lewis and Clark's mission and eagerly volunteered to join the expedition. Gass provided a great asset to the expedition, being one of seven journal keepers as well as a skilled carpenter. He also possessed leadership skills, as evidenced by his election to replace the late Sergeant Charles Floyd.
Gass's journal was published seven years before Lewis and Clark's journals. Gass also served in the War of 1812 and fought in several battles of that war including the Battle of Lundy's Lane where a splinter from a falling tree cost him one of his eyes. Gass was discharged in the Spring of 1815.
Patrick Gass went on to make his home in Wellsburg, West Virginia. He was addicted to alcohol throughout most of his life, but he settled down and married at the age of 59 and had seven children. Patrick died April 30, 1870 at the age of 98 and is buried in Brooke Cemetery in Wellsburg.
Sources
Ratliff, Gerald S.. Patrick Gass. The West Virginia Encyclopedia. June 12, 2018. Accessed October 04, 2018. http://www.wvencyclopedia.org/articles/2085.
Additional Information