Chinese Refugee Historical Marker
Introduction
This historical marker describes how 527 Chinese living in Mexico entered the United States as refugees in 1917. In March 1916, General John J. Pershing, who would later command the American Expeditionary Force in World War I, lead an American force into Mexico with the aim of pursuing and ultimately capture Mexican Revolutionary, Francisco "Pancho". To support the American soldiers, Chinese living in Mexico decided to set up supply camps. Fearing for their lives after angering the Mexican population, many chose to accompany the American force in the hopes living in the United States. Around 2,500 Mexicans came as well. Despite the Chinese Exclusion Act of 1882, which barred Chinese from immigrating to the U.S., Pershing received special permission to allow the refugees into the country. This population laid the foundation for San Antonio's Chinese population today.
Images
The Chinese Refugee historical marker is located on the Fort Sam Houston army base.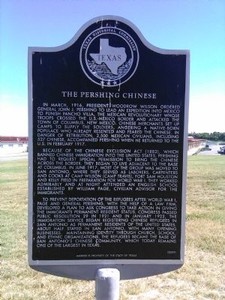 Backstory and Context
Pancho Villa had become a thorn in the United State's side since the Fall of 1915, when America recognized Carranza as the head of the Mexican government. In November, the United States allowed Carranza's forces to pass through the country in order to meet Villa's force at the Battle of Agua Prieta. This further angered Villa, who invaded New Mexico and attacked the town of Columbus in retaliation for the American support Carranza. While Pershing and the Americans did inflict significant casualties on Villa's force, they did not capture him so the expedition was largely considered a failure. However, it did make Pershing a national hero for helping defend the country's border and increased American morale as it was about to join the fight in Europe.

As for the Chinese immigrants, they first lived next to the base in Columbus before being moved to other camps to work in support of American troops for WWI. They worked as laborers, carpenters, and cooks, and they also attended English language classes. After the war, Congress passed a law in 1921 allowing the Chinese immigrants to be registered as permanent residents. Around half stayed in San Antonio.
Sources
"Chinese." Handbook of Texas Online. Accessed September 30, 2015. https://www.tshaonline.org/handbook/online/articles/pjc01.

"The Pershing Chinese." The Historical Marker Database. Accessed September 30, 2015. https://www.hmdb.org/marker.asp?marker=85539&Result=1.

Photo: Lee Hattabaugh, via The Historical Marker Database
Additional Information