Hangar 25 Air Museum
Introduction
Hangar 25 Air Museum is located in a facility that has been restored to its WW II-era appearance. The museum promotes education through the collection, preservation, and exhibition of historic aircraft The museum is located in a historic hanger that was part of the Big Spring Army Air Force Bombardier School and Webb Air Force Base.
Images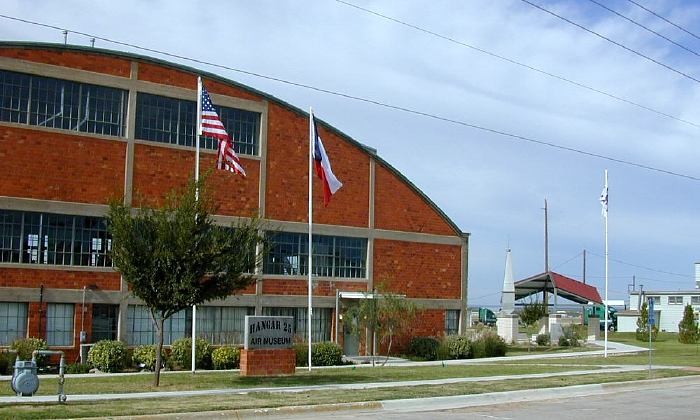 Military Airshow circa 1954
Backstory and Context
The hangar was built as part of Big Spring Bombardier School which operated between 1942 and 1945. The base reopened in 1951 as Webb Air Force Base and operated until the base's closure following the end of the Vietnam War.
When Webb Air Force Base closed in 1977, a major portion of the former installation was turned over to the city of Big Spring, Texas.

Like several parts of the former base,
Hangar 25 was vacant until the mid 1990s when a small group of citizens took action to restore and the facility and convert it to a museum.
In January 1993, the Big Spring Air Park Development Board was formed under then Assistant City Manager, Tom Decell. Mr. Decell later hired Nelda Reagan as secretary for the airport and industrial park.

The museum includes static displays and exhibits about the historic base, where approximately 5,000 bombardiers were trained. In total, 14,000 United States and foreign military officers earned their wings at Webb AFB.
The museum has acquired numerous aircraft and artifacts and welcomed over 50,000 visitors. Museum staff have also recorded oral histories with over 70 veterans.
Hangar 25 Air museum is a non-profit organization that offer free tours for schools and civic groups. Tours include a brief history of the Big Spring Army Air Force Bombardier School and Webb AFB, as well as the opportunity to see a preserved B-52 bomber. They also include a youth workshop
to help learn about various aspects of history, patriotism and preservation, through crafts, projects and activities.
The museum also welcomes families and individuals.
Sources
http://www.hangar25airmuseum.org/main/history2.html http://www.diamondtours.com/Attraction/Hangar-25-Air-Museum
Additional Information