The Old Chicken Farm Art Center- Historical Marker
Introduction
The Old Chicken Farm Art Center was founded as a place for artists to live and work. The site was once home to a chicken farm, hence the name. At its peak, the center was home to 22 studios, a bronze foundry, and Allen's Clay Studio. A smaller version of the center is still in existence.
Images
The Old Chicken Farm Art Center historical marker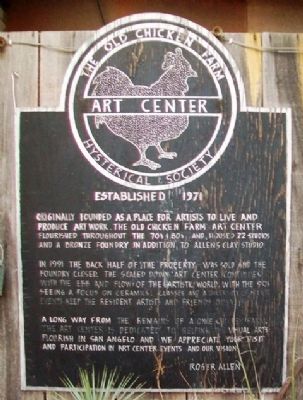 The Chicken Farm Art Center present day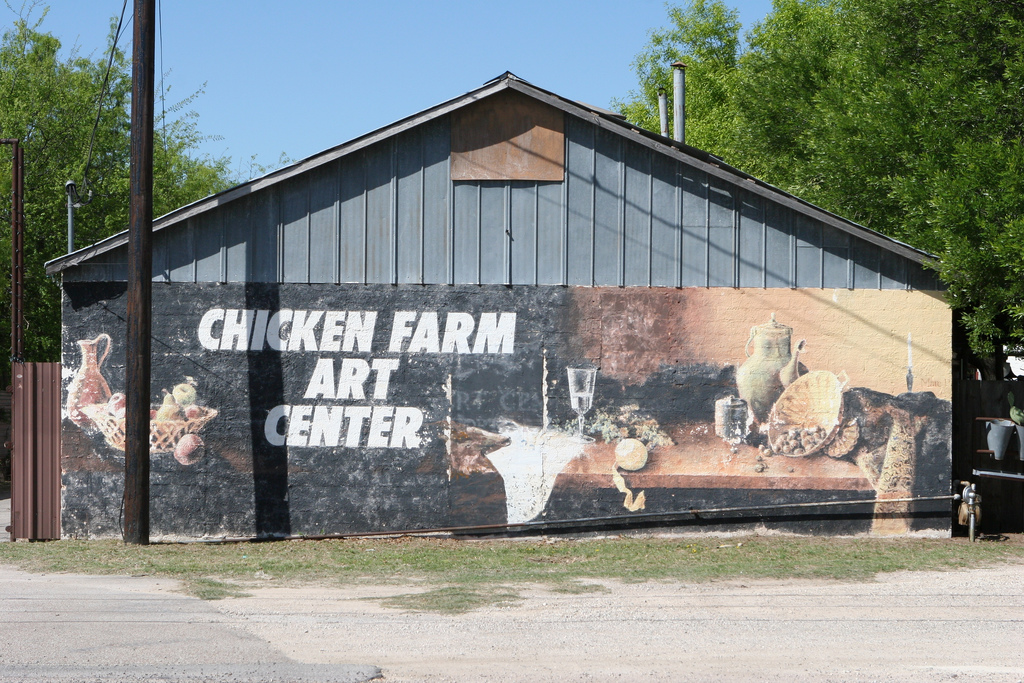 Another view of the center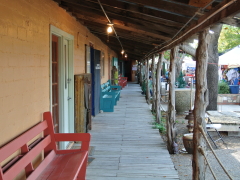 Backstory and Context
In 1971, Roger Allen, Richard Ramirez, and Bill Rich, who were all potters, founded the center. Today, the compound includes 15 studios, a bed-and-breakfast, and a fine dining restaurant. This is all spread out over three acres and eight buildings. The back half of the center now belongs to Jerry and Susan Warrell, who bought it in 2000. This portion of the center is home to the Inn at the Center and the Slio House Restaurant. Ceramics made by Roger Allen can be viewed at the Starkeeper Gallery. The other studios feature art in a variety of mediums, including pottery, paintings, photography, copper wall sculptures, and both new and vintage clothing. Batik is a method of cloth dyeing found in a few countries, including India, Nigeria, and the Philippines; however, Indonesian batik is the most well known.
The center hosts a variety of special events, including their monthly First Saturdays program. On the first Saturday of every month, the center becomes a bustling hive of activity that includes featured work of invited artists and local musicians the Chicken Pickers. Also on First Saturdays, the resident artists open their studio doors to the public and kids get free clay and a chance to use their imaginations. The Chicken Pickers also hold a free outdoor concert at the center on the second Thursday of every month, weather permitting. A Thanksgiving Open House is held annually on Friday, Saturday, and Sunday following Thanksgiving where the center hosts music acts, visiting artists, and other special events.
Sources
http://www.hmdb.org/marker.asp?marker=72218 http://www.chickenfarmartcenter.com/pb/wp_6e45df0d/wp_6e45df0d.html https://en.wikipedia.org/wiki/Batik https://books.google.ie/books?id=gyUkXfRE7qMC&pg=PA83&lpg=PA83&dq=Roger+Allen,+Richard+Ramirez,+and+Bill+Rich+san+angelo&source=bl&ots=Ed3hcsdNsb&sig=PT7FiL4HJ-EMn-MD02ecjX-FQmQ&hl=en&sa=X&ved=0CCQQ6AEwAWoVChMI2pzPu6GUyAIVCb4UCh29Jgxv#v=onepage&q=Roger%20Allen%2C%20Richard%20Ramirez%2C%20and%20Bill%20Rich%20san%20angelo&f=false https://www.flickr.com/photos/detourart/2442275113 http://www.cimarrona.com/tag/chicken-farm-art-center/
Additional Information