Mars Hill University
Introduction
Mars Hill University, located in the mountains of Madison, County, North Carolina, was initially founded in 1856 as French Broad Baptist Institute. In 1859, the institute was chartered by the state, and the name was changed to Mars Hill College after a verse found in the Bible: "Then Paul stood in the midst of Mars' hill and said, Ye men of Athens, I perceive that in all things ye are too superstitious" (Acts 17:22). During the Civil War, and up until the nineteenth century, Mars Hill College struggled heavily due to the devastation and conflict the war had caused between local families who sympathized with the opposing sides. Stability did not ensue until 1857 when Dr. Robert L. Moore became president and used his leadership and integrity to attract students to the college. Through the years, Mars Hill has flourished into a four year liberal arts university. The Mars Hill University Historic District is comprised of approximately 27.07 acres of the 187.17 acre campus. This area comprises the historic buildings of what is the oldest surviving educational institution of higher education on its original site in western North Carolina. From 1856 until 1874, Mars Hill College's campus consisted entirely of four acres, which extend before you, that are now known as the Historic Quad. Today, the Historic Quad remains the heart of campus. Mars Hill University is located at the center of the small town of Mars Hill, a town whose own development followed that of the educational institution. Incorporated in 1893, Mars Hill is located roughly eighteen miles north of Asheville, North Carolina and is the largest town in Madison County. In 2015, the downtown section of Mars Hill was placed on the National Register of Historic Places. To the east of Mars Hill lies the Blue Ridge Parkway and the Craggy Gardens Visitor Center. To the right of campus lie the Unaka Mountain Range with the peak of Bailey Mountain standing closest to campus. To the left of campus sits Little Mountain while the Great Smoky Mountains lie to the southwest of campus. These surrounding mountain ranges have provided Mars Hill students recreational adventure for decades while enhancing the physical beauty of campus. Thus, Mars Hill is known as "A Gem in the Emerald Ring of the Hills."
Images
A modern look at the Mars Hill University entrance. The institution was established in 1856 and became a university in 2013.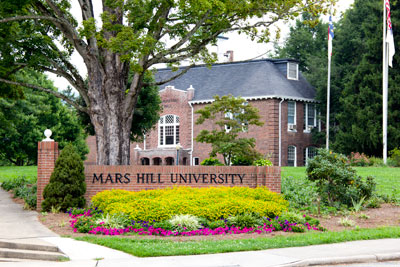 Founder's Hall, on the left, is still used today.The building on the right was the first campus building (1856-1901). Photo courtesy of Southern Appalachian Archives.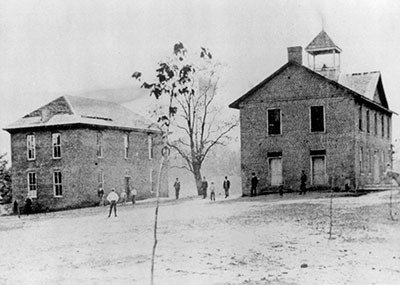 The Sesquicentennial Archway on the campus of Mars Hill College in the winter of 1930. Photo courtesy of Southern Appalachian Archives.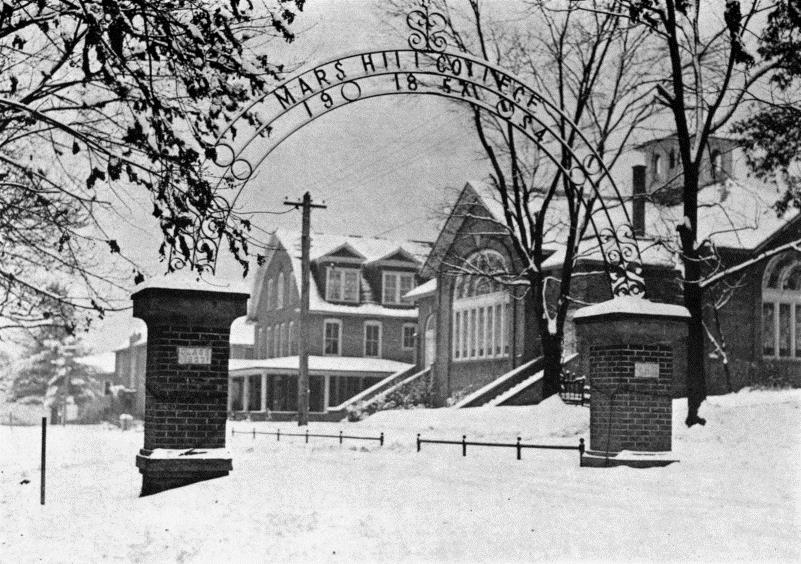 Early twentieth century view of campus. Photo courtesy of Southern Appalachian Archives.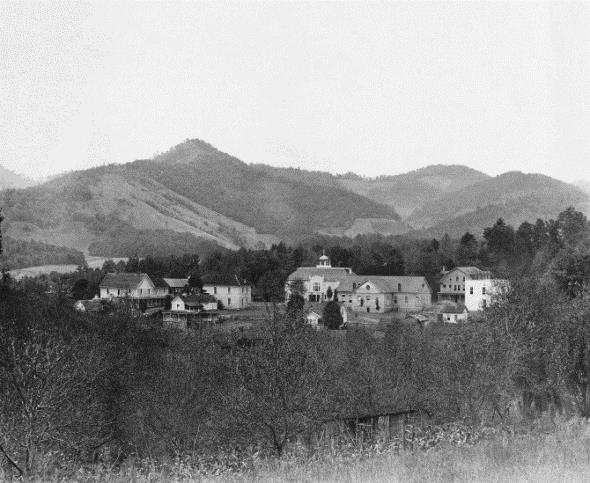 Present day Founder's Hall, the oldest building on campus.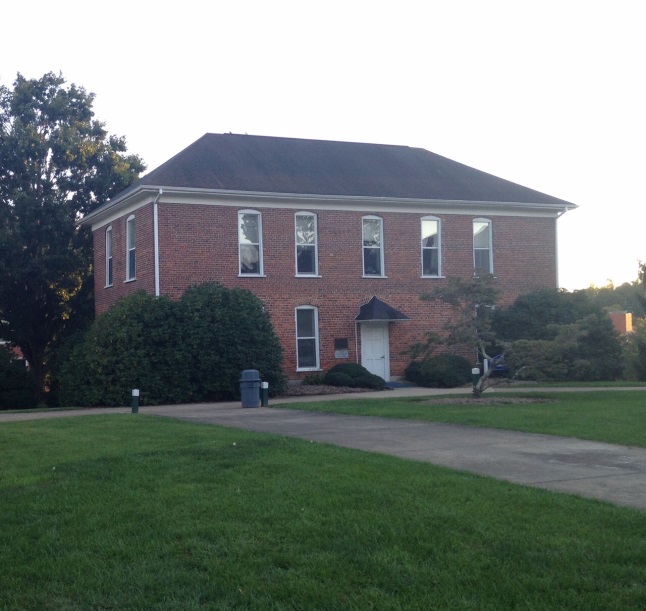 Backstory and Context
The original land for the 1856 French Broad Baptist Institute was donated by Edward Carter who wanted his children to have a Baptist education— a view that was shared by many other local families, as well. The land Carter donated was part of his farm, and his ancestors still own the land surrounding the University. Mars Hill College served as a high school and preparatory school up until the early twentieth century when President Robert Lee Moore worked to turn it into a junior college in 1926.
During its early years, students took classes in a singular building which was destroyed in 1910. In 1897, Founder's Hall was built; it is a two-story brick building and is the oldest in the historic district. The early history of Mars Hill University also has a dark side that involved a slave named Joe Anderson. The institute began to decline financially within the first year of its existence, and as a result, a slave owned by trustee J.W. Anderson was used as collateral by the contractor, so that the first building could be built. This disconcerting part of Mars Hill's history is often romanticized but it cannot be denied. In 1932, a memorial was built and in 1935 and an amphitheater was constructed to honor Joe Anderson.
The Mars Hill Historic District is made up of nineteen buildings. Eleven of the major academic and residential buildings were planned or built during Dr. Moore's tenure as president. During his presidency, which lasted from 1897 to 1938, Mars Hill College began to assume an identity within the community. Dr. Moore left a lasting legacy on the university because of his strategic planning of historic buildings even beyond the original four acre quadrangle. The appearance and character of the heart of the campus are forever indebted to this influential man. Hoyt Blackwell, the following president, brought progress to the college, and in 1962, it became a four year college. In 2013, under President Dr. Dan Lunsford, the institution officially changed from a college to a university.
Sources
Chapman, Robert, Darryl Norton, Walter Smith. Through the Long Years, Photographic Reminiscences of Mars Hill, North Carolina. 2006. McLeod, John Angus. From These Stones: Mars Hill College. Mars Hill College: 1955. http://ncpedia.org/mars-hill-college http://www.visitmadisoncounty.com/activities/self-guided-tours/mars-hill-historic-markers/ http://www.mhu.edu/about-mhu/history-of-the-university
Additional Information