National Soaring Museum
Introduction
Founded in 1969, the National Soaring Museum is dedicated to preserving the history of motorless flight, containing the largest collection of motorless aircraft in the world dating from the 1890 to the late 20th century. It is one of only two museums of its kind in the country. The museum also houses an archives. The Harris Hill Soaring Corporation, located across the road from the museum, offers glider rides.
Images
Entrance to the National Soaring Museum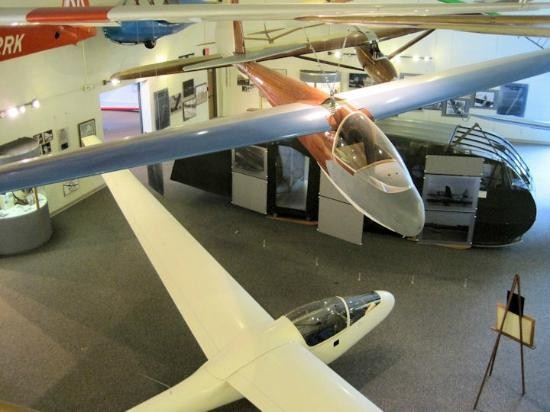 Backstory and Context
Soaring has been an integral part of Elmira's social and economic fabric for over 80 years. The
Schweizer Aircraft Corporation built more than half of the sailplanes in the world in teh 20th century.
National soaring contests began in the 1930s and the Works Progress Administration, one of the New Deal Programs initiated by President Franklin Delano Roosevelt, built facilities (gliderport, hangars, cabins, a youth camp, and an administration building) for the competitions. During World War II, Elmira was chosen as the first site of the military's glider training program.
A local history museum started to collect glider aircraft in the 1950s. This grew and eventually it was decided that a museum dedicated for soaring was needed. The museum opened in 1969 in one of the buildings on Harris Hill. In 1969, a new facility was built, which was then expanded in 1989 and 1993. National competitions started again in 1980.
Sources
"The history of the National Soaring Museum," http://www.soaringmuseum.org/about/board-members. Retrieved 9-23-15.
Additional Information