Lehigh Valley Railroad Station (Dinosaur Bar-B-Que)
Introduction
The Lehigh Valley Railroad Station, now Dinosaur Bar-B-Que, was the last railroad station built in Rochester, New York and is also the last one remaining in the area. Standing since 1905, and having gone through several closings, refurbishings and changes over the years, the station/BBQ restaurant is on the National Register of Historic Places, as a part of the Inner Loop Multiple Resource Area.
Images
View of the restaurant from above.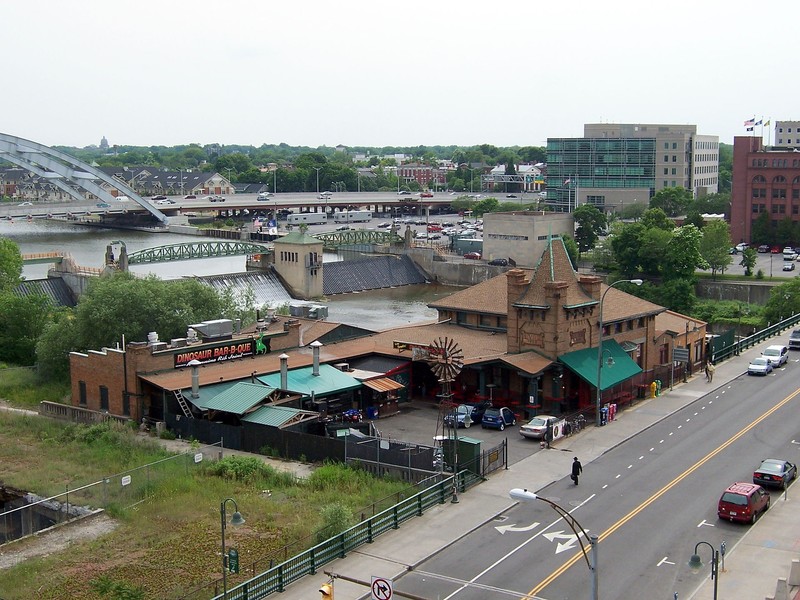 Backstory and Context
Originally, the Lehigh Valley Railroad Station was built in 1905 by the Lehigh Valley Railroad. The station was designed by F.D. Hyde with elements of the late 19th and 20th century revivals and French Renaissance Gothic revivals in its design. It served as freight and passenger depot for the locals. Lehigh, which was a big coal producer at the time, transported coal from the region and passengers from Buffalo to Jersey City.
As time went on, things changed for the station. Passenger service ended in the early 1950s. The building then served as a bus terminal until 1954.
The station remained vacant for many years and underwent a failed refurbishing attempt in the 1970s. Eventually, the location was reopened, and operated as a nightclub in the 1990s, then finally transitioning to the restaurant it is today soon after. The building was placed on the National Register of Historic Places in 1985 as a part of the Inner Loop Multiple Resource Area. Nowadays, the station serves the public as the popular restaurant, the Dinosaur Bar-B-Que. Serving ribs and other BBQ cuisine, the station remains a celebrated tourist destination.
Sources
Finn, Michelle (October 1, 2012). "Remodeled depot has a rich history". Democrat and Chronicle (Rochester, New York). Gannett Company. pp. 3B, 4B. http://media.democratandchronicle.com/retrofitting-rochester/lehigh-valley-railroad-station.

Johnstone, Janette. "Inner Loop Multiple Resource Area." National Park Service - National Register of Historic Places Nomination Form. November 11, 1984.

Photo: Matthew D. Wilson, via Wikimedia Commons
https://en.wikipedia.org/wiki/Lehigh_Valley_Railroad_Station_(Rochester,_New_York)#/media/File:Roche...

Additional Information