22 Mine Road
Introduction
Said to be haunted by the ghost of a murder victim, 22 Mine Road is a popular paranormal tourist spot in Holden, West Virginia. 22 Mine Road, 22 Mountain, and Trace Mountain are all the same place; the area has more than one name. All the names are used interchangeably by most Logan county residents. The 22 Mine Road is located near Holden, along the four-lane road towards Williamson, WV/KY. 22 Mine Road was made famous when the body of Mamie Thurman was found there on June 22, 1932.
Images
Sign at the bottom of the mountain.

22 Mountain Road, where Mamie's Body was found.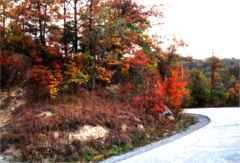 Mamie Thurman (1900-1932)

Clarence Stephenson (1908-1942)

Jack Thurman, often considered to be the true murderer.

Entrance to where Mamie Thurman is "buried."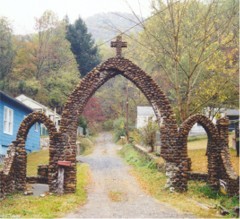 Backstory and Context
22 Mine Road, often simply referred to as 22 by many Logan county residents, is located on the Logan-Mingo county line. The mountain was made famous during the summer of 1932, when the body of Mamie Thurman was discovered approximately fifteen feet away from the road. It is believed that Mamie had been murdered elsewhere and then dumped on 22 Mountain. Garland Davis, a young deaf-mute, stumbled upon the gruesome scene while picking Blackberries. According to the autopsy report, Mamie had been shot twice in the head and had her throat cut from ear to ear. Mamie's body was prepared for burial by the Harris Funeral Home in the city of Logan. The funeral was held at the Nighbert Memorial Methodist Church. It was said to have been the most bizarre funeral ever held in Logan County. The service took place on Friday, June 24th and was attended by 550 women and 30 men.
There was much speculation as to who exactly was the murderer. There were rumors that Mamie had had several affairs with prominent men in Logan County. There was a list of approximately sixteen men from the Logan area that were thought to be Mamie's lovers. This list was never made public, but it is believed that it was revealed to the Grand Jury during the investigation. The main suspects were Harry Robertson and his African- American handyman, Clarence Stephenson, who were both arrested and taken to the Logan County jail for questioning. Harry Robertson was a prominent member of the community. He worked for the National Bank of Logan and his wife was the treasurer of the Logan Women's Club. Clarence Stephenson rented a room in Robertson's attic. The Robertson's and the Thurman's were all members of the Nighbert Memorial Methodist Church. This was the most scandalous event to date in the county and near everyone in the area had a hand in speculating as to who had murdered Mamie.
Harry Robertson admitted that he and Mamie had an inappropriate relationship, but he did not murder her. Robertson had said his handyman, Stephenson knew of this relationship and would arrange dates with the help of Stephenson covering for him. Robertson also admitted to seeing Mamie the day she was murdered. However, his wife testified to him being home on that evening at around nine o'clock. Robertson and Stephenson both went to trial for the murder, which in turn was covered by the local newspapers. Stephenson had to be transported to the Mingo County jail in Williamson because of racial tensions in Logan County. Clarence Stephenson was found guilty for the murder of Mamie Thurman. Robertson was found not guilty. According to West Virginia Penitentiary records, Stephenson was received at Moundsville Prison on August 22, 1934. He was transferred to Huttonsville Prison Farm in June of 1939. He died of stomach cancer in 1942 and was buried on the property of the farm. Norman Sloan, a Logan County resident whom spent time in jail with Stephenson, said, "He told me he was hired to take the body to 22 Mountain, but he didn't do anything to Mamie Thurman. He never did say who killed her, but he did say he didn't do it."
Mamie Thurman's grave site is also an unsolved mystery. Harris Funeral Home's show Mamie Thurman's body was taken to Bradsford, KY for her burial. However, when asked, Mamie's husband, Jack, said she was buried at Logan Memorial Park. This is indeed strange, as a headstone has never been found for Mamie Thurman.
Mamie Thurman's murder is still an unsolved mystery. There have been many so-called sightings of an apparition on 22 Mine Road, thought to be the restless spirit of Mamie Thurman. 22 Mine Road has been visited by many searching for her ghost. Currently the most popular time to visit 22 Mountain is during Halloween, in October. There is a hayride that carries paying customers around the mountain looking for Mamie's spirit.
According to legend, it is said that if you go to the bottom of the hill to where her body was found, put the car in neutral, and the foot off the break, then the ghost of Mamie Thurman will push your car back up the hill. 22 Mine Road, 22 Mountain, and Trace Mountain will forever be intertwined with the gristly murder of Mamie Thurman and the legend of her restless spirit for years to come.
Sources
Jack Latta, "Mamie Thurman Story an Area Ghost Legend," Accessed April 25, 2015, http://williamsondailynews.com/view/full_story/20660824/article-Mamie-Thurman-story-an-area-ghost-legend?instance=popular

"Logan, WV History and Nostalgia," Accessed April 25, 2015, http://loganwv.us/does-mamie-thurman-still-walk-those-hills/

Tabler, Dave. The unsolved murder of Mamie Thurman. Appalachian History. June 22, 2018. Accessed November 06, 2018. http://www.appalachianhistory.net/2018/06/unsolved-murder-of-mamie-thurman.html.

Additional Information