Wilford Woodruff Memorial
Introduction
Wilford Woodruff was born here in what is now Avon, CT in 1807 (Avon was originally Farmington) and would go on to become the fourth Prophet-President of The Church of Jesus Christ of Latter-day Saints. Noted for his talent in maintaining journals, we know a lot about Woodruff and his thoughts and feelings of events that surrounded his life. He is also known for issuing what is called "The Manifesto", which declared that in accordance of revelation from God, the LDS church would end the practice of polygamy until God reinstates the practice according to His will; this came after years of government persecution that burdened the church members. Woodruff would spend his childhood and most of his teen and young adult life in Farmington (now Avon)
Images
Birthplace and boyhood home of Wilford Woodruff. Photograph by Junius F. Wells, 1892, published in the Contributor, September 1892, 473.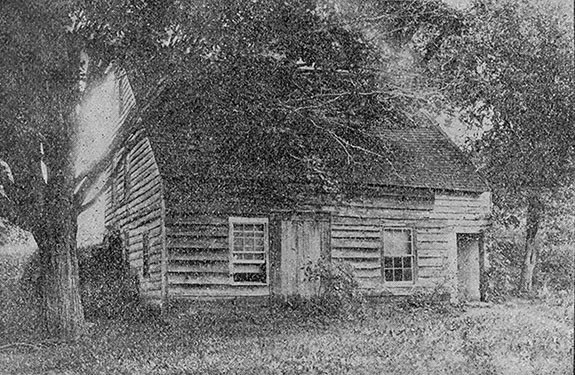 Wilford Woodruff birthplace marker, Fisher Meadows Park, Avon, Connecticut, November 2007. The monument was dedicated on April 24, 1999, by Elder Donald L. Staheli of the Second Quorum of the Seventy. Photograph by Alexander L. Baugh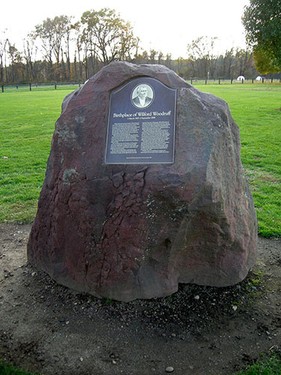 Grave marker of Beulah Thompson Woodruff, mother of Wilford Woodruff, West Avon Congregational Church Cemetery, West Avon, Connecticut, November 2007. Photograph by Alexander L. Baugh.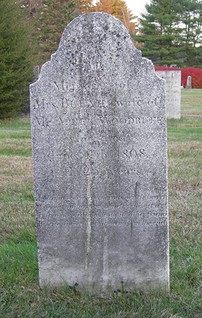 Remains of the millrace that was part of a mill owned and operated by Wilford's father, Aphek Woodruff, Avon, Connecticut, November 2007.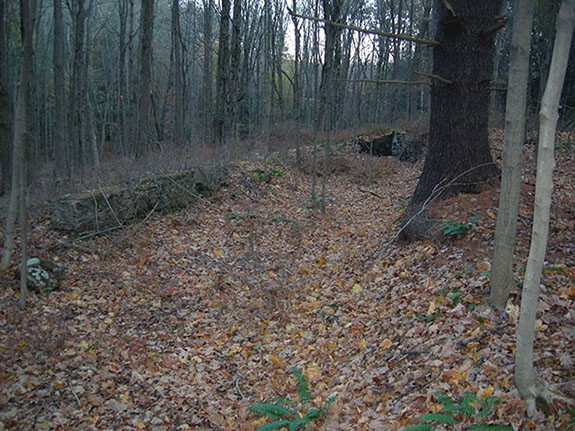 Robert Mason grave, Simsbury Cemetery, Simsbury, Connecticut, November 2007. Photograph by Alexander L. Baugh.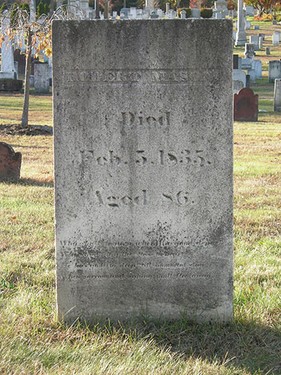 Wilford Woodruff daguerreotype taken in Boston while he presided over the Eastern States Mission, by Marsena Cannon, 1849 or 1850. Was in his early forties.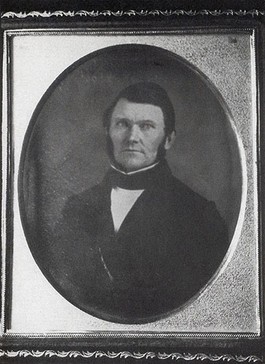 Wilford Woodruff (center) with George Q. Cannon, First Counselor (right), and Joseph F. Smith, Second Counselor (left), Sainsbury and Johnson photography studio, 1893. Courtesy of Church History Library, Salt Lake City.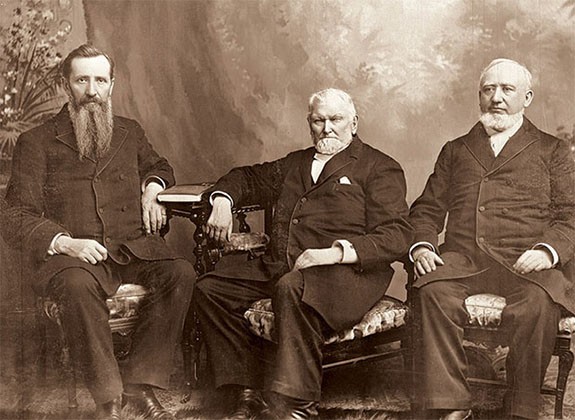 Funeral services of President Wilford Woodruff in the Salt Lake Tabernacle, September 8, 1898. Courtesy of Church History Library, Salt Lake City.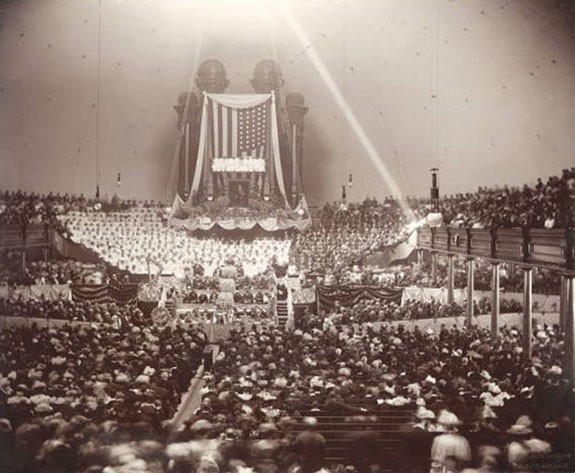 Grave marker of President Wilford Woodruff, Salt Lake City Cemetery, May 2006. Photograph by Alexander L. Baugh.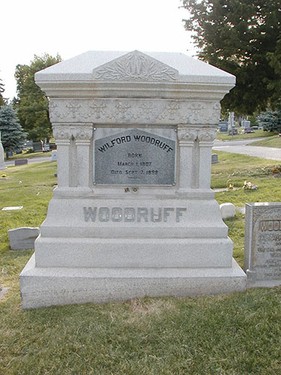 Laying the capstone of the Salt Lake Temple, April 6, 1892. Photograph by Charles R. Savage. Courtesy of Church History Library, Salt Lake City. Wilford Woodruff dedicated the temple the same day.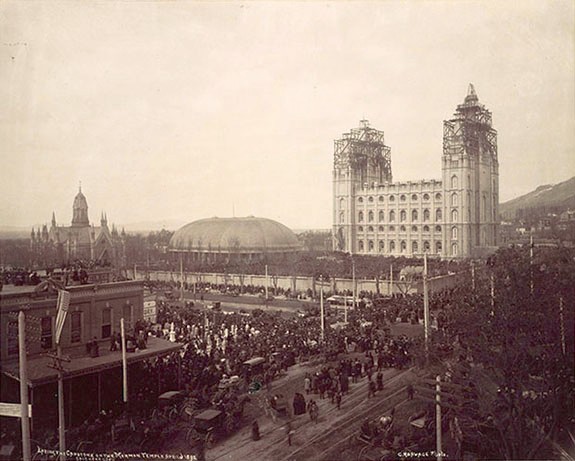 Wilford Woodruff in 1889 after becoming Prophet-President.Charles Roscoe Savage - Immediate image source: C. R. Savage collection at the L. Tom Perry Special Collections, Harold B. Lee Library, Brigham Young University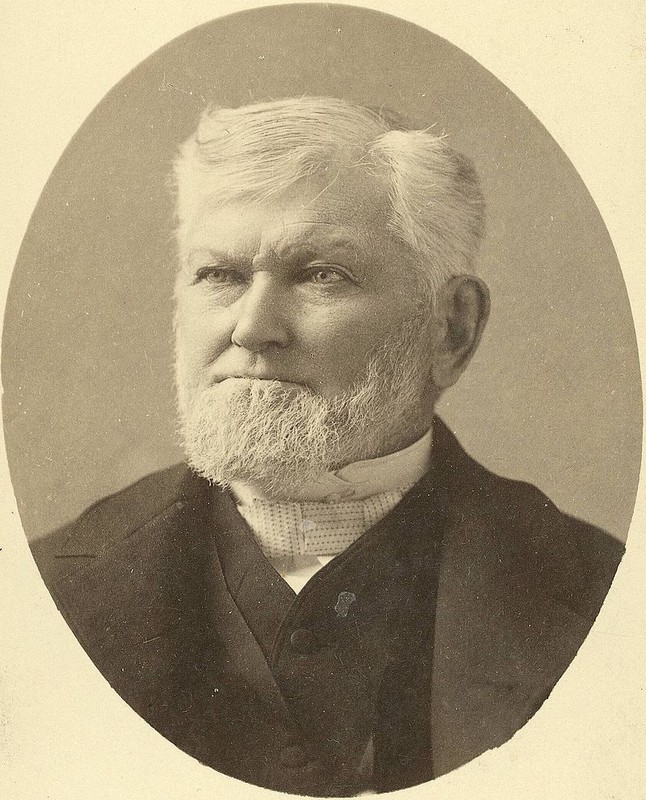 Backstory and Context
(This entry will focus on Woodruff's years in the area followed by a concise recounting of his life after converting to the LDS church. More on him can be learned from the link below from BYU-Provo Archives)

Born March 1, 1807 Willford Woodruff was the third child born to Aphek and Beluh Woodruff. However, when Wilford was fifteen months old, his mother Beluh died of spotted fever at the age of 26. His father Aphek would be remarried to Azubah Hart and had 6 more children. Aphek owned forty-acres of which the the children helped farm, yet Aphek made most of his livelihood through milling, of which Wilford and his oldest brother Azmon took part in for many years. Wilford Woodruff worked in flour and saw mills until he turned 20 (1827), when he decided to leave Farmington (Avon) and made a life on his own. For the next seven years, he owned and operated four different mills. His brother Azmon worked with him on many occasions. Wilford followed Azmon and his family to Richland, New York in 1832. In 1834, he would have his first contact with the newly organized Church of Christ (now The Church of Jesus Christ of Latter-day Saints).

From the time he moved out of his family home to his initial contact with the LDS church, WIlford began to study the Bible in search of a church he felt followed the primitive church of Christ when He was on the earth. This desire to search came from his childhood years when family Robert Mason would travel from Simsbury, CT to visit the Woodruffs, where religion was the main topic of discussion. In 1830, Wilford went to visit the aged Mason (80 yrs old) and learned that Mason had a dream that was revealed to mean that the church of Christ would be restored in its fulness, but he, Mason, would not live to partake of "the fruits of this church" and proceeded to urge Wilford to find this restored church and partake of it before it was too late. This further increased his desire to find the "right church".

While working late the mill with his brother Azmon, two men, later revealed to be missionaries of the newly organized Church of Christ (LDS church) had come to town to declare the restoration had happened and that additional scripture was revealed (Book of Mormon) and a prophet called of God was back on earth (Joseph Smith) and that they would hold a "revival: in town. Azmon's wife told Wilford and her husband about this when they got home and they rushed to the meeting and heard the missionaries. Wilford Woodruff was baptized Dec. 31, 1833 and most of his family joined suit and they joined the church as it gathered in Kirtland, Ohio. Wilford would served missions throughout New England, Arkansas and Tennessee then while the church was in Nauvoo, Illinois in the 1840s, he was called to go to England and baptized hundreds. Between these missions, he was ordained as an apostle and had been keeping diaries and journals extensively. While in Nauvoo, the ordinance and doctrine of Baptisms for the Dead (by proxy) was revealed, Wilford immediately set forth to be baptized on behalf of Robert Mason and have someone do the same for his mother.

He trekked west with the church and Brigham Young after Joseph Smith and his brother Hyrum were murdered in the Carthage Jail in Carthage, Illinois, June 27, 1844. Serving as part of the First Presidency of the Church under Brigham Young and then John Taylor, Wilford also served as president of the St. George, Utah Temple and there had a vision of the Founding Fathers, many of the former American presidents such as Abraham Lincoln, Christopher Columbus, William Tyndale, Martin Luther and many others. All of them asked, as recorded by Wilford Woodruff, why no saving ordinances (baptism and endowment for example) had not been done for them by proxy, when it was they led by the hand of God to found, fight for and preserve America and help ensure religious liberty would come back to the earth and be preserved as well. After there admonitions, he and his counselors proceeded to perform these ordinances.

As persecution increased upon the church in the west due to the practice of polygamy, Wilford was one of the few who had been called to practice it and thus had to go into hiding as the government sent agents and the military to round up and arrest not just practitioners of polygamy but the leaders. After the third Prophet-President, John Taylor died in 1889, Wilford was called and ordained as the fourth Prophet-President. He was able to talk to the government into easing the persecution as he pondered on what to do to preserve the church as well as maintain to practice the tenants as revealed by God. While in thought, he had revealed to him that now was the time to end the practice until God would reinstate it. His issuing of the revelation has since then become known as "The Manifesto". Since then (1890) the LDS church in America has not practiced polygamy, only break-offs that have no affiliation with the church. However, despite the 1890 Manifesto, members of the church then living in "Mormon Colonies" in Mexico and Canada continued the practice it, being outside US jurisdiction, until the 5th Prophet-President, Joseph F. Smith revealed the "Second Manifesto" in 1904, announcing that the church everywhere it is located will no longer practice polygamy.

Also during his tenure, the famous Salt Lake Temple was both completed and dedicated after 40 years of work (a church produced movie dramatizes the construction of the temple) and the construction of Bannock Academy in Rexburg, Idaho, which was later known as Ricks College and is now BYU-Idaho.

Wilford Woodruff died in San Francisco, CA, September 2, 1898 while touring the West Coast and Pacific and seeing and addressing members in those areas. His funeral was held in the Salt Lake Tabernacle and is buried in the Salt Lake Cemetery. The home in which he died in is still preserved to this day.

In 1998, the LDS church was granted approval to erect and dedicate a memorial in Avon, CT to commemorate the birthplace of Wilford Woodruff. The memorial lies close to a mile from where he was born and from the mill his father owned and operated. Yale Divinity School in New Haven, CT held a symposium in his honor on the 200th anniversary of his birth. Near Avon, in Hartford, CT is an LDS temple.
Sources
Woodruff, Wilford (1946). G. Homer Durham, editor., ed. The Discourses of Wilford Woodruff. Bookcraft, Inc. —— (1881). Leaves from My Journal. Juvenile Instructor Office. —— (1964) [1909]. Matthias F. Cowley, editor, ed. Wilford Woodruff, Fourth President of the Church of Jesus Christ of Latter-day Saints: History of His Life and Labors as Recorded in His Daily Journals. Deseret News. —— (2004). Teachings of Presidents of the Church: Wilford Woodruff. The Church of Jesus Christ of Latter-day Saints. LDS Church publication number 36315 Baugh, Alexander L.; Black, Susan, eds. (2010). Banner of the Gospel: Wilford Woodruff. Provo, Utah: Religious Studies Center, Brigham Young University.
Additional Information