Civil Air Patrol Historical Marker
Introduction
This historic marker commemorates the history of a former Civil Air Patrol base that operated during World War II. Due to concerns about German submarines operating near American port cities, civilian pilots who joined the Civil Air Patrol were authorized to fly missions along the coast and search for signs of German submarines.
Images
This historical marker was erected in 2006 by the Historical Society of Palm Beach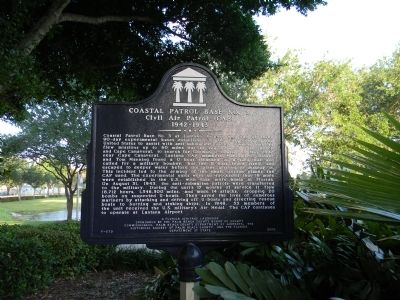 Backstory and Context
Coastal Patrol Base No. 3 at Lantana Airport was one of three 90-day experimental bases established on the east coast of the United States to assist with anti-submarine patrols. Civilian aviators flew missions up to 60 miles out to sea between Palm Beach and Cape Canaveral, to search for German U-boats. In May 1942 near Cape Canaveral, Lantana CAP members Marshall E. Rinker and Tom Manning found a U-boat stranded on a sand bar and called for a military bomber, the U-boat freed itself and escaped to deeper water before the plane arrived to destroy it. This incident led to the arming of the small civilian planes the CAP used. The experimental units were so successful that 18 more were established in the U.S., with four more bases in Florida. On August 31, 1943, the anti-submarine patrols were transferred to the military. During the unit's 17 months of service it flew 18,712 hours, 1,546,500 miles, and made 14 attacks, dropping 20 bombs on suspected u-boats. They saved the lives of numerous mariners by attacking and driving off u-boats and directing rescue boats to burning and sinking ships. In 1948, 53 members of the unit received the U.S. Military's Air Medal. The CAP continues to operate at Lantana Airport.
Additional Information