The Muhammad Ali Center
Introduction
The Muhammad Ali Center is a multicultural center and museum dedicated to the life of Muhammad Ali and his values. Opening in 2005 at a cost of $80 million, the museum boasts over 96,750 square feet over six stories as well as a 40,000-square-foot, two-story amphitheater. The museum contains permanent and rotating exhibits.
Images
Outside view of the Muhammad Ali Center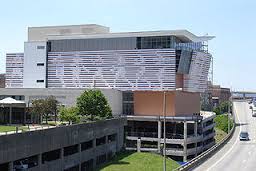 Video clips showing the life of Muhammad Ali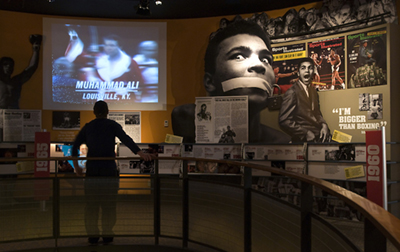 "The Greatest," Muhammad Ali's signature fight, displayed onto a full-size boxing ring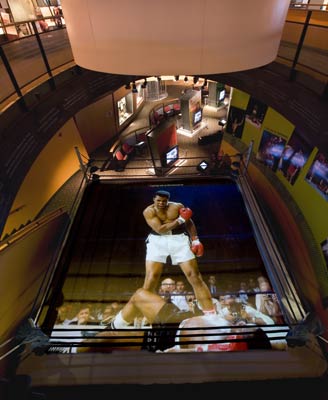 Backstory and Context
Inspired by the ideals and visions of legendary boxer and athlete, Muhammad Ali, the Muhammad Ali Center features two-and-a-half levels of interactive exhibits and multimedia presentations, ranging from art galleries and videos to six pavilions that illustrate the "hows" of Ali's life. In the If You Can Dream Orientation Theater, an innovate, five-screen plays a 14-minute film that showcases Muhammad Ali's life from birth to the present as well as an introduction to his six core principles. These core principles, which are also displayed throughout six pavilions, include confidence, conviction, dedication, respect, giving, and spirituality.
One of the more popular permanent exhibits is the "Train With Ali" exhibit, an interactive exhibit designed for kids. In this exhibit, visitors can try shadow boxing against Muhammad Ali, practice their rhythm on a speed bag, and learn the basic techniques of the sport from champion boxer Laila Ali, Muhammad Ali's daughter.
Within a large elliptical room in the two-level pavilion, visitors can find Ali's boxing memorabilia and historical displays. There's also a large projector showing "The Greatest," his signature fight, onto a full-sized boxing ring. Video-on-demand terminals also showcase Ali's greatest fights and pre- and post-fight interviews. Lastly, the "Hope and Dream" and "Global Voices" exhibits are composed of over 5,000 tiles featuring drawings and paintings from children from 141 countries, all of which are showing what the kids want to be when they grow up.
Sources
Remnick, Dave. "The Outsized Life of Muhammad Ali." The New Yorker. The New Yorker, June 13, 2016.

Muhammad Ali Center. Official website. Accessed March 14, 2014. https://alicenter.org/visit/exhibits-and-galleries/.


Additional Information