Oswego Harbor West Pierhead Lighthouse
Introduction
Built in 1924, the Oswego Harbor West Pierhead Lighthouse is a historic light still used as a navigational aid, guiding vessels into Oswego harbor. It is located about a half of a mile out from the shoreline and is situated at the end of a long breakwater. It construction was part of a larger harbor enlargement project and marked the new entrance to the harbor. The lighthouse was built with steel and iron casing and other design elements enabling it to withstand the harsh weather and waves of Lake Ontario. Today, it is owned by the H. Lee White Maritime Museum which is in the process of restoring it and then opening it to visitors.
Images
The Oswego Harbor West Pierhead Light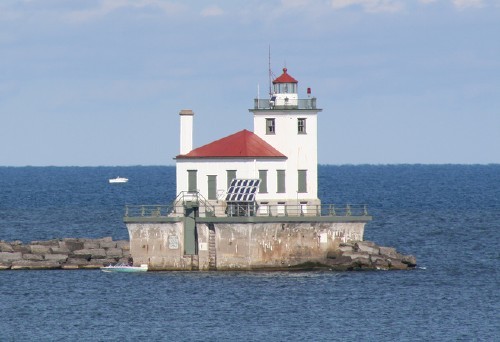 Backstory and Context
An tragic incident occurred on December 4, 1942. The coast guard crew in the lighthouse was running low on fuel, food, and lantern oil. A replacement crew reached the lighthouse and the former crew began sailing back to the shore. The boat capsized hit the west breakwater and lost control and capsized near the east breakwater. Only two members managed to climb onto the breakwater. Another ship set out to rescue the crew members but this one capsized as well and only two were able to swim to the breakwater. In all, six guard members perished.
Sources
https://en.wikipedia.org/wiki/Oswego_Harbor_West_Pierhead_Light http://www.hleewhitemarinemuseum.com/lighthouse.php
Additional Information