Old Bank of Louisville
Introduction
The Old Bank of Louisville was chartered in 1832 by the Kentucky General Assembly. Designed by New Orleans architect, James H. Dakin, the narrow building (not reaching 40 feet wide) was completed in 1837 and features a combination of brick and limestone in a Greek Revival Style. With regards to small-scale, commercial architecture, many consider the Old Bank to among the most sophisticated. In short, the building is a Greek Revival distyle-in-antis doorway that the designers increased to the scale of an entire building. Once standing as the Headquarters of the Louisville Credit Mens Association, the Old Bank of Louisville currently serves as the headquarters for the renowned Actors Theatre of Louisville.
Images
Front facade of the Old Bank.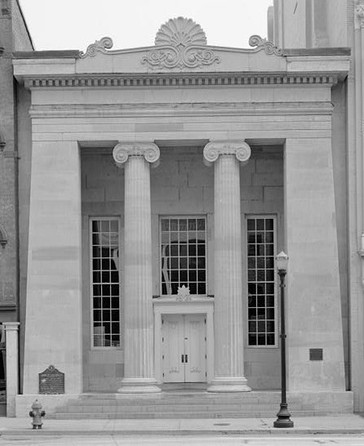 Gideon Shryock, who supervised the construction of the Old Bank. Courtesy of the University of Kentucky.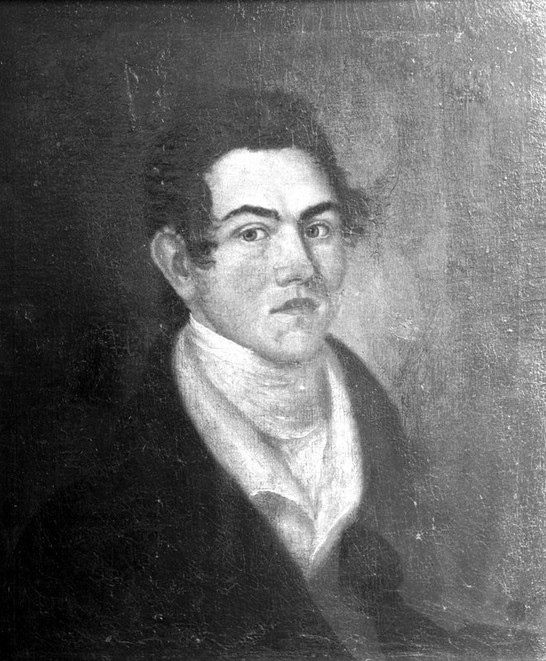 The Old Bank near the mid-20th Century. Courtesy of the University of Louisville.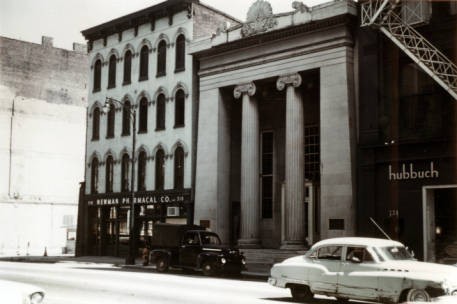 Backstory and Context
History of the Old Bank
In 1828, Lousiville became an incorporated city and it was home to around 7,000 inhabitants. The Old Bank of Lousiville was completed just eight years later, while the city was yet young and still forming. Because of its early construction date, there wasn't general accord regarding the building's architect for many years.

For example, traditional records show that Gideon Shryock was the original architect, though research points to James H. Dakin, from New Orleans, as the leading architect while Shryock supervised construction.

The Greek Revival detail found on the Old Bank may come from Minard Lafever's books, "The Modern Builders Guide" (1833) and "The Beauties of Modern Architecture" (1835).

The building was most likely partially built based on Lafever's 1835 book, as the distyle-in-antis doorway is very similar to Plates 25 and 26 of the book. Therefore, the Old Bank superbly combines the Greek Revival architectural details with an unexpected, yet bold design adapted for its tight space on the narrow, city site.
Sources
National Register of Historic Places Nomination Form, National Park Service, July 1969, accessed September 13, 2015, http://focus.nps.gov/GetAsset?assetID=86cead36-22fa-487f-8c76-34924998b454
Additional Information