Birthplace of Brigham Young, 2nd LDS/Mormon Prophet
Introduction
Two miles south of this roadside marker sites two monuments dedicated that sit on the spot where Brigham Young, who would become the 2nd President and Prophet of the LDS Church and lead the church west to what is now the Salt Lake Valley, was born.
Images
Headstone shaped marker indicating where Brigham Young born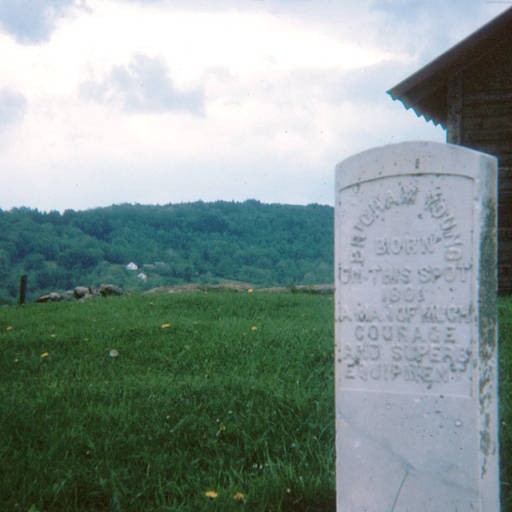 Roadside marker. The marker posted above and the monument below are 2 miles south of this sign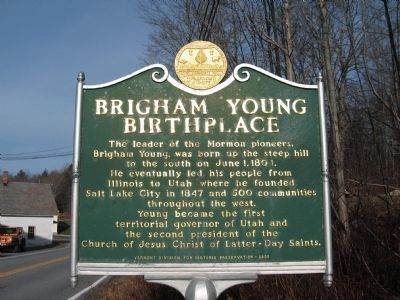 Monument erected in 1950. Courtesy of Mormon Historic Sites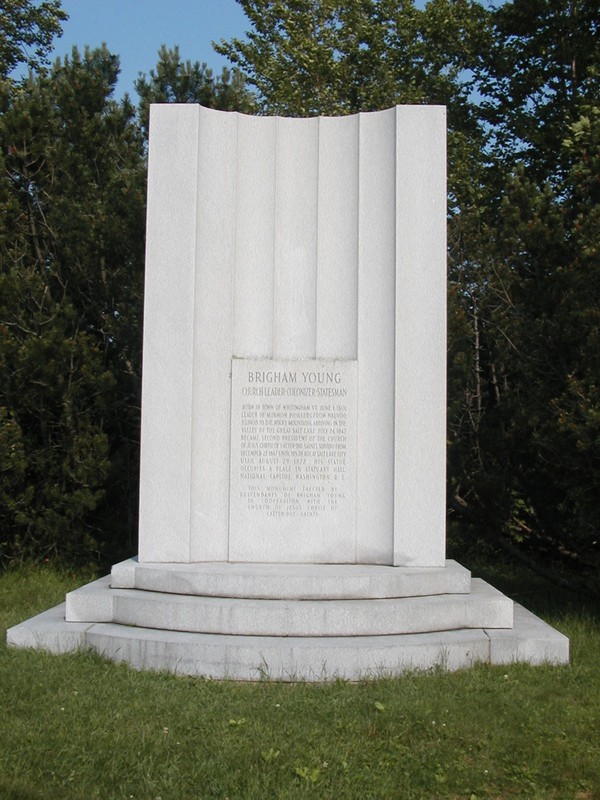 Brigham Young and his brothers. circa 1860s. Courtesy of C. R. Savage collection at the Harold B. Lee Library, Digital Collections, Brigham Young University,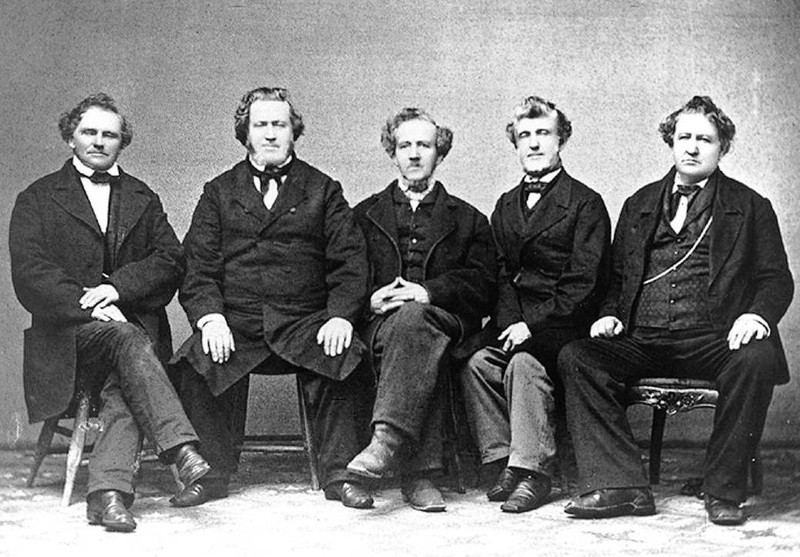 Brigham Young circa 1870. Courtesy of Charles William Carter; American (London, England 1832 - 1918 Midvale, UT) - Harvard Art Museum/Fogg Museum, Historical Photographs and Special Visual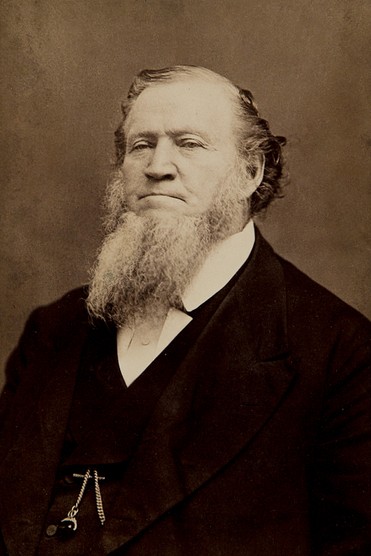 Poster for 1940 film, Brigham Young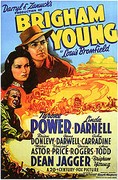 Backstory and Context
Brigham Young was born on June 1, 1801 to a young farmer, John Young and his wife Abigail "Nabby" in the small farm town of Whitingham. Brigham was one of five sons born to the family. As he grew up, Brigham Young farmed and learned many trades, even becoming a traveling Blacksmith and carpenter. Young married Miriam Woods in 1824 and joined the Methodist church before missionaries from the newly organized Church of Christ (later The Church of Jesus Christ of Latter-day Saints) came to the area and preached in 1830. Skeptical, Brigham decided to hear what they had to say and promised to read the Book of Mormon. It was not until he heard the testimony of a very shy missionary that he felt what they spoke was truth and joined the church in 1832.

Not long after, he was called as a missionary to the Upper Canada area, where he served until he learned of his wife's death and returned home. Penniless, a widower with small children and needing to borrow clothes from friends, he left Whitingham to join the church in Kirtland, Ohio. From their his life changed. His trade skills made him invaluable in building the first LDS temple in Kirtland, the second one in Nauvoo, Illinois when the church moved there, homes for families and even being called as an Apostle of the church. Called on a mission to England, he and others saw great success while gone for a few years. Receiving word that Joseph Smith and Hyrum were having false charges placed on them and no protection from mobs by the governor of Illinois, Young and others returned just after Joseph and Hyrum were murdered when in jail. Brigham took up the mantle as leader of the church and led the Saints west to the Salt Lake Valley establishing the state of Deseret. Under is long 30+ year leadership as Prophet of the church, colonies were established in Mexico and modern day California, Nevada, Wyoming, Arizona, Colorado and Idaho. He presided over the rail roads connecting north of Salt Lake and was the Territorial Governor to Utah. Controversial to non-members of the church, the legacy of Brigham Young upon American history cannot be denied.

From Mormon Historic Sites:
"In 1950 a memorial was erected to commemorate his birthplace with President George Albert Smith dedicating the monument. At the unveiling, Judge Harrie B. Chase of the United States Court of Appeals representing the Whitingham township remarked, 'The name Brigham Young has become accepted as a symbol of perseverance, courage to bear difficulties, and capacity to surmount them. This monument is a fitting tribute to a great American, Whitingham's famous son.'"1

Young was the subject of the 1940 film Brigham Young starring Tyrone Power and Dean Jagger as Young

More about Brigham Young can be learned from links listed below, by members and missionaries of the church and mormon.org and LDS.org.



Sources
Clarence S. Barker, "From the Green Hills To Statuary Hall," Improvement Era, Volume 53, No. 8, (August 1950).
Additional Information