Zerelda G. Wallace Historical Marker
Introduction
This historic marker is located just north of the Central Christian Church and pays tribute to Zerelda G. Wallace, the first president of the Indiana Woman's Christian Temperance Union. Wallace presented a petition calling for a ban on alcohol signed by over 21,000 residents to the Indiana General Assembly in 1875. She would later become a leading voice on behalf of voting rights for women through her membership within the Equal Suffrage Society of Indianapolis. She also served as First Lady of Indiana when her husband became the governor in 1837.
Images
Zeralda Wallace was a leading advocate of temperance and an early voice for women's suffrage. This marker is located outside of Central Christian Church where she was a leading member.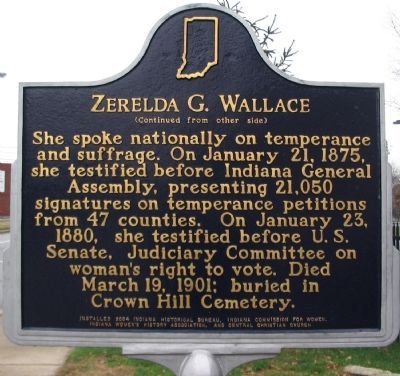 Zerelda Wallace (August 6, 1817 – March 19, 1901)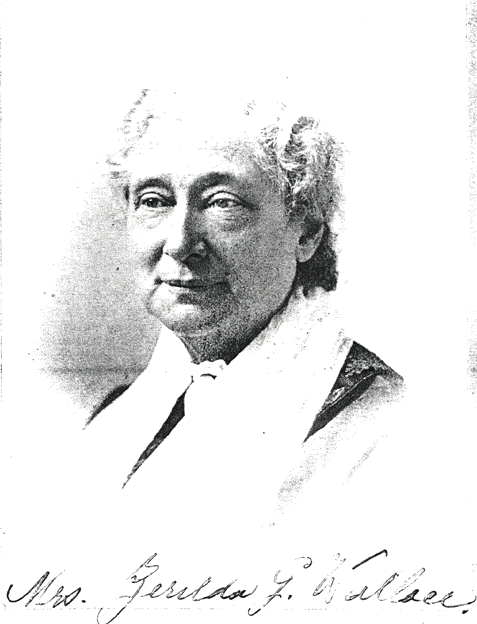 To learn more about the early women's suffrage movement, consider this book from Boston University professor Aileen S. Kraditor.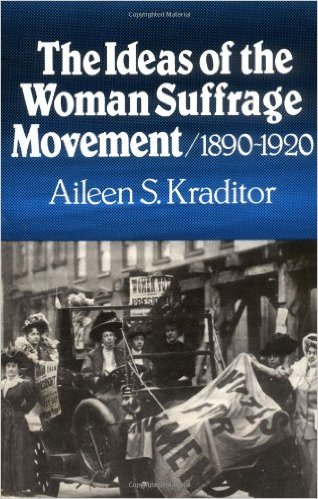 Backstory and Context
Zerelda Gray Sanders was born on August 6, 1817 in Kentucky. She was a leading member of the Church of Christ (now the Central Christian Church of Indiana) and a strong advocate of temperance. Her opposition to alcohol led to several other public positions and led her to advocate equal political rights for women as a way of securing important social reforms. She married future governor David Wallace in 1836.

Zeralda Wallace became a leading member within her church. She convinced many of the leaders of the congregation to change the practice of offering fermented wine as part of the communion service. She and others worked to convince local politicians of the evil of alcohol in the 1870s and 1880s, and was one of the first leaders of the newly-formed Women's Christian Temperance Union of Indiana. This effort placed women like Zeralda Wallace in the public sphere. It also led to Wallace becoming a colleague of leading women and future advocates of equal suffragists such as Frances Willard.

Wallace presented a petition of over twenty-one thousand Indiana residents who supported temperance to the state legislature in 1875. After being rudely received by many of the male legislators, and after years of attempting to convince male political leaders to support their cause with limited results, Zeralda Wallace and other Indiana women increasingly supported equal suffrage for all citizens. In 1878, women met at Zeralda Wallace's home and formed the Equal Suffrage Society of Indianapolis. In 1880, Wallace testified in favor of equal suffrage for women before the United States Senate Committee on the Judiciary.
Sources
Indianapolis State Sentinel, March 20, 1901.

"Mrs. Zerelda G. Wallace". New York Times. March 20, 1901. Retrieved 2017-02-21. Mrs. Zerelda G. Wallace, widow of ex-Gov. Wallace, died to-day at the home of her 1 daughter, Mrs. JH Steiner, at Cataract, near this city, aged eighty-four. . .

Vogelsang, Susan (Summer 1992). "Zerelda Wallace: Indiana's Conservative Radical". Traces of Indiana and Midwestern History. Indianapolis: Indiana Historical Society. 4 (3): 34–41.

Wissing, Douglas A.; Marianne Tobias; Rebecca W. Dolan; Anne Ryder (2013). Crown Hill: History, Spirit, and Sanctuary. Indianapolis: Indiana Historical Society Press.

Additional Information