Chuck Yeager Memorial Rocket
Introduction
October 14, 1947: pilot Chuck Yeager becomes the first pilot to break the sound barrier at a speed of 700 mph (Mach 1.06). The innovative Bell XS-1 with its rocket-powered engines propelled the West Virginia born pilot to a height of 43,000 feet where he became the first man to fly faster than the speed of sound. Years later, in December of 1953, Yeager topped the new record by flying at 1650 mph, twice the speed of sound. This monument stands to honor his achievement on that day in 1947.
Images
Chuck Yeager Memorial Rocket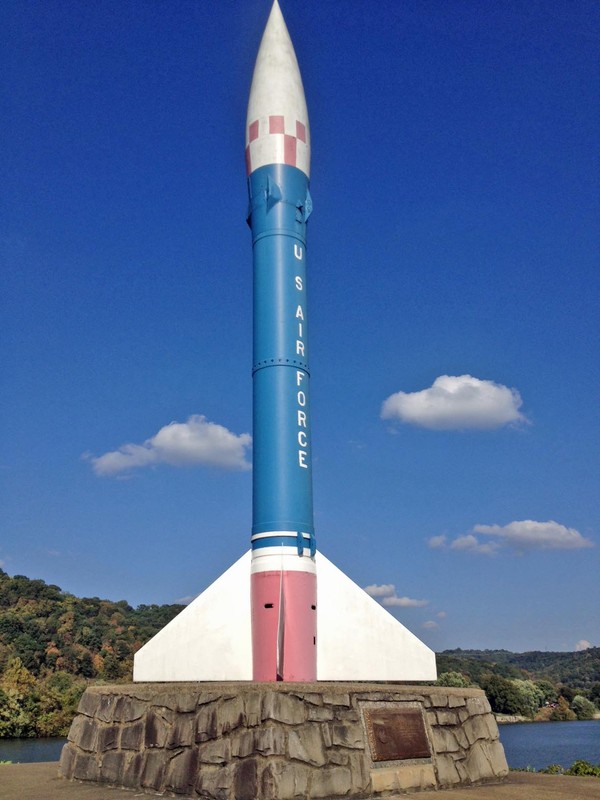 Chuck Yeager As a Young Adult in the U.S. Airforce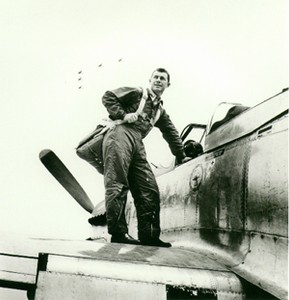 Chuck Yeager 65 Years after his first flight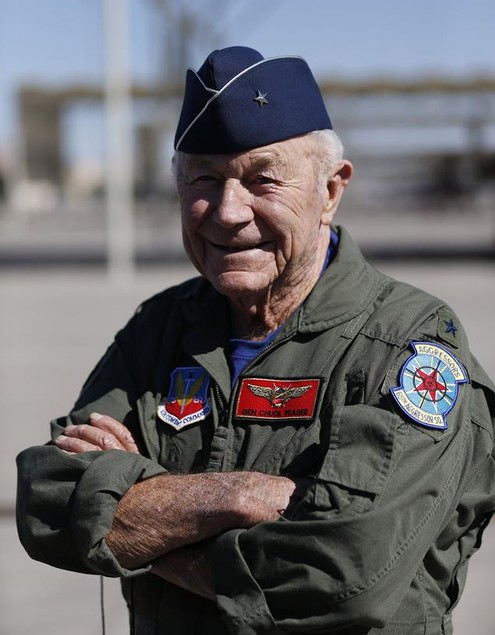 Plaque on the Chuck Yeager Memorial Rocket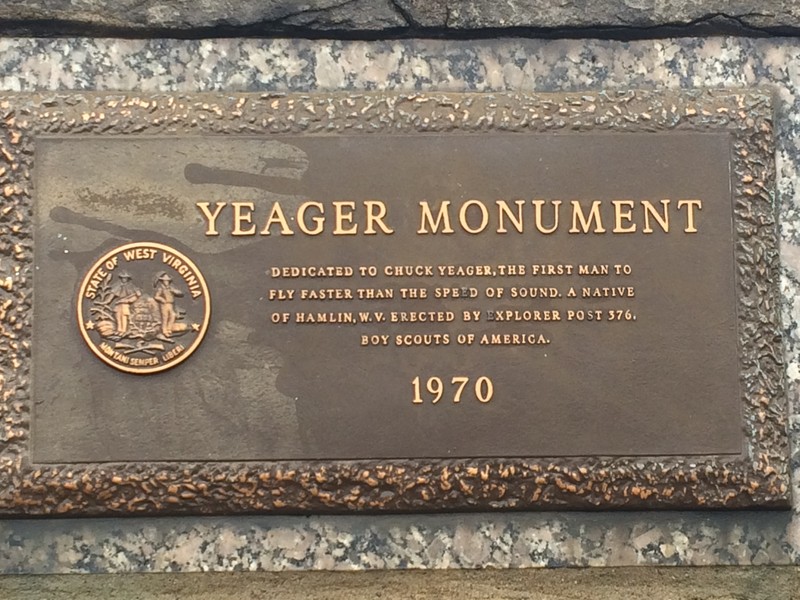 Backstory and Context
      Legendary pilot Charles E. Yeager, also known as Chuck, was born in 1923 and raised near the small town of Hamlin, West Virginia. As a young boy, Yeager loved to be outdoors climbing trees, fishing or hunting. Yeager was always an average student, though his mathematic ability and physical dexterity set him apart. Albert Hal Yeager, Chuck's father, was the owner of a natural gas drilling company. This environment allowed his son to hone his skill with machines, experience that would be useful to his future career.
           In September of 1941, at the age of 18, Yeager enlisted in the U.S. Army Air Corps just months before the United States joined World War II. Yeager was trained in Arizona and California to become a pilot and in 1943 he earned his wings. The new pilot earned a reputation as a skilled, instinctive flier. In his military career, he flew 61 combat missions. He was shot down during one mission and with help from the French survived to return to combat months later. His reputation only grew after he downed five enemy planes in the course of a single mission.
           Yeager is most well-known for his record breaking flight in the Bell XS-1 in October of 1947. While working as a test pilot under Col. Albert Boyd, Yeager was chosen to be the first to try to pass the speed of sound with an innovative, rocket-powered Bell X plane. After several other failures Yeager finally managed to break through over the Mojave Desert on October 14, 1947 in the plane he fondly referred to as the 'Glamorous Glennis.' Years later, in 1953, Yeager and teammate Jack Ridley set a new record by flying the newest Bell X-1A at Mach 2.44.
           For these fantastic achievements, Yeager was given many notable awards. Most prestigious among these was being inducted into the Aviation Hall of Fame in 1973, a great honor for Yeager. Besides this honor, Yeager has also become namesake for a scholarship at Marshall University, a major roadway, and a Charleston airport in his home state of West Virginia. His military awards include the Purple Heart, Silver and Bronze Star, and the Presidential Medal of Freedom.
           This memorial rocket, erected in 1970 by the Explorer Scouts, commemorates Yeager's bravery in testing the first rocket propelled plane. Notable guests at the revealing were Chuck's mother Mrs. Hal Yeager and Congressman John Slack. The Honest John Army missile was brought from a Lexington Army Depot for the occasion. During the dedication ceremony in July 4, 1970, three Air Force jets flew over the site to show their respect for General Charles E. "Chuck" Yeager. Yeager is a local and national legend. His monument stands proudly in Roadside Park of St. Albans, West Virginia as a testimony to his heroic scientific and military accomplishments.
According to early Sanborn insurance maps, the base was originally a well bringing in water from the Kanawha River and pumped to the wooden water tower at the C&O Railroad for steam locomotives.
Sources
"Almost Heaven..." Luna Lonestar. N.p., n.d. Web. 19 Nov. 2014. . "Chuck Yeager." Chuck Yeager. N.p., n.d. Web. 19 Nov. 2014. . "Chuck Yeager Biography." -- Academy of Achievement. N.p., n.d. Web. 18 Nov. 2014. . "Chuck Yeager: First Person to Break the Sound Barrier." Space.com. N.p., n.d. Web. 19 Nov. 2014. . Bio.com. A&E Networks Television, n.d. Web. 19 Nov. 2014. , St. Albans Historical Society, Sanborn maps, 1929.
Additional Information