Plaza de Luna Expedition Marker
Introduction
This marker commemorates the history of the Luna expedition. In 1559-1561 Tristan de Luna Arellano led an expedition which attempted to establish a Spanish colonial presence on the Gulf Coast. However, the colony soon failed owing to a hurricane that destroyed most of the ships, tools, supplies, and food. Historians have benefited from the failure, however, as the expedition traveled as far west as the Tennessee Valley in a search for both food and their original purpose-acquiring gold. Although each member of the expedition perished, their sojourns were recorded and this led to observations of the Native American inhabitants of the region-an invaluable resource that despite its biases, provides some insight into the life and culture of Native Americans in the Southeast prior to European contact.
Images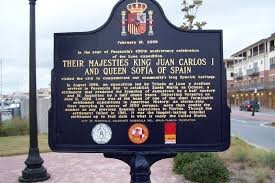 Depiction of Luna's landing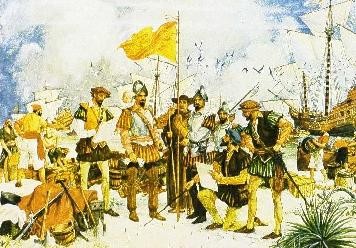 Example of Spanish Caravels that explored Florida's coast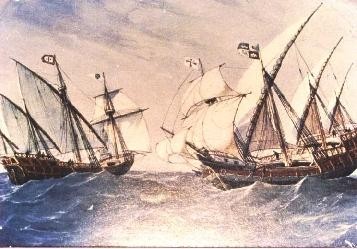 A map probably used by Luna and other Spanish explorers of the area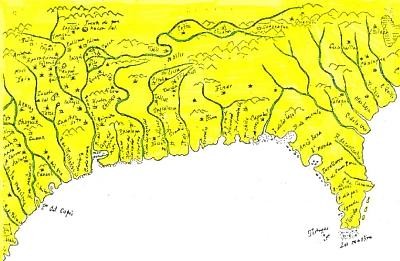 Historical landmark and family fun!!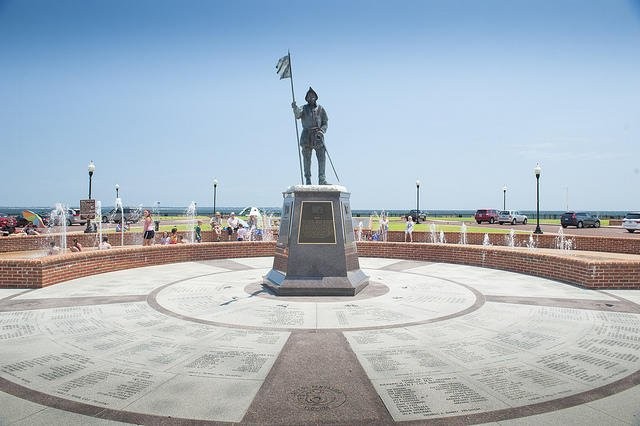 Backstory and Context
Tristan de Luna Arellano departed from present-day Veracruz, Mexico on August 11, 1559, with eleven ships, 1,500 people, and a million tons of food and supplies. The expedition was the third attempt (up to that point) Spain undertook to establish a firm presence in the Gulf Coast. The strategy was to establish a settlement in Pensacola, then from there head north to a Native American settlement at Coosa (presently in northern Georgia), and then travel east to South Carolina where it was hoped they could establish a settlement called Santa Elena (Parris Island today). Not only did they want to expand their presence in the Americas, Spain wanted to prevent the French from establishing a foothold in South Carolina.

The expedition ultimately failed. A hurricane in September 1559 destroyed most of the ships, which were anchored offshore and the food and supplies. Over the next two years, attempts to relieve the settlers failed as well. The settlement even moved inland with the hope of acquiring more food. This did not solve their problems either. In 1561 the expedition was finally called off and they returned to Veracruz.

Plaza de Luna is also a waterfront park overlooking the Pensacola Bay. The monument boosts five flags that signify the five governments that reigned over the are throughout history. The monument also has a splash pad that operates from March through October for visitors to cool off while enjoying the historical site.



Sources
Herbert Ingram Priestley, Tristan de Luna: Conquistador of the Old South: A Study of Spanish Imperial Strategy (1936). Charles Hudson, Marvin T. Smith, Chester B. DePratter and Emilia Kelley (Summer 1989). "THE TRISTÁN DE LUNA EXPEDITION, 1559-1561". Southeastern Archaeology. Allen Press. 8 (1): 31–45. JSTOR 40712896. Herbert Ingram Priestley, Tristan de Luna: Conquistador of the Old South: A Study of Spanish Imperial Strategy (1936) John R. Bratten and John E. Worth "Shipwrecked History: Spanish Ships Found In Pensacola Harbor," American Heritage, Summer 2009. Dye, David (2009). "TN Encyclopedia: Luna Expedition". The Tennessee Encyclopedia of History and Culture
Additional Information