Camp Reynolds and Camp Reynolds Project
Introduction
Originally known as the Shenango Personnel Replacement Depot, Camp Reynolds was a massive U.S. Army facility that was quickly built three miles south of Greenville, PA in 1942. It initially served as a staging and processing area for soldiers on their way to the European Theater during World War II. Over one million soldiers passed through the camp and it could house 75,000 at one time. It was later converted into a prisoner of war camp that held upwards of 1,800 German POWs. It closed its doors in 1946 and is now an industrial park and the town of Reynolds.
Images
Camp Switch board operators.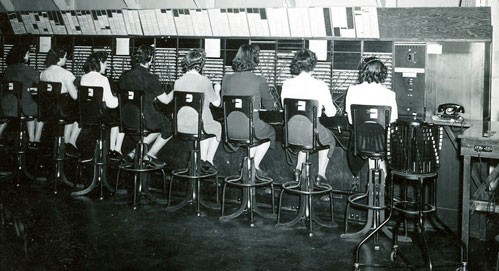 Backstory and Context
After the U.S. entered World War II, a massive mobilization effort took place that included moving and processing millions of soldiers heading overseas and Camp Reynolds played a major role in that effort. The 3,300-acre camp sprang from the local farmland, after 35 farms were purchased in northwest PA, in a few short months. Barracks, warehouses, administrative buildings, a hospital, theaters, training facilities and chapels were built to house, process and entertain the soldiers during their stay.
The camp was also the scene of an unfortunate race riot in 1943 as African-American troops were segregated from their white counterparts despite the presence of the camp in a northern state. During the riots, one African-American soldier was killed and several were wounded according to official accounts. Eventually, the camp's operations were transferred to Fort Indian Town Gap, near Harrisburg, in late 1944.
The Camp Reynolds Project, headed by Art Williams, seeks to preserve and share the history of the camp with the general public. The project travels to various locations offering lectures, presentations, historical exhibits, and educational activities. The project was largely responsible for recovering and replacing the camp's historical marker in 2013. The marker had been struck by a vehicle and stolen in 1999.

Additional Information