Wilmington Railroad Museum
Introduction
Railroading was Wilmington, North Carolina's chief industry for more than 125 years. The Wilmington Railroad Museum was started in 1979 by three women and a table of Atlantic Coast Line Railroad artifacts. The museum is dedicated to preserving the history of the ACL Railroad and the history of railroading in the southeastern U.S.
Images
The Wilmington & Weldon Railroad was completed in 1840. With a length of 161 1/2 miles it was the longest railroad in the world.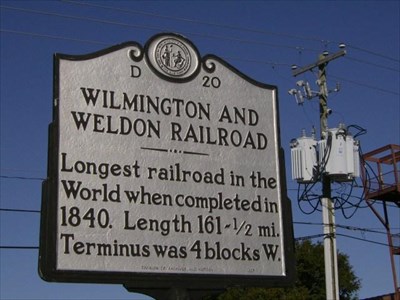 Backstory and Context
The Wilmington & Weldon Railroad was completed in 1840. At 161 miles long, it was the longest continuous rail line in the world. The Wilmington & Weldon, with many other railroads along the eastern seaboard merged around the turn of the 20th century. They became known as the Atlantic Coast Line Railroad.
The ACL company headquarters were located in Wilmington. It contributed greatly to the area's growth both commercially and industrially. It provided jobs and revenue for the local economy. The headquarters of the ACL were moved to Jacksonville, Florida in 1960 contributing to the relocation of over 1,000 employees. The railroad was used to move these employees, their families and belongings, company files and office equipment 450 miles to their new location.
Three women with a table of ACL Railroad artifacts started the Wilmington Railroad Museum in 1979. The museum was dedicated to preserving not only the history of the Atlantic Coast Line Railroad but also the history of railroading in the southeastern portion of the United States.

The museum established itself in the former ACL Freight Office Building in 1983. With donations of a vintage locomotive, boxcar, and caboose, their exhibits began to quickly expand. Over the next 25 years the museum added to its collection. With artifacts they acquired they were able to provide information on the growth and impact of railroads and the people who worked on them.
The Museum moved to an authentic 1883 railroad freight warehouse in 2007. The warehouse allows for more space to display the collection and enhances the museums comfort and accessibility. The museum has been a host to visitors from many different countries, states, and towns and cities in North Carolina. It also offers a library with a wide array of railroading history.


Sources
"History." Wilmington Railroad Museum. Web. 5 Sept. 2015.
Additional Information