Chinsegut Hill Manor House
Introduction
This historic house sits on one of the highest points in Florida and was built in 1847. The land surrounding the manor has been home to Seminole Indians, plantation owners, slaves and slaves, Presidential advisers, and agricultural workers. Today it is surrounded by diverse landscape and adjacent to a wildlife sanctuary.
Images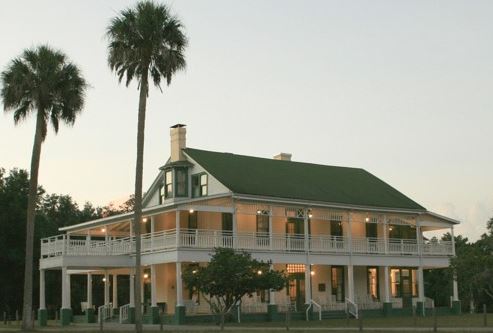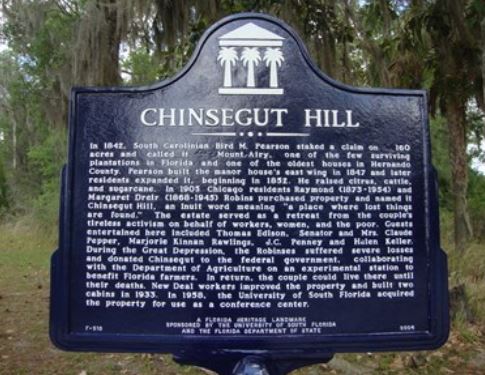 Manor caretaker Raymond Fielder's House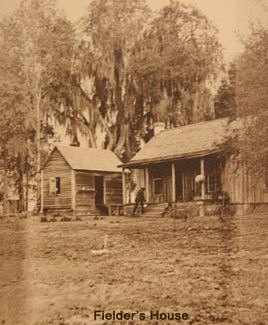 Backstory and Context
After the Seminole Indians were driven from this land during the longest series of wars in American history, the land became the property of speculators. Colonel Bird Pearson acquired the land during the antebellum period and moved his plantation and his slaves from South Carolina. He named his plantation Mount Airey and grew sugar and corn. Pearson sold the land to Francis Ederington, who expanded the plantation and built the Manor House before serving as a Colonel in the Confederate army. In 1905, Raymond Robins and his sister Elizabeth purchased the property and renamed the manor Chinsegut Hill.

Raymond was a trusted advisor to several United States Presidents. Together with Margaret Dreier, his new bride, the couple held fashionable parties and entertained some of of the most influential Americans of the 20th century. Guests to the manor included Helen Keller, Henry Ford, Thomas Edison, J.C. Penney, and Marjorie Kinnan Rawlings.

Raymond hired Fielder Harris, an African American gentleman that had been his friend as a child. Fielder worked in the orange groves in 1880 and taught Raymond a lot about nature. Eventually Raymond handed over 2,000 acres to the federal government for agricultural studies. Today the land serves as a retreat that hosts seminars, weddings, business meetings, and other organized events. It has 7 cabins that can accommodate up to 56 guests.

Sources
http://chinseguthillretreat.com/history-of-chinsegut-hill/ http://www.naturallyhernando.org/index.php?option=com_content&view=category&layout=blog&id=138&Itemid=478 Photo Credits: http://www.waymarking.com/gallery/default.aspx?f=1&guid=1f2a7d7a-8103-4293-925f-612063891e7b&gid=2 http://audubonoffloridanews.org/?p=8991 http://www.hernandohistoricalmuseumassoc.com/chinsegut_history.html Video Credits: https://www.youtube.com/watch?v=eQcYW9jctoY http://www.hernandohistoricalmuseumassoc.com/chinsegut_history.html
Additional Information