Blowing Rock Art and History Museum
Introduction
Established in 2011, Blowing Rock Art and History Museum (BRAHM) promotes the Arts and Southern Appalachian heritage and history through educational programs, exhibitions, activities, and permanent collections. The museum was made possible by the generosity of donors and opened in 2011. Today, the museum features ten galleries, five of which rotate exhibitions seasonally. These exhibits along with the impressive permanent collections are quickly making BRAHM a "rock star" in the local community of Blowin Rock and a model for other small-town museums.
Images
The Blowing Rock Art and History Museum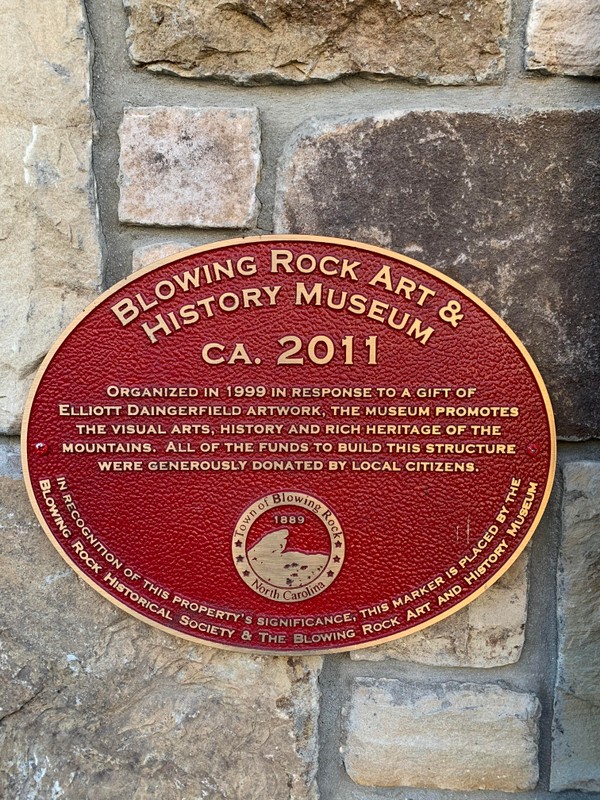 Backstory and Context
It is very appropriate to begin a "history" tour of the Blowing Rock Art & History Museum in front of the Brenda Councill statue of artist Elliott Daingerfield in front of Edgewood Cottage, Daingerfield's first home and studio in Blowing Rock, on the corner of Main Street and Ginny Stevens Lane.
Elliott Daingerfield, born in 1859, was a very successful painter and a prominent member of the National Academy of Design. In the summer of 1886, Daingerfield and his wife came to Blowing Rock so that he could recover from a bout with diphtheria. By 1890, Daingerfield had bought this property and constructed his first home and studio here at Edgewood Cottage. He would spend nearly every summer of his life here in Blowing Rock until his death in 1932., and would own three homes here, Edgewood Cottage, Windwood, and then Westglow. 
In June 1995, a "Daingerfield Day" celebration was held in Blowing Rock that showcased Daingerfield's homes here and included an exhibition of his paintings. At that exhibition, a major collector of Daingerfield's work, Lamont Hudson, was overheard (by Ginny Stevens) to say, "It's too bad Blowing Rock doesn't have an art museum, because, if they did, I would donate my Daingerfield collection." Well, that terrific idea was enough to get the indomitable Ginny Stevens started on a quest to make a museum happen.
Ginny and Elliott Daingerfield's grandson, Joe Dulaney, (who still has a second home here in Blowing Rock), began talking up the idea and putting together an action group of like-minded people. The group soon included Welborn and Patty Alexander who were themselves serious art collectors of American Impressionist work created between 1880 and 1930. By 1999, the group began holding formal meetings. By 2001, the volunteers had organized a non-profit organization and had obtained an official 501 c 3 designation that allowed them tax status as a charitable organization. By 2005, the organization hired an Executive Director, Joann Mitchell. This small but passionate group of volunteers donated thousands of hours to the project, but the question of where to locate the museum remained.
Leaders of the nascent organization explored several sites and worked with the Blowing Rock Performing Arts Center group about a potential partnership. By that time, leaders of the Arts Center were far along in their organizational and planning process and it was decided that the community could be home to multiple arts organizations with unique organizational missions. The leaders of the nascent organization talked to civic leaders about utilizing the former fire station building that was being replaced with a new facility. At that time, this property became available and leaders of the movement to create the museum felt it was serendipity.
This half block that included the old Edgewood Cottage structure had been inherited by two cousins, Lucy Tiller and Kate Lane, from their aunt and uncle, Dr. and Mrs. Ralph Schmucker. The property had been offered for commercial sale for $1,500,000. But in late 2002, Kate Lane was willing to allow her half interest to be donated to a charitable civic purpose. Knowing that the Town at that time was actively seeking more parking space, the Museum team put together a proposal to the Town that would have the Town buy the property for half price and enter into a ground lease with the Museum organization for the footprint of the Museum, would allow the Blowing Rock Historical Society to attempt to rescue Edgewood Cottage. The city built a parking structure to accommodate the new museum and support additional public parking. The Main Street area would be a park-like campus setting compatible with the lawns of the two churches on opposite corners. It was a major attempt at public/private collaboration with the museum group supplying the architectural and engineering plans an museum volunteer and engineer John Calvin agreed to oversee both the museum and the parking structure construction.
With this agreement in place, the museum team was encouraged and felt that they had a head-start for their ambitious project. The land was both a prime downtown commercial location and available at no cost while they also benefited from the future parking structure. The next goal was to create a museum building that "looked like it grew here" in the words of project leaders. The volunteer group began serious fundraising that included events like art exhibitions and auctions of exhibited work, a 2003 presentation about the art-collecting Cone Sisters that featured talks by staff from the Baltimore Museum of Art where much of that collection is housed, sponsored trips to different cities with tours of museums and private collections, and sponsored art and antique shows. They initiated a Young at Art program to bring working artists and art instruction into the elementary schools. They also raised over $7 million in personal donations to build the museum with the goal of opening the doors debt-free.
Ground was broken for museum construction in 2010, and the doors were opened on a snowy, blustery day, October 1, 2011. The museum opened fittingly with an exhibition "Elliott Daingerfield: Art and Life in North Carolina" which was attended by many of the museum volunteers who led the effort from the beginning such as Ginny Stevens, Welborn and Patty Alexander, John Calvin, and the many, many others, and also by collectors Lamont and Cora Hudson who provided the initial spark, and by Elliott Daingerfield's two grandsons Joe and Elliott Dulaney and their families, and excited members of the public. Since then, the Blowing Rock Art & History has continued to amaze the public with its remarkable diversity of exhibitions and community outreach programs. 
From the very beginning, the Museum founders and volunteers realized that the story of art here could not be told without explanation of the rich cultural heritage that fostered it, and that the story of regional history here could not be told without telling the stories of the varied artistic and creative people and collectors who were part of that history. So, from the beginning, it has made sense that this needed to be an Art and History Museum. In 2015, Lee Carol Giduz became the museum's new Executive Director.
Visitors to the museum will notice reception, exhibition, and shop space on the building's main level with exhibition space, office space, and meeting rooms on its upstairs second level. The museum's educational and storage space can be found on the lower level. Seasoned museum goers are regularly ask how this little Appalachian community with a regular population of fewer than 1,300 people were able to create and support a museum of this size. In many ways, the story of this museum is one of the community and its residents, as well as the unique connection between the arts and the people of Appalachia.
Sources
http://www.visitnc.com/listing/blowing-rock-art-history-museum-brahm
http://www.blueridgeheritage.com/attractions-destinations/blowing-rock-art-and-history-museum
Sue Glenn
Additional Information