Clement Railroad Hotel Museum
Introduction
Clement Railroad Hotel Museum is located in the historic Hotel Halbrook which was completed in 1913. This Tennessee historic site opened in 2009 and is operated by the Clement Foundation in partnership with the Tennessee Historical Commission. Visitors can enjoy exhibits ranging from the region's early history to the Civil War and the history of businesses, political leaders, and the railroad.
Images
This historic site offers exhibits and tours, and is listed on the National Register of Historic Places.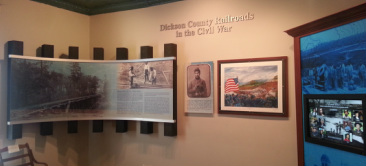 Backstory and Context
Visitors begin their tour in the former lobby of the hotel and walk through exhibits dedicated to the history of the Clement family who owned and managed the hotel, as well as exhibits related to the history of agriculture, the railroad, and various early settlers, politicians, and business leaders of the town and county. Highlights of the museum include a model railroad display and a few exhibits dedicated to the history of the Civil War in the area.

The city of Dickson was founded in 1860 as Sneedville. It had the advantage of being established on the main line of the Nashville, Chattanooga and St. Louis Railway (NC&StL). Over time, other railroads connected here, further increasing the town's attractiveness to businesses and farmers. The NC&StL in fact promoted the land near its line in the county to farmers in the hopes of increasing business activity. Eventually, after the turn of the century, the railroad started to promote industrial development.
Sources
"Who Are We." Clement Railroad Hotel Museum. Accessed 5/1/16.
http://www.clementrailroadmuseum.org.
Stager, Claudette. "Halbrook Hotel."
National Park Service - National Register of Historic Places Nomination Form.
https://npgallery.nps.gov/GetAsset/2a190b67-ccfb-41f3-b852-3817837a5335.
Additional Information