Lauritz H. and Emma Smith House
Introduction
Lauritz H. Smith, the son of Draper, Utah founder, Lauritz Smith, lived in this home from 1884-1947. Being the son of an LDS member practicing polygamy, Smith (no relation to LDS church founder, Joseph Smith), was persecuted during the late 1800s by the federal government, specifically under the Edmunds Act. Laurtiz H. and his wife Emma (not to be confused with the wife of Joseph Smith, Emma), lived near his father and his polygamous wives. Lauritz H. played some key roles in further developing Draper.
Images
Laurtiz H. and Emma Smith House today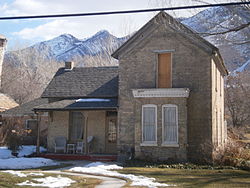 Backstory and Context
The Lauritz H. and Emma Smith House in Draper, was built in stages from 1884 to 1947. It has also been known as the Robert L. and Doris B. Smith House. It was owned and mostly built by Lauritz Heber Smith, son of Lauritz Smith, who was one of the earliest settlers of Draper. It is historic for its association with the Smith family and has good integrity of its many stages of development. It has two outbuildings, one being a circa 1885 stone granary.
Additional Information