Belmont Mansion and Museum
Introduction
Belmont Mansion is the largest house museum in Tennessee and one of the few nineteenth-century homes with a history that revolves around a woman: Adelicia Hayes Franklin Acklen Cheatham. The house is located on the campus of Belmont University and functions as a museum.
Images
Belmont Mansion is the largest house museum in Tennessee.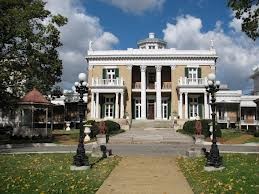 Adelicia Hayes Franklin Acklen Cheatham is most often remembered as a socialite and owner of Belmont Mansion, however she also had a wide philanthropic impact on the city of Nashville.
Backstory and Context
When the newlyweds Joseph and Adelicia Acklen began planning and building their estate just south of Nashville in 1849, they wanted it to be the most elegant in the state, yet different from any other. The Acklens did not plan Belmont as a plantation. Instead, it was to be their summer home--akin to a modern resort, where people gather to relax far from the heat and cares of urban life. Designed for comfort and to impress, Belmont did not have to be a plantation--did not have to produce an income to maintain itself. It survived, rather, off of Adelicia's personal wealth, inherited from her first husband's death.

Adelicia was born in Nashville in 1817, the daughter of Sarah Clements (Hightower) Hayes and the lawyer Oliver Bliss Hayes. In 1839 she had married Isaac Franklin (1789-1846), a slave trader and plantation owner from Sumner County, Tennessee. After seven years of marriage and four children (none of whom survived childhood) he also died, leaving an estate worth over $900,000, including seven Louisiana cotton plantations, a two-thousand-acre farm in middle Tennessee, and 750 slaves. In 1849 Adelicia married Joseph A. S. Acklen (1816-1863), and, with her monthly income, designed and produced the 177-acre estate with ample gardens, greenhouses, an art gallery, a bowling alley, and a zoo (which Adelicia opened to Nashville residents). White clam shell paths and drives filled the spaces between colorful geometric planting beds. A small working farm was attached to Belmont, completed in 1853, but that provided only foodstuffs for the family and their domestic staff. The Acklens hired an architect to remodel and expand the estate in 1859; the final layout contained thirty-six rooms, ten thousand square feet of living area, and an additional 8,400 square feet of service space in the basement. During the Civil War, the mansion served as a regional headquarters for the Union Army, and later was the campus of an all-girls college and seminary. It is now part of the campus of the private, Christian, coeducational, liberal arts Belmont University, and is a popular spot for weddings and other special events.

A variety of tour options are available. A standard individual (no minimum number of guests) or group (15 or more people) tour is docent-led and lasts approximately and hour. Specialty tours include: the Curator's Tour (the story of Adelicia Acklen and her estate in detail, led by the curator of collections); the Art Tour (a focus on the Acklens's extensive art collection, led by the curator of collections); Gardens and Grounds Tour (a look at the estate gardens, statuary, and gazebos, led every Saturday by historic gardening experts); Lasting Impression Tour (geared toward re-creating scenes and conversations from Tamara Alexander's novel A Lasting Impression, which was set at Belmont Mansion). Tours can also be tailored for K-12 educational needs.
Additional Information