Davy Crockett Cabin
Introduction
The Davy Crockett Cabin in Rutherford, Tennessee is a replica of the famous folk hero's last home from 1822-1835. Some of the timbers are from his actual home. The cabin contains many of Crocket family items dating to the early 1800s including furniture, tools, pictures, books, and letters. It was from here that Crockett hunted 105 bears. His mother's grave is also at the site.
Images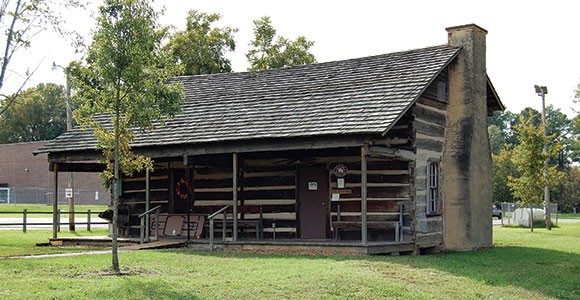 Backstory and Context
Crockett lived almost all his life in Tennessee. He was born in 1786 and became a well-known outdoorsman and politician. He served as Lawrence County's justice of the peace and commissioner, a colonel in the state militia, a state representative, and was elected to the U.S. House of Representatives where he served three terms in the late 1820s-early 1830s. He vehemently opposed President Andrew Jackson's Indian Removal Act. As a result of this political split, Crockett went to Texas to participate in the Texas Revolution, which was an uprising of Texans against the Mexican government (Texas was a part of Mexico at the time). He fought at the battle of the Alamo which was ultimately a Mexican victory. He and several others were executed after the battle.
Sources
Michael Lind, The Death of David Crockett, Wilson Quarterly http://www.tamu.edu/faculty/ccbn/dewitt/adp/archives/delapena/lind_crisp/lind.html

David Crockett, Texas State Historical Association, The Handbook of Texas Online. Accessed January 21, 2017. http://www.tsha.utexas.edu/handbook/online/articles/print/CC/fcr24.html

Davy Crockett Cabin Museum. Tennessee Society Daughters of the American Revolution. Accessed January 21, 2017. http://www.tndar.org/Crockett.html.


Additional Information