Landmark for Peace Memorial
Introduction
Located in Martin Luther King Memorial Park, this monument marks the location where Robert Kennedy gave a speech on April 4, 1968, the night of King's assassination. Kennedy would be assassinated just over two months later. The memorial pays tribute to the speech, the two slain civic leaders, and their vision of peace. Although the park itself is steeped in rich history, the memorial has a powerful message for both the Indianapolis community and the nation. It was established in 1994 and built by artists Greg Perry and Daniel Edwards, and the sculpture features the three-dimensional bronze portraits of King and Kennedy reaching out to each other. During the memorial's unveiling in 1995, over 3,000 people showed up to voice their support. In addition to its powerful message of peace and for memorializing the contributions of King and Kennedy, the memorial also pays tribute to the national mood at the time of King's assassination on April 4th, 1968. Kennedy was in Indianapolis that evening with plans on an inner-city rally to promote his presidential campaign. He was told of the assassination, and advised not to speak as riots had broken out across the nation. Kennedy decided to speak, but instead of his pre-planned speech, Kennedy gave a five minute improvisation that urged reconciliation. That night, Indianapolis did not see any riots break out, and many attribute that to Kennedy's speech. Kennedy was assassinated a little over two months later, on June 6th, 1968.
Images
Landmark for Peace Memorial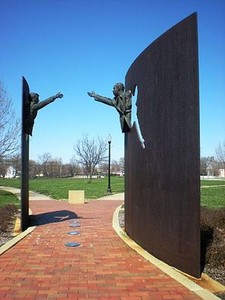 Another view of the Landmark for Peace Memorial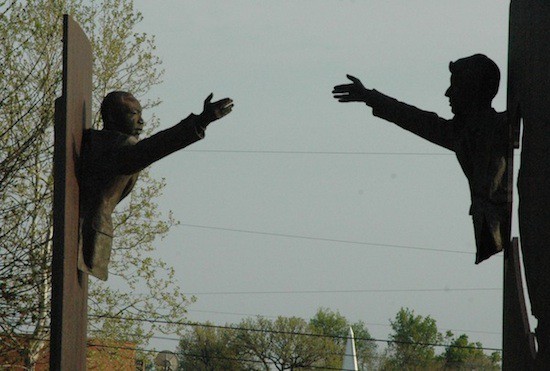 Memorial marker dedicating the site where Kennedy gave his speech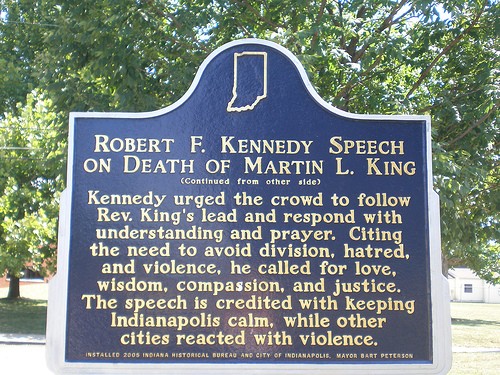 Kennedy giving his speech on the evening of April 4th, 1968
Backstory and Context
History Behind the Landmark for Peace Memorial
The evening of King's assassination and Kennedy's speech held great weight throughout Indianapolis, and Indiana Democratic politician Larry Conrad and Steve Mannheimer discussed at great length the need to commemorate the events of April 4th. Conrad died before he could see the memorial completed, but his desire for the memorial remained in Mannheimer.
In 1994, CEO of the Indiana Pacers Donnie Walsh was looking for a community initiative, and Mannheimer spoke with Walsh about Conrad's wishes. Pacers executive Kathryn Jordan and Mannheimer then held a national design competition to create a memorial, and Walsh donated $30,000 to get the project started.
With designs coming in from over 50 artists across the nation, the award was granted to 33-year-old Greg Perry. Later that year, a ceremonial groundbreaking was held, attracting the likes of President Bill Clinton, Senator Ted Kennedy, Dexter Scott King, Martin Luther King, Jr. III, and many other Indiana civic leaders.
Perry's design features the silhouettes of Dr. King and Kennedy reaching out to each other and the heavens above, and for the community, the memorial showcases one of the darkest evening's in the nation's history contrasted with one of Indianapolis's finest hours.1
Transcription of Kennedy's Speech
Ladies and Gentlemen – I'm only going to talk to you just for a minute or so this evening. Because…I have some very sad news for all of you, and I think sad news for all of our fellow citizens, and people who love peace all over the world, and that is that Martin Luther King was shot and was killed tonight in Memphis, Tennessee.
Martin Luther King dedicated his life to love and to justice between fellow human beings. He died in the cause of that effort. In this difficult day, in this difficult time for the United States, it's perhaps well to ask what kind of a nation we are and what direction we want to move in.
For those of you who are Black – considering the evidence evidently is that there were white people who were responsible – you can be filled with bitterness, and with hatred, and a desire for revenge.
We can move in that direction as a country, in greater polarization – Black people amongst Blacks, and white amongst whites, filled with hatred toward one another. Or we can make an effort, as Martin Luther King did, to understand and to comprehend, and replace that violence, that stain of bloodshed that has spread across our land, with an effort to understand, compassion and love.
For those of you who are Black and are tempted to be filled with hatred and mistrust of the injustice of such an act, against all white people, I would only say that I can also feel in my own heart the same kind of feeling. I had a member of my family killed, but he was killed by a white man.
But we have to make an effort in the United States, we have to make an effort to understand, to get beyond these rather difficult times.
My favorite poet was Aeschylus. He once wrote: "Even in our sleep, pain which cannot forget falls drop by drop upon the heart, until, in our own despair, against our will, comes wisdom through the awful grace of God."
What we need in the United States is not division; what we need in the United States is not hatred; what we need in the United States is not violence and lawlessness, but is love and wisdom, and compassion toward one another, and a feeling of justice toward those who still suffer within our country, whether they be white or whether they be Black.
So I ask you tonight to return home, to say a prayer for the family of Martin Luther King, yeah that's true, but more importantly to say a prayer for our own country, which all of us love – a prayer for understanding and that compassion of which I spoke. We can do well in this country. We will have difficult times. We've had difficult times in the past. And we will have difficult times in the future. It is not the end of violence; it is not the end of lawlessness; and it's not the end of disorder.
But the vast majority of white people and the vast majority of Black people in this country want to live together, want to improve the quality of our life, and want justice for all human beings that abide in our land.
Let us dedicate ourselves to what the Greeks wrote so many years ago: to tame the savageness of man and make gentle the life of this world.
Let us dedicate ourselves to that, and say a prayer for our country and for our people. Thank you very much.2
Sources
1.) Clinton, Bill. "Remarks at the groundbreaking ceremony for the landmark for peace memorial in Indianapolis, Indiana," U.S. Government Printing Office, accessed August 22, 2015, http://www.gpo.gov/fdsys/pkg/WCPD-1994-05-23/pdf/WCPD-1994-05-23-Pg1072.pdf 2.) Hamlett, Ryan. "A Room with a View – Landmark for Peace Memorial, MLK Park," HistoricIndianapolis.com, accessed August 22, 2015, http://historicindianapolis.com/a-room-with-a-view-landmark-for-peace-memorial-mlk-park/
Additional Information