Spokane Flour Mill
Introduction
Spokane began as "Spokane Falls," indicative of the significance the river falls had on early development of the town concurrent with the establishment of flour and lumber mills. The Spokane Flour Mill (completed in 1895) now exists as a place of retail, but it stands as a reminder of early Spokane (and American) life, where water served as a source of nourishment, navigation and power.
Images
River side of the Flour Mill that overlooks Riverside Park.
Interior common space with shops in the background.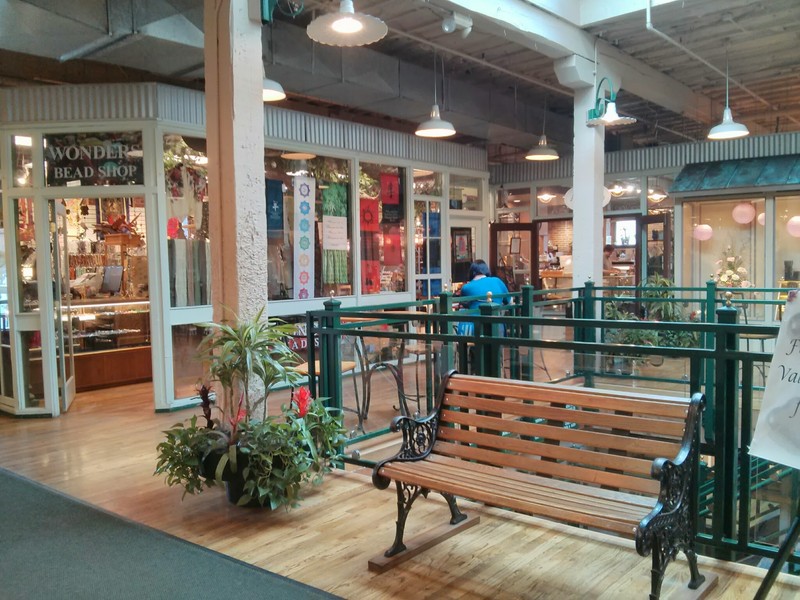 .The mill and river in earlier times.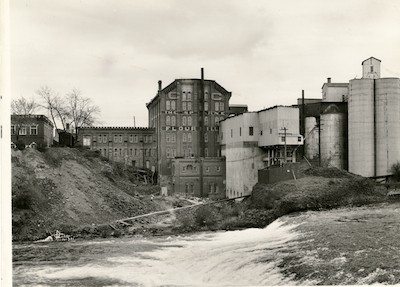 Backstory and Context
Spokane's original town name, "Spokane Falls," speaks volumes about the importance of the falls along the Spokane River towards the city's settlement, notably concerning the many mills that arose during the nineteenth century. Given the abundant lumber around Spokane, it's no surprise that lumber mills near the falls served as a promising industry early in the city's history. But, alongside those lumber and saw mills existed flour mills such as The Spokane Flour Mill, built along the falls late in the nineteenth century.
After the Panic of 1893, the national economy suffered mightily, including in Spokane. Dutch investors provided widespread financial relief in the region, including providing money to the Spokane Flour Mill. When fire struck the mill in 1899, plans were drawn to rebuild the plant. Planning for the new structure began by 1890, but it was not completed until 1895. Further delays in opening the mill occurred due to an international legal battle (involving the Dutch) emerged regarding mill ownership. Hence, the Spokane Flour Mill waited until 1900 before starting operations again.

The seven story building (on the river side) utilized rollers, rather than function as a grist mill, and drew its power from a water wheel, which powered the rollers that ground the wheat into flour. Eventually, electricity supplanted water power allowing it to remain in operation until 1972. However, while its milling days ended in '72, it's existence as a shopping center began in 1973, and it served as the north entrance to the World's Fair in 1974.
The Spokane Flour Mill's exterior remains similar in appearance to its early milling days, standing as a reminder of Spokane's early reliance on the falls for its livelihood. By preserving the building and repurposing it, people in Spokane remain connected to the past.
Sources
Garrett, Patsy M. "Nomination Form: Spokane Flour Mill."
National Register of Historic Places.
January, 1977. https://npgallery.nps.gov/GetAsset/1075c31e-677d-414b-9cb7-64b01e224d90

Popejoy, Don and Penny Hutton. Early Spokane.
Charleston: Arcadia Publishing, 2010.
Steinberg, Ted. Down to Earth: Nature's Roll in American History. 2nd Edition. New York: Oxford University Press, 2009.
Additional Information