Turner Hall
Introduction
Designed by famous German immigrant architect Henry H. Koch, Turner Hall is a four-story, Italianate style structure that serves as a multi-purpose building, featuring a gymnasium, restaurant/beer hall, meeting rooms, and a grand two-story ballroom. Turner Hall has been home of the Milwaukee Turners Association since 1882. The Turners, derived from the German Turnverein association founded by Friedrich Ludwig Jahn in 1811. The organization is best known for its emphasis on physical fitness as an attribute that will build character and support one's mental capacity as demonstrated by their motto "Sound Mind in a Sound Body." The Turners' hope to promote "human potential through the harmonious integration of intellectual and physical development."
Images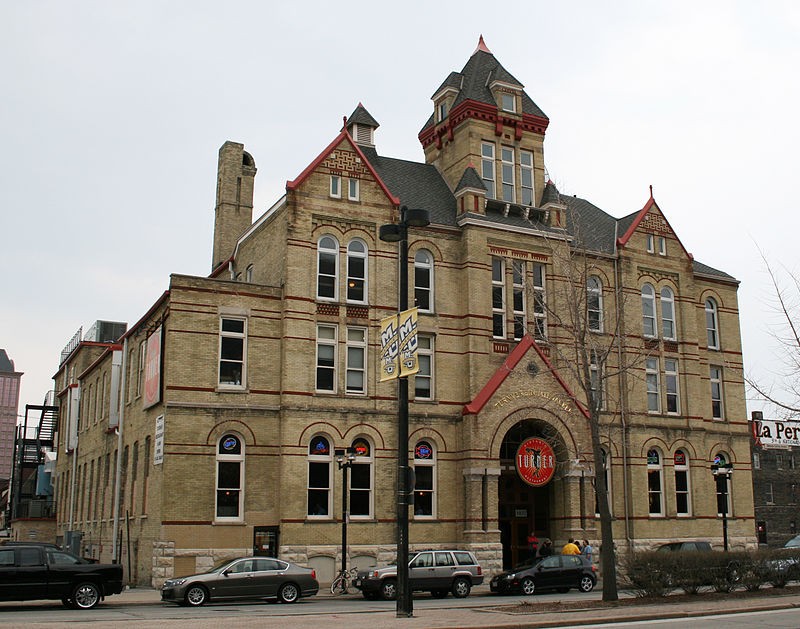 Working out in the gymnasium of Turner Hall, c.1900. Photo credit: Milwaukee Turners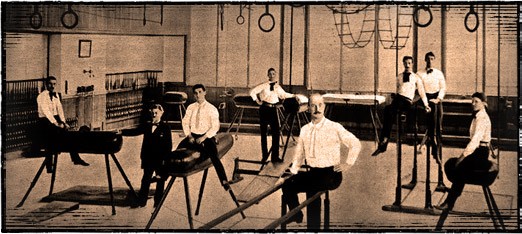 Turner Hall, 1885. Photo credit: UWM Libraries Digital Milwaukee Neighborhoods Collection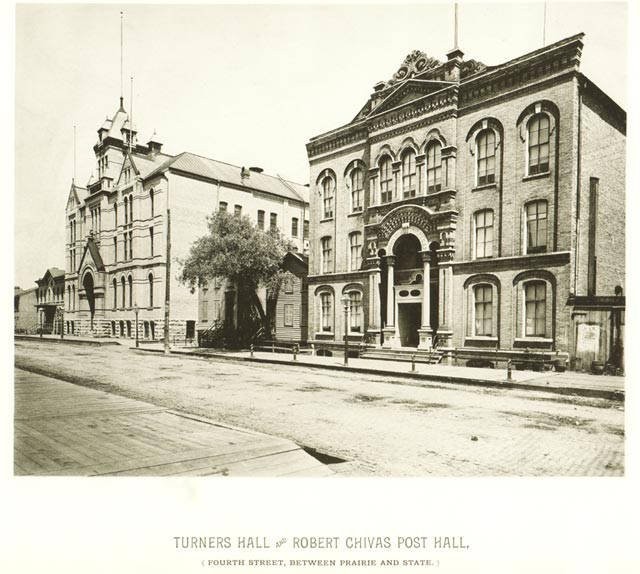 Backstory and Context
The Turners' philosophy for physicality helped shape American military training. The first gymnastics instructor for the Milwaukee Turners, George Brosius, introduced physical education into the public school system, and one of his students later passed on these training methods to West Point Academy. Additionally, at least two Olympic gymnasts were trained by Milwaukee Turners.

The Turners' national charter accentuates their mission of "Liberty, against all oppression; Tolerance, against all fanaticism; Reason, against all superstition; Justice, against all exploitation!" In addition to providing youth gymnastics and exercise training, the Turners advocate for social reform and open, honest government.

Turner Hall is a four story, cream brick building built in the High Victorian Romanesque style and designed by Henry C. Koch, a Milwaukee architect of German descent who also designed City Hall and the Pfister Hotel, prominent Milwaukee landmarks. It features a grand staircase leading from the lobby to a 3rd floor grand ballroom and a fourth floor balcony. The gymnasium is located in the basement, and a dining room makes up the second floor. Turner Hall is listed on the National Register of Historic Places and is also a designated National Historic Landmark.

Today, Turner Hall remains the home of the Turners Association, who run a gymnastics school in addition to their continuing work on social reform efforts. Additional features of today's Hall include event space that host numerous concerts, benefits, comedy shows, and more. A restaurant, the Tavern at Turner Hall, is also located on the property.
Sources
Turner Hall. National Park Service Historic Landmark Records. . Accessed July 12, 2019. https://npgallery.nps.gov/NRHP/GetAsset/NHLS/77000041_text.
History. Milwaukee Turners. . Accessed July 12, 2019. http://www.milwaukeeturners.org/history.
Photo credit: UWM Libraries Digital Milwaukee Neighborhoods Collection https://collections.lib.uwm.edu/digital/collection/mkenh/id/255/
Additional Information