Royal Riblet Estate
Introduction
Now home to the Arbor Crest Winery, the Royal Riblet Estate was built in 1925 by inventor/entrepreneur and bike enthusiast, Royal N. Riblet with the assistance of architect George Keith. It sits over 400 feet above the Spokane Valley and, for that reason, is also known as Cliff House. As a winery, it currently hosts wine tastings, tours, summer concerts and weddings.
Images
Sunset behind the Riblet Estate.

Gazebo with panoramic view in the background.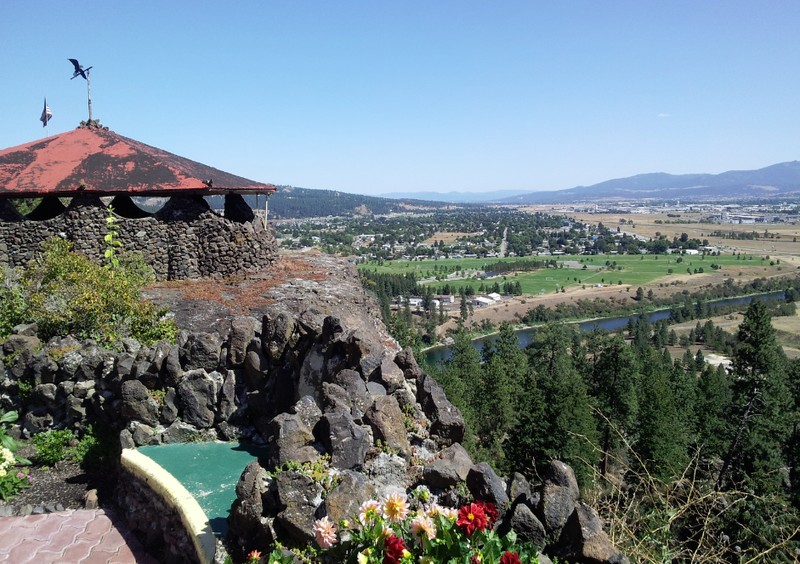 The Washington moon over the estate.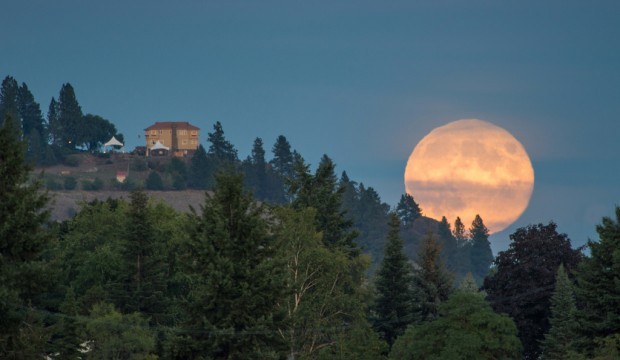 Backstory and Context
Riblet moved to the area via Iowa and South Dakota to join his brother Byron, who had founded the Riblet Tramway Company. The brothers made their fortune by improving upon pervious tramway designs and then manufacturing and selling them to the numerous mines and mining companies in the area. It was with money from the tramway company that Riblet decided to build his new residence atop a basalt cliff.
The three-story Florentine mansion was just the beginning of the additions Riblet had in mind for his unique home. He soon added an arched gate house, 6,000 gallon pool, a croquet court that doubled as an ice rink in winter, a stone foot bridge, gazebo, and a 16' x 16' checkerboard. For many years, the only way to access the estate was via a 5-person tramway that ferried people across the Spokane River and up the cliff side that has since been removed. Riblet resided at his estate until his death in 1960. It was designated a National Historic Landmark in 1979.
The estate was purchased by the Arbor Crest Wine Company in 1984 and has served as their headquarters ever since. It continues to offer picturesque views of downtown Spokane, Liberty Lake and the Spokane River regardless of one's predilection for wine. It is open year round and hosts over 35,000 visitors per year. However, no children are among those numbers as the minimum age to enter the property is 21.
Additional Information