A Christmas Story House
Introduction
Since November 2006, this home has served as a museum to the iconic (and perennial) seasonal classic, A Christmas Story which debuted in 1983. Although the movie's scenes were filmed at a variety of locations, the filmmakers used this location for exterior shots of the home and several scenes in "Ralphie's neighborhood." The home was purchased by a private developer in 2004, and since that time, it has been remodeled to match the interior depicted in the movie, and now includes many original props that were used in filming the movie as well. Visitors to the home can view exhibits and movie memorabilia, and they can purchase souvenirs in the small gift shop or across the street at the "official" A Christmas Story House Museum across the street. Highlights include the snowsuit owned by Ralphie's little brother, Randy, items from the department store scene with Santa, and photos of the original cast through the years.
Images
Ralphie's house has been restored to its movie splendor and is open year round to the public for tours.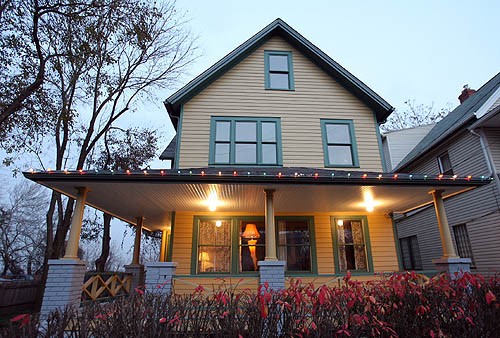 2006 cast reunion at the Grand Opening of the home and museum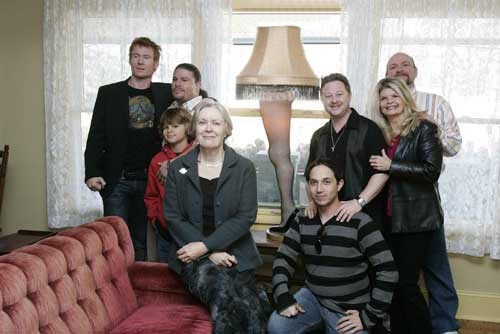 Ralphie and family in the kitchen. Photo for movie promotion (1983)
Backstory and Context
Although the film itself was created in Hollywood, this house was used as a model for the family home, set place in a fictional town that was modeled after the writer's actual home in Hammond, Indiana. Other locations throughout Cleveland were used for the filming of the movie's many outdoor scenes as well as the iconic scene of Ralphie and Santa at Higbee's Department Store. According to those close to the project, the store's manager allowed the film crew to use their store on the condition that there would be no cursing on the set or in the final cut of the film. While the interior scenes were created using a soundstage, the movie's exterior shots of the family house were shot right here. 
Brian Jones purchased this home on eBay for $150,000 and remodeled the interior to match the scenes from the movie as closely as possible. Jones capitalized on the film's success in other ways, creating the real company The Red Rider Leg Lamp Company, based on the fictional "award" that Ralphie receives in the mail. To this day, one can purchase a replica of "leg lamp," which sits in the house museum's front window, just as it did in the film.  
Sources
A Christmas Story House. A Christmas Story House and Museum website. Accessed December 05, 2016. http://www.achristmasstoryhouse.com/.
DeMarco, Laura. A look inside A Christmas Story House and Museum. Cleveland Plain Dealer. December 05, 2013. Accessed December 06, 2016. https://www.cleveland.com/entertainment/index.ssf/2013/12/a_look_inside_a_christmas_stor.html.
Additional Information