York's First Presbyterian Church
Introduction
The First Presbyterian Church, constructed in 1785, has many attributes that make it an historic building, most notably its old stained glass windows, antique exterior and centuries-old graveyard. All of these features are the key to grabbing the attention of people passing by on the street. When people notice the church they also notice a welcoming feeling emanating from there. By learning the history and viewing the masterpieces that make the church, everyone will be intrigued by the rest of the town.
Images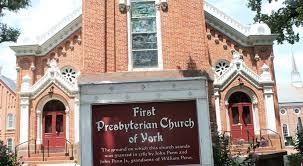 Backstory and Context
Built in the 1700s, the First Presbyterian Church of York is over 200 years old. It is still an active religious church that is continuously worshiped in today.The building's roof collapsed in 1860 causing the church to be reconstructed. In the later years, the church had to expand their property because lectures that were held in the church started to become too crowded. The church added its current Kerr Education Building, which it uses for offices and lectures. The grave yard was a later addition in the 1800s. There are currently 175 well known towns people from the 1800s to the 19th century buried at the church. Graves were actually found underneath the church from before the building was established. Hand-made stained glass windows, crafted by artists in the 1800s, makes the church extremely historical. The stained glass windows honor people who made an impact on the community. There is an overwhelming amount of history behind the church and the features help create the historical feeling. When looking at the stained glass windows, one notices the variety of colors that explode throughout the glass. There are many stained glass windows that create colorful streams of light which fill the church with a beautiful appearance and peaceful feeling. The graveyard has many rows of weathered plots that have been there for ages. Some of the plots are tall, while others are shorter making the appearance of the graveyard unique. The exterior of the church has Gothic-style cone on the roof. The archatectural structure of the outside has old brick with an antique design. The building is surrounded by trees and a cheery small town. For being built in the 1700's, York's First Presbyterian Church still has its old sentimental charm. Looking at the overall historical views and exquisite design, the church is a true landmark for the town. Much time was put into the detail of the building to make York's First Presbyterian Church beautiful. It will tell a story for the people who come to visit and worship in the chapel. All the features work with the history to create an amazing building that will represent York for years to come.
Sources
Anonymous. "First Presbyterian Church of York." First Presbyterian Church Of York. N.p., n.d. Web. 30 July 2015. .
Additional Information