Greensboro Science Center
Introduction
The Greensboro Science Center contains an aquarium, museum, and zoo, along with other science based learning and interactive sites and activities. The museum explores a full range of biological, ecological and historically significant educational opportunities through interactive and interpretive displays and exhibits. The zoo and aquarium feature a geographically and habitually diverse collection of animals and sea life. Additionally, the center offers a ropes course and dome theatre.
Images
Greensboro Science Center Entrance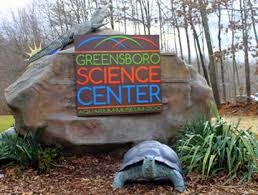 Greensboro Science Center Exterior and Zoo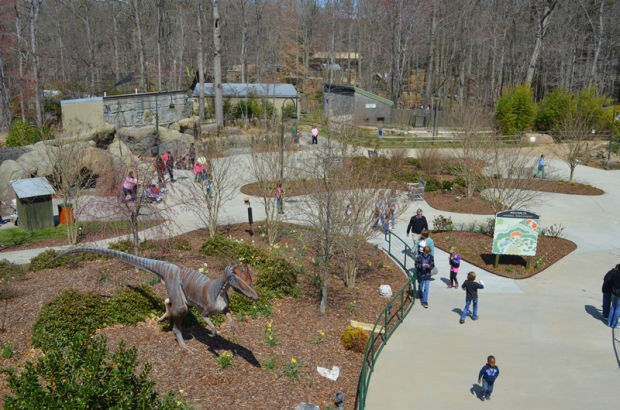 Greensboro Science Center Ropes Course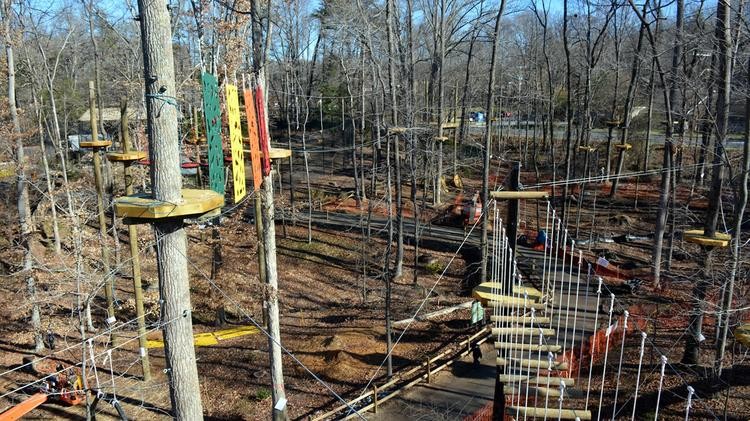 Greensboro Science Center Interior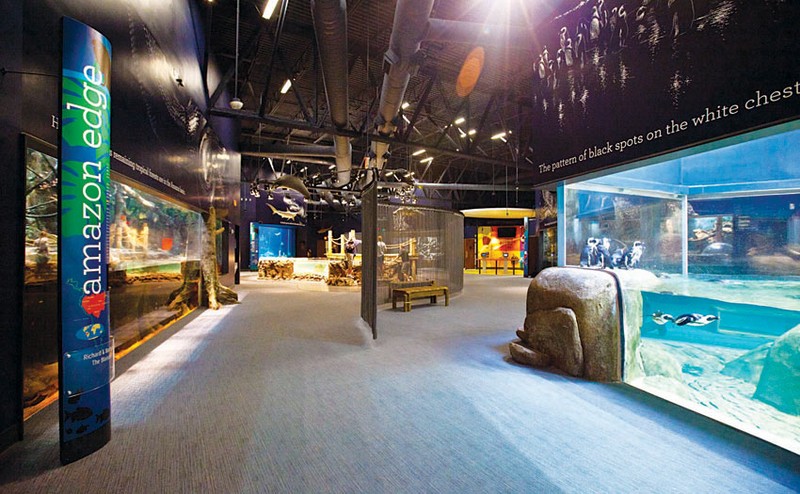 Backstory and Context
The museum is comprised of multiple exhibits, touching on various topics. The Prehistoric exhibit features the planet's earliest creatures, including information on dinosaurs, along with artifacts like fossils, skeletons, and fooprints. In the Healthquest exhibit, biology, anatomy and epidemiology are explored, using health, illness, and bodily function displays to understand health functioning. The Herpetarium contains an abundance of reptiles, the Collector's Corner displays an array of unique specimens, and the Exterme Weather section combines education and interaction to understand weather habits, patterns, and phenomenon. Spiplay Bay is specifically water oriented, discussing ocean based features. Additional exhibits continue to explore further topics.
In the zoo, guests can tour the expansive variety of habitats available. Hundreds of animals spanning from wallabies to corrodes to tigers are contained within the acreage surrounding the Science Center. Additionally, talks, classes, and group tours are available throughout the day. Scientists and staff explore different animals throughout the zoo, discussing the visitor's specifics on the creature, their lifestyle and habitat. A small petting zoo is also on site, where visitors can become intimately acquainted with the small and friendly creatures at the Science Center.
In the aquarium, called the Sciquarium, visitors can tour North Carolina's first center of the state aquarium. Opened in 2012, the state of art complex offers an immersion experience, where guests can engage with the staff and animals, to learn about the undersea creatures. Featured animals include African penguins, Moray eels, stingrays, sharks, and more.
A new component of the Science Center is Skywild. The ropes course allows visitors to climb, swing, and jump across the property, and a specifically and state of the art designed course.
Finally, the Omnisphere Theatre is the on site film theatre and planetarium. The 40 foot dome ceiling allows visitors to feel fully immersed in whatever they are viewing, enhancing the sensory experience and optimizing their understanding of the topic. Both educational and feature films are shown, along with laser shows.
Sources
http://www.greensboroscience.org
Additional Information