The Basilica of the Little Flower (Our Lady of Mount Carmel and St. Thérèse Church)
Introduction
Founded by Spanish clergy who traveled to San Antonio in 1926, the house of worship for Our Lady of Mount Carmel and St. Thérèse Church was constructed in the Art Deco style in 1931. The church building was dedicated to Saint Thérèse, and among the hand carved decor, marble altars, and exquisite stained glass there also exists a seven foot tall, ten foot wide painting of Saint Thérèse which was made by her own sister, Sr. Celine Martin; in 1925, the painting was carried to the Vatican for the canonization of St. Therese. Today, mass is held daily on site, and a community of Discalced Carmelite friars, who perform apostolic activities and teach on religious principles, reside in a monastery located adjacent to the Basilica; just across the street from the Basilica is Little Flower School and the Convent of Sisters of the Holy Spirit.
Images
The Basilica of the Little Flower was completed in 1931.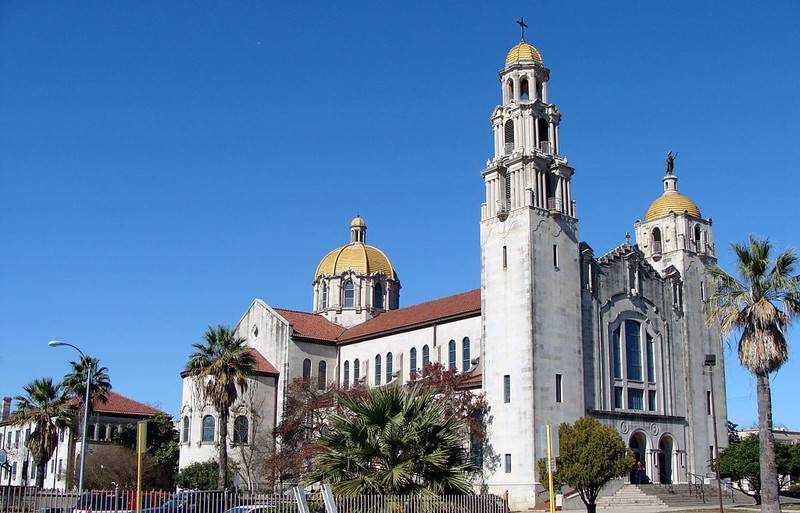 Backstory and Context
Built and dedicated in 1931, the National Shrine of the Little Flower was founded by a group of Disalced Carmelite Fathers. The Spanish friars chose the location of the worship site for its history of Mexican immigrants. They felt it would be a good place to evangelize and provide a quality house of worship to the community. The National Shrine of the Little Flower honors St. Therese and holds the distinction of being the first house of worship do so.

The church as been called "the most beautiful church in San Antonio," featuring ornate hand-carvings throughout the structure, marble alters, and lovely stained glass windows. One of the most highly prized pieces of art housed within the church, however, is a grandiose painting measuring 7 feet tall and 10 feet wide of Saint Therese. It was this very painting, which was made by the saint's own blood sister Sr. Celine Martin, that was carried to the Vatican for the official canonization of Saint Therese in 1925.

In 1999, a multi-million dollar restoration project was began on The National Shrine of the Little Flower.

Sources
"History." Little Flower Basilica. Accessed August 7, 2015. https://littleflowerbasilica.org/History.php.

Maria Watson Pfieffer & Annie Sauser. "Our Lady of Mount Carmel and St. Therese Church." National Park Service - National Register of Historic Places Nomination Form. July 9, 1998. https://atlas.thc.state.tx.us/NR/pdfs/98000843/98000843.pdf.
Additional Information