Atterbury-Bakalar Air Museum
Introduction
The Atterbury-Bakalar Air Museum is located on the grounds of the Columbus Municipal Airport (formerly Bakalar Air Force Base) in Columbus, Indiana. It is dedicated to all the military personnel and civilians who participated, in any role, in wars and conflicts from the years of 1942-1970. The museum was initially founded in 1992 and has since doubled its size in 2014. It features large scale model aircraft, exhibits about WWI glider pilots, Tuskegee Airmen, military barracks, and the Columbus manufacturers who produced goods and equipment for the war. A rotating beacon that is believed to be the light at the Atterbury base is also housed in the museum. Any air force and military history enthusiasts are welcome to visit and get an authentic part of the U.S.'s air force history.
Images
Entrance to the Atterbury-Bakalar Air Museum.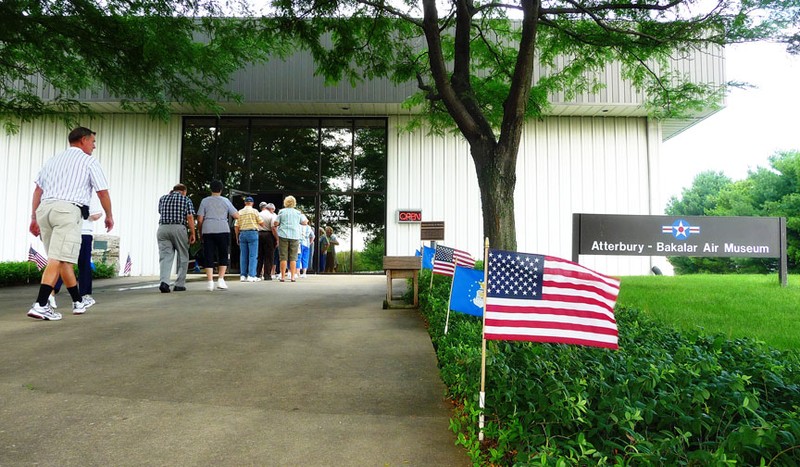 Interior view showing some of the scale model aircraft and the rotating beacon light on the right.

Backstory and Context
The museum takes its name after WWII pilot James Eden Bakalar of Hammond, Indiana who died over France on September 1, 1944. The air force base was originally called Atterbury Air Base due to the proximity to Camp Atterbury, located 14 miles north. The base was later renamed Bakalar Air Force Base in 1954.
Originally serving as an active base during both World War II and the Korean War, the original base was opened in February 1943. From 1946 until 1949, the base was closed due to the end of the second World War effort. However, following the establishment of the Air Force as an individual branch of the service in 1948, the 2466th Air Force Reserve Combat Training Center of Stout Field, Indianapolis, worked to re-open the base for further use. Over the years, however, the air base was slowly phased out, and eventually it was closed in 1970.
Over twenty years later, a museum was constructed and dedicated in Bakalar's honor. In 2014, the museum held a second grand-opening ceremony. Due to an increase in the number of exhibits, an expansion for the building was needed. The newly-added expansion more than doubled the area for the museum's exhibits. A large gallery was added to the south end of the already-present building, and now includes both meeting and library rooms in addition to a well-expanded exhibit area. Enthusiasts of both military and air force history are encouraged to pay a visit and tour the museum's wide variety of exhibits, including G4-A Glider artifacts, an exhibit dedicated to the Tuskegee Airmen, and a one-of-a-kind scale aircraft display.
Sources
Bakalar History. Atterbury-Bakalar Air Museum. n d. Accessed October 17, 2018. http://www.atterburybakalarairmuseum.org/bakalar-history.html.
Additional Information