Sunset Station
Introduction
Designed in the Mission Revival style by architect Daniel J. Patterson, Sunset Station was built for the Southern Pacific Railroad in 1902 helping San Antonio become the commercial center that still is today. The depot was listed on the National Register of Historic Places in 1975 and is the final resting place of Southern Pacific Engine No. 794, one of only four "Mikado" engines remaining in the nation.
Images
"Sunset Depot, San Antonio, Texas" by Geo. M. Bearce - The University of Houston Digital Library: http://digital.lib.uh.edu. Licensed under Public Domain via Wikimedia Commons - https://commons.wikimedia.org/wiki/File:Sunset_Depot,_San_Antonio,_Texas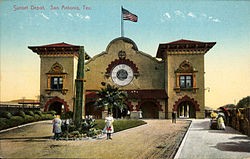 Backstory and Context
It costed $115,000 to build the Southern Pacific Depot called Sunset Station, but it proved to be a prosperous investment for the city of San Antonio. Literally a beacon of light due to the vast number of lights installed during its 1902 construction, the station became known as "the building of 1,000 lights." However, it may have been due to so much luminescence that the roof was badly damaged in a 1907 electrical fire. Nevertheless, the damages were quickly repaired and business continued through the 1950s.

In an effort to restore the St. Paul Square area to it's original appearance, Sunset Station underwent a multi-million dollar restoration. In 1999, the depot became the final home of a 1916 freight train engine that ran from San Antonio to Del Rio, Corpus Christi, Houston, and Kerrville until 1956. Engine No. 794 is one of only four "Mikado" engines remaining in the United States today.

Sunset Station now is used for special events and banquets and is listed on the Register of Historic Places.





Sources
http://www.sunset-station.com/historical-information http://www.nps.gov/nr/travel/tx/tx38.htm https://en.wikipedia.org/wiki/San_Antonio_Station
Additional Information