Daniel Carter Beard Boyhood Home
Introduction
Built in 1821, this historic home is one of the two oldest buildings in Kenton County and was the boyhood home of Daniel Carter Beard, one of the founders of the Boy Scouts of America. He served as the National Scout Commissioner from its 1910 founding to his death in 1941. The house is a National Historic Landmark and is also listed on the National Register of Historic Places. It is now a private home and not open for tours. However, a statue of Beard and a boy scout, as well as a plaque, are located just outside the home and can be seen from the street.
Images
The Daniel Carter Beard Boyhood Home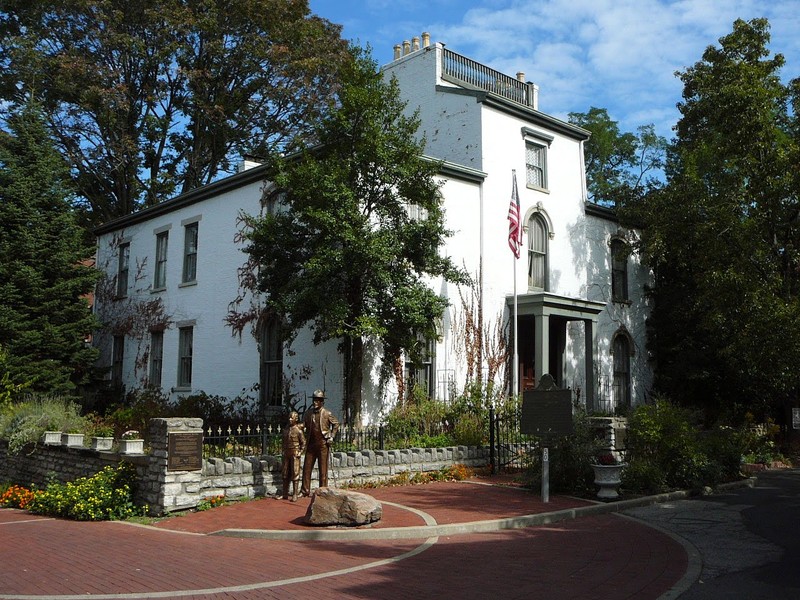 The Daniel Beard and boy scout statues, located just outside the home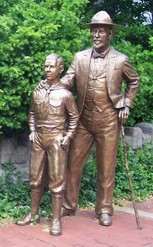 Backstory and Context
Daniel Carter Beard was born in Cincinnati in 1850 and moved to Covington when he was a young boy. It was there he learned about Daniel Boone and other well known Kentucky explorers and outdoorsmen. He took a keen interest in Daniel Boone and he and his friends called themselves "Boone Scouts." Beard's love for the outdoors and nature grew from his experiences growing up.

When he was 19 he earned an engineering degree and moved to New York City and worked as a civil engineer. There, he showed some of his animal sketches to a magazine editor who published them. Beard decided to pursue a career in art and began sketching and writing nature and outdoors related articles for various publications. Eventually he became an editor of Recreation and set aside a section for boys. The tremendous interest in this section prompted Beard to establish a society, called the Sons of Daniel Boone. Gradually, from this society arose other societies around the country. These banded together and established the Boy Scouts in February 1910.
Sources
Joseph S. Mendinghall. "Daniel Carter Beard Boyhood Home," National Register of Historic Places. 10-15-66.
Additional Information